We've Got To Talk About 'Kimmy Schmidt's Jaqueline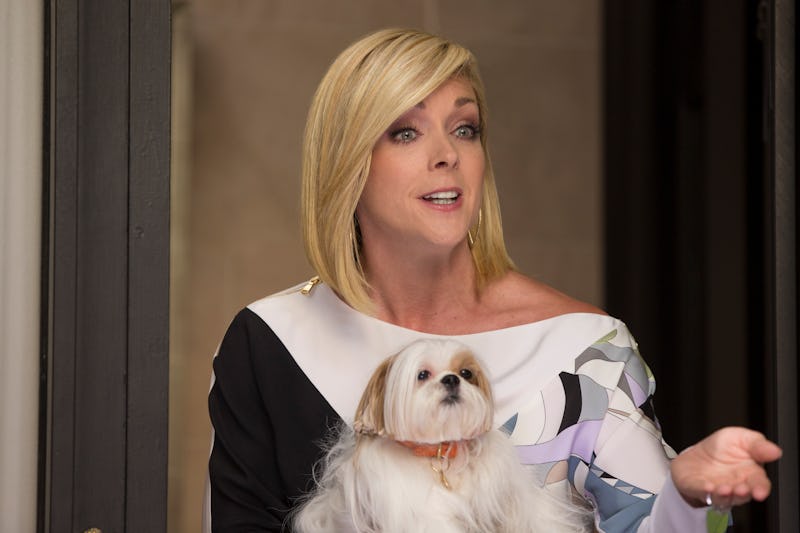 Exactly one week after binge-watching Netflix's House of Cards within 48 hours, I decided to sample the streaming service's next offering: Unbreakable Kimmy Schmidt, Tina Fey's follow-up to the beloved 30 Rock. Sure, I sampled it — and then suddenly it was 2 a.m. and I was on the last episode. My life has become one of those Netflix-loving memes, but it was worth it. Unbreakable Kimmy Schmidt is not only hilarious, but it's completely fearless, just like its titular heroine, who moves to New York City after being kidnapped and held in a cult for 15 years. The comedy series isn't afraid to find humor in the trauma Kimmy (played by Ellie Kemper) went through and go for the truly bizarre. But Unbreakable Kimmy Schmidt might take it too far by having 30 Rock vet Jane Krakowski playing a Native American woman — in truth, the actress is Caucasian and Polish.
To her credit, Krakowski is dazzling as Kimmy's uppity boss Jacqueline Vorhees, a New York City socialite with a rich workaholic husband, a spoiled son and stepdaughter, and a cute dog. She hires Kimmy on the spot to be her son's nanny, both unaware that they both are trying to get away from their own pasts — Kimmy's as an "Indiana Mole Woman" and Jacqueline's as a Native American woman from Bear Creek, South Dakota. I know the reveal about Jacqueline's ethnic past and the plotline is being played for laughs, but as someone of mixed race, I couldn't help but find the third episode's reveal to be a little jarring and I put my guard up, waiting to be offended during the many flashbacks involving Jacqueline (or Jackie Lynn, rather) rebelling against the wishes of her traditional Native American parents. Bustle reached out to Netflix regarding the subplot, but the company declined to comment.
And I can't help but feel that subplot does definitely teeter on offensive, though the script is not to blame. Jackie Lynn's mom and dad are loving and protective of their daughter who wants to spread her wings and see the world, but the scenes look for most of the laughs to come from the fact that Krakowski, who has Polish ancestry, is a white woman playing Native American. Subversive? Totally. And I actually related a bit to the joke.
A little about me: I'm half-Chinese and half-Caucasian. People have said I look like everything from Hispanic and Native American to Filipino and Eskimo. In high school, I tried to hang out with my friends in the Asian clique one day and they were playing Chinese poker. The ladies dealt me in, but one girl got very frustrated that I was taking a little bit longer to prepare my hand and she snapped at me: "Do you even know how to play? I don't think you're Chinese enough for this." This wasn't the first time something like this had happened, but the first time it was said so bluntly. I bowed out of the hand and went off to think about this. If I wasn't Chinese enough to hang out with the Asian clique, but often felt too ethnic to bond with my Caucasian friends who constantly pointed out Chinese food and people to me, then who was I? It took a long time for me to figure out I was just simply me, all the pieces included. And I hope that's something Jacqueline — and Jackie Lynn — figure out one day.
All that being said, I appreciate more diversity on TV in any form and Unbreakable Kimmy Schmidt is certainly doing its part — Kimmy's roommate Titus is African American and her love interest Dong is Vietnamese. But I'm not sure the Krakowski-as-a-Native-American storyline should be included in that. It's a joke that gets old quickly and is unnecessary — Jacqueline could've been Russian or have any other ethnic background. She didn't have to be Native American. Co-creator Robert Carlock tried to justify Jacqueline's Native American backstory at the Television Critics Association press tour, saying, "We have a couple of writers on staff with Native American heritage. So we felt like we had a little room to go in that direction." But that doesn't quite work for me.
It's also not the best timing for a joke like this, coming after #OscarsSoWhite and the big push for Hollywood to embrace diversity on-screen and off. I mean, already we've seen white British actor Adam Rayner being cast as an Arab in Tyrant and David Schwimmer land the role of famous Armenian Robert Kardashian in the upcoming American Crime Story. For all of Kimmy Schmidt's contributions to inclusiveness, casting white actors in ethnic roles is not the path to diversity.
Don't get me wrong: This hasn't ruined Fey and Carlock's sunny new series for me. Jacqueline's Native American backstory is just one of the most bizarre things on an otherwise wonderful show — but I just don't find it as funny as Unbreakable Kimmy Schmidt seems to want me to.
Images: Eric Liebowitz/Netflix; brandiglanville, ilanawexler, niveaserrao/Tumblr