William Moseley & Alexandra Park Talk 'The Royals'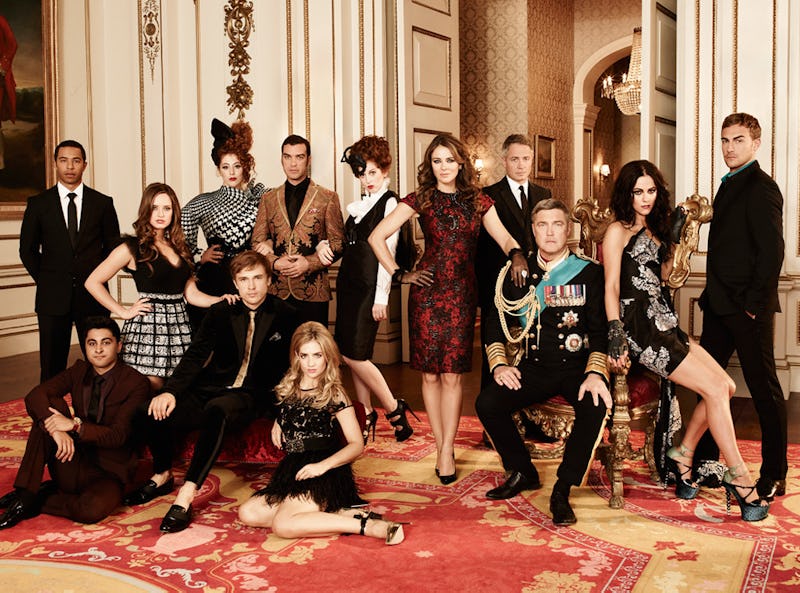 While their exteriors are polished — a warm smile, an eloquent quote, a string of pearls — the public will never know how the royal family behaves behind closed doors, until now. With their first scripted drama, E! seeks to explore the fictional lives of England's royal family with The Royals , starring Elizabeth Hurley, William Moseley, and Alexandra Park. But instead of the refined lives of real life royalty William and Kate, The Royals proves that royalty are just as messed up and complicated as the rest of us. "We're all just people who go through relationships and struggles, like everyone else does," says Alexandra Park, who plays princess Eleanor, says of royals.
The show follows the royal family inside the gates of the royal palace. Queen Helena (Elizabeth Hurley), is obsessed with showing the public that her family is the utmost example of tradition and grace. Her daughter Eleanor (Park), and her son Liam (William Moseley), prove to be obstacles in her ultimate goal. Liam is the kingdom's playboy, but all this changes when his older brother Robert, heir to the throne, dies in a tragic accident. So why would a show about British royalty be appealing to an American audience?
"We went through a financial crisis in 2008, we've been at war for a long time, we've had this overwhelming threat of terrorism — it's like our stability has been ripped out from underneath us," William Moseley says. "It's had a lot to do with the media, putting fear into people. So people need something to escape, like a fairytale. They need something to fill themselves with hope. It's what Kate did when she married William. It was the first time a commoner had married royalty and it embodied that fairytale, Cinderella, Disney thing."
But in reality, the men and women who wear crowns across the sea aren't born of fairytales and happy endings necessarily. "The common misconception is that royalty has a wonderful, privileged life and they don't have to do anything. To a certain degree it might be true, but in another sense, their life is of service," Moseley says. "Their life is not that great. You get a private jet, you get to go on great holidays, but you don't wake up in the morning to do something you love. That's a privilege we have, as actors — we wake up and go to set and we live our dreams. They don't get to live their dreams. It's quite a sad thing, they're living in a golden cage."
The cast filmed The Royals pilot in October of 2013, and while the first episode won't air until March 15, the series has already been picked up for Season 2, a first in NBC's history. And while the stories of these imagined royals are completely fictitious, the locations were not. "A lot of them were real locations, which is so incredibly grand. You can't help but feel like you're actually a royal person," says Park. "We filmed a lot of places I'd never been in England. A lot of places we wouldn't get access to as a member of the public," Moseley adds. "We filmed in a place called Greenwich Naval Academy, which is a place where my grandfather trained in the second World War as an officer. It looks 16 years to hand-paint the entire ceiling."
While the show may serve as an introduction to British royalty for an American audience, Moseley, who's British born and raised, and Park, an Aussie, both grew up with the idea of royalty in different ways. "My first knowing of the Monarchy was probably Walt Disney, going back to all those fantasy stories," Park says. "Being a little girl it was always something of interest to me — the princesses and the castles."
"Being English, you're inundated with the Monarchy and royalty all the time," Moseley says. "I was very fortunate to have met the royal family when I did the Narnia films, they're staples within the UK and British literature. I met the Queen and Prince Charles and the Duke of Edinburgh."
But the way we interact with British royals has drastically changed over the past decade, and even moreso over the past few years. "Once our world entered the internet generation, everything changed. Government changed, the way you interact with people across the globe changed, and like celebrity culture changed. We have instintaneous access to them. They've become totally accessible, they're a part of your life," Moseley says. "But," adds Park, "at the end of the day, they're real people like Kate [Middleton], who was a very normal person before she married William."
Catch The Royals on E! starting March 15.
Images: E!