Ameera & Sonic In The Epic 'Voice' Hair Battle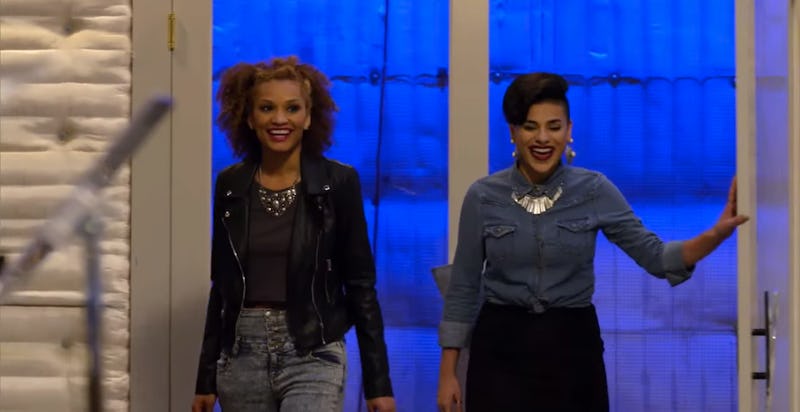 If this The Voice battle had been to decide who had the coolest hair than Christina Aguilera would have had a tough choice to make. But, luckily for her, she only had to decide who would continue on in the competition. Easy enough, right? Well not so much. Both Ameera Delandro and Sonic brought the best to battle ring, but only one could be named the victor. But one artist edged out the other and the choice was clear — for both hair and vocals. Sonic took the win and it was well deserved.
This was a tough battle because both performers have a similar background. Both Sonic and Delandro started their music careers at age 14 — only Delandro was the one with more success that time. She produced an album and sold it to unsuspecting neighbors, but Sonic failed to ever get her album released. The two were perfectly matched in their battle — they have powerhouse voices, an R&B/soul background, and killer hair. But Sonic put on an amazing performance to Jessie J's "Masterpiece" and earned a rightful place in the Knockout Rounds.
Sonic could certainly win this game. She's super cool and has a full, gritty sound that's built to tackle many different genres. What's even cooler about her, though, is that she was able to overcome her partial deafness to tune into her gift. The 23-year-old was clearly struggling to hear over the band to master the song's tough harmonies in rehearsal, and it was doubtful that she would be able to overcome this issue to succeed in the battle. But she must have taken Coach Christina's advice — to turn the TV up super loud and sing over it — because her Battle Round performance was unbelievable. She was fun to watch and even more enjoyable to listen. This girl could be a star — and I can't wait to watch more of her performances this season.
Image: YouTube/The Voice