ABC Gives a Look Behind the Scenes at 'black-ish'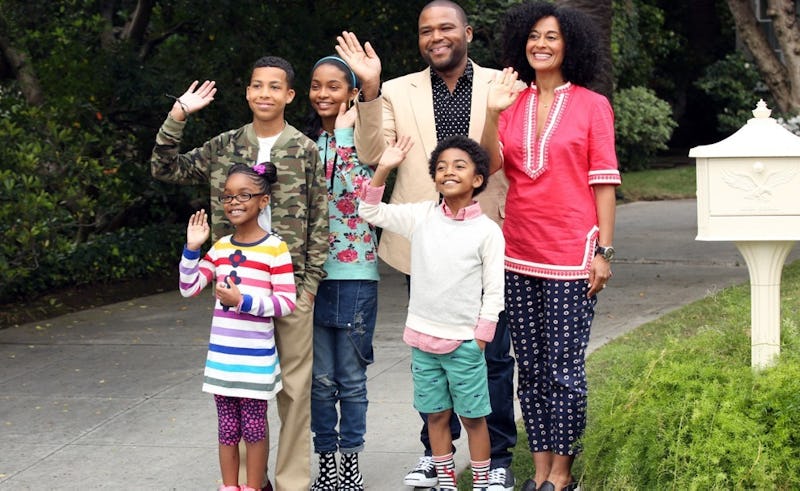 I don't know why we need a half-hour episode all about the black-ish bloopers and behind the scenes — the show debuted incredibly strong post Modern Family, notoriously tough, and is still pretty popular in an incredibly competitive timeslot (it goes up against Empire, which is destroying everything in its path). There's no need to warm people into the show, and if they have their DVR preprogrammed to record every new episode, I can imagine that finding this instead of a real episode would be pretty annoying. Honestly, this is 99% skippable, especially because the three funniest cast members in my estimation are Laurence Fishburne, Jennifer Lewis, and Dion Cole, and none of them are even interviewed.
Also disappointingly absent is any/everyone from behind the scenes. This would have been a great chance for creator Kenya Barris or executive producer Larry Wilmore to explain what they had in mind when creating the show and their POV about what it means to be a "black-ish" family. All we really hear from are the main family members. And it's nice to hear how much the cast like spending time with one another, but four out of the six are actual kids, and coast more on charm than salient political commentary. I think this would have made more sense as a preview, rather than an interruption just as the show has gotten back into its stride after the erratic holiday schedule.
Okay, but those twins (not really twins) are REALLY cute. It's pretty much laugh-free, but not pleasantness-free, so I guess... ABC got what it wanted? Not really sure why they decided to do this, or why the TWO. BIG. GUEST STARS. were kept so secret — I want something to look forward to!
But I still think a rerun of one of their better episodes ("The Nod," "The Gift of Hunger") would have made for a better use of the show's time. Mark it as "new" if you must, add a scroll of Tweets at the bottom to justify that, and that way the DVR'rs are mildly annoyed but nothing more and anyone who's flipping channels (I don't know why they would be, Empire's on, but whatevs) might actually get a few laughs from it.
Image: Adam Taylor/ABC; Giphy