Gamble's Rumor Is A 'Real Housewives' Tradition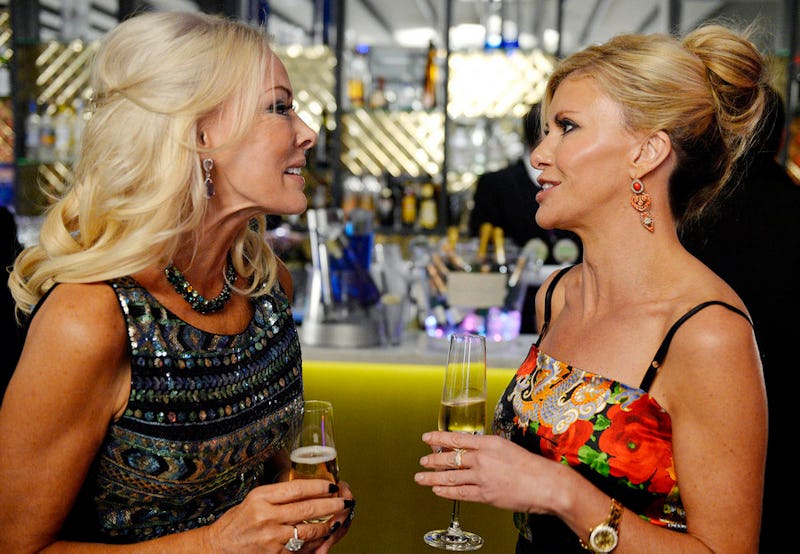 You know what they say about Australia: Things are basically the same as in the States, the drama just flushes the other way around. For example, on say, The Real Housewives of Orange County, the women enjoy hearing rumors about one another from someone and then spreading them around to everyone else; but on The Real Housewives of Melbourne, apparently the practice is to hear a rumor (like the one about Real Housewife Gamble) from everyone and then tell it directly to the person it pertains to. At least, that's the route Janet looks to be taking in the second episode of Real Housewives of Melbourne , letting new cast member Gamble know that there's a certain something she's heard about the newcomer over and over. From the looks of the previews from last Thursday's episode, Gamble doesn't respond to well to being told that she has a reputation preceding her.
So, what is that reputation (beyond Pomeranian-loving "art consultant," of course)? Well, since the Melbourne franchise started airing earlier in Australia than it did on the U.S. Bravo network, Gamble's rumor is technically already out there — big ol' SPOILER alert — Janet has heard from many a person that Gamble used to be a stripper... and a call girl... and that she maybe has sex parties. But mostly, she's heard that Gamble is a former stripper. Now, I won't spoil for you whether or not the Melbourne gossip pools are circulating accurate intel, but of course we all know that Gamble is now among a certain Real Housewives elite: She's certainly not the first Housewife to be confronted a past as a stripper and, if Andy Cohen has anything to do with it, she won't be the last.
According to those who have come before her, there are a few patented Real Housewives styles of dealing with stripper rumors:
The Jacqueline Laurita: Deny, Deny, Deny
Gamble could probably relate most to Jacqueline in that the rumors about her being a stripper seemed to come out of nowhere and take her completely off guard (or so it seemed) on The Real Housewives of New Jersey. At the RHONJ Season 4 reunion, even though an entirely different cast member had been accused of being a stripper for most of the season (see below), the Giudices turned their nosy noses toward Jacqueline's past instead, saying they'd heard from her husband himself that they'd met when she was a stripper in Vegas. Chris Laurita denied. Jacqueline denied passionately. This is not a route I would recommend. Jacqueline is an emotionally fueled person, and while she was probably just experiencing average anger due to someone spreading lies about her, it's hard for others not to assume there's a little something more to a story when the response is so raw.
The Melissa Gorga: Avoid and Evade
Basically from the moment Melissa hit the show alongside her sister-in-law/enemy, Teresa Giudice, the stripper rumors were flying... it was all very "Gamble." Melissa always admitted to being a bartender at her rumored club, "Lookers," but even had her boss backing her up that she wasn't ever a stripper. But when the dreaded Kim D. tried to trap her by bringing a different Lookers manager into an event to make Melissa uncomfortable, Melissa just avoided him, saying that she knew people were just trying to embarrass her. If Gamble hasn't dabbled in the industry, I'd recommend handling it like Melissa: being honest and mostly non-judgmental about an industry largely made up of women is a solid stance, and one that ends up making your rumor-spreaders look like the ones with something to hide.
The Nene Leakes: Own It, Honey
The Nene route is only one to take if you have, y'know, definitely been a stripper — with that caveat, I would highly recommend it. Nene was indeed a stripper in her younger days; she'll tell anyone that it was a job that supported herself and her child and she's not ashamed of that. When anyone comes at her all, "Well, I heard you were a stripper," she's like, "Yeah, me too, honey." And there's simply nowhere to go from there. Confirming a rumor just makes it truth and House-wife types bore of talking about truth pretty quickly.
Either way, Gamble, know that you are in good company over in the stripper corner of the rumor mill.
Images: Martin Philbey/Bravo; giphy (3)