Get Echo Valley Meats & Sweets From 'Shark Tank'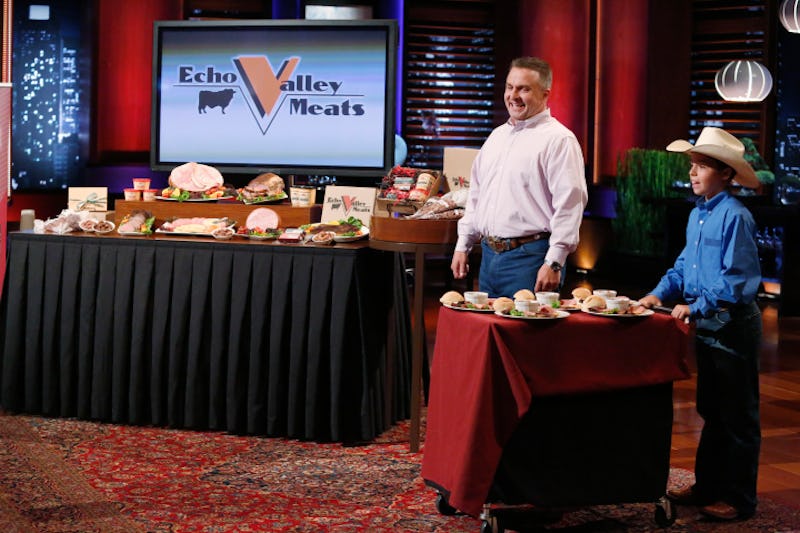 There's something fascinating about food that comes through the mail to me. Maybe it's because Omaha Steaks packages came with a really cool (and potentially dangerous) pack of dry ice. Maybe it's because I always associate delivered food with gift baskets and celebratory Edible Arrangements. Thanks to a company called Echo Valley Meats, premium meats and sweets can be delivered right to your door to celebrate any occasion, even just the fact that it's Friday and the company will be getting its second chance to impress on ABC's Shark Tank . Want to try Echo Valley Meats' grass-fed beef, hickory-smoked ham, and sweet treats yourself? Don't worry, you can order 'em up on the Echo Valley Meats website right now, with prices varying based on the product and package (described below).
The company calls itself Peoria, Ill.'s best meat producer and a specialist in "old fashioned butcher shop quality" meats. Owner and founder Dave Alwan started cutting meat since he was 11 years old. In Alwan's first Shark Tank appearance, he didn't exit with a deal or an investor, but according to his interview with Shark Tank Blog, Echo Valley Meats experienced a huge uptick in sales — we're talking seven figures in sales in the week following his episode's airing. "At one point during the show we had 78,000 simultaneous visitors [to the website]," he told the Blog. "We had more than 800,000 hits to the site in the 48 hours following the show – it was insane! I had over 6,000 emails over the weekend and responded to about 4,000 of them by the end of the week. There were dozens of offers for investments coming in, I could pick and choose."
But now, Alwan is choosing to take the rare opportunity to return to the tank and re-pitch his company. He's only the third entrepreneur to do this in the show's history. So now you know about Echo Valley Meats' success, but here's what you should know about their products.
Hickory-Smoked Ham
Echo Valley Meats promises super flavorful hams with no water added. The company currently sells boneless whole and half hams, along with bone-in spiral and smoked hams (half and whole) that range in price from $49.95 to $99.95. If you're in the mood for a whole lotta meat, there are even two "Shark Bite" samplers that cost $179.95 and $249.95.
Sweet Treats
Ok, let's take a break from meat for a minute. Echo Valley Meats also specializes in sweets. From chocolate and nuts to cookie dough, they've got you covered when it comes to dessert. The company works as a distributor for a company called Cookie Dough Cafe, which has also appeared on Shark Tank and basically sells a dream come true: Jars of edible cookie dough. Yes please.
Premium & Grass-Fed Beef
Here's where the real "meat" in Echo Valley Meats comes in. Prime rib, tenderloin, filet, rib eye, New York strip — you name it, they got it and it looks good. The company also distributes grass-fed meats for the Tailgrass Beef Company. Tailgrass' beef is all-natural and raised without hormones and without antibiotics.
Echo Valley Meats has a lot to choose from. But will the Shark Tank investors choose to finally invest? We shall see.
Images: Kelsey McNeal/ABC; evmeats/Facebook (3)