'Wuthering High School' Is A New Spin On A Classic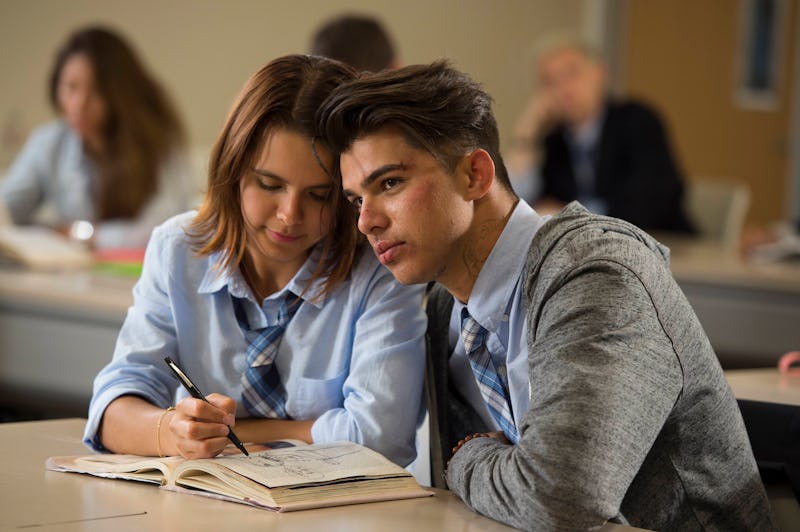 You may remember Wuthering Heights as a book you read in high school, or maybe as the book that Bella Swan revealed she was obsessed with in New Moon when Jacob suddenly came into the picture. Now, Lifetime is giving us a new take on an old classic. Wuthering High School isn't based on a true story, it just takes the Emily Brontë tale to Malibu for a modern adaptation. We're used to Lifetime doing "ripped from the headlines" stories, so this is certainly something new. The television movie stars Paloma Kwiatkowski and Andrew Jacobs as Cathy and Heath. Here is the network's official description of the adaptation:
Cathy Earnshaw is an outcast at her wealthy Malibu high school, where she struggles to cope with her mother's tragic death. Sadness turns to exhilaration when her father brings in Heath, a troubled kid whose mother, a long-time employee of Mr. Earnshaw, is suddenly deported. Cathy and Heath are irresistibly drawn to each other, desperately filling the voids in each other's lives. But theirs is a destructive love, they rarely show up to class, and when they do it's chaos. As Cathy's friends mock the unconventional, arrogant Heath, she feels even further isolated. Finally, Cathy caves to social pressure and breaks up with Heath for a more popular boy. Heath can't forgive her betrayal, and the two lovers start down a tragic path spurred by jealousy, pride, and their undeniable, consuming passion.
It sounds juicy already, though I would still love to see an adaptation of Wuthering Heights set on the other side of the country, in the Deep South. If any place in America has the environmental mystery and danger to match the Yorkshire moors, it's those misty swamps and the Everglades. However, the decision to cast and portray Heath as a Mexican immigrant in this adaptation is undoubtedly a good one. In Brontë's book, Heathcliff is described as having dark skin, a fact many film adaptations gloss over, opting instead to cast a white Englishman, as in the popular 2009 miniseries adaptation with Tom Hardy as well as the '90s adaptation starring Ralph Fiennes and Juliette Binoche.
Here's the trailer for the upcoming Lifetime movie.
What did other adaptations do with the source material? Let's compare, and try to stick to modern twists.
Film4's Wuthering Heights
This adaptation stars Kaya Scodelario from Skins and The Maze Runner. It's a simple, artistic take set in the same period and seemingly staying as close to the Brontë novel as possible. However, I include it for the casting of Yorkshire-born James Howson as Heathcliff — they finally stayed faithful to Brontë's physical description.
MTV's Wuthering Heights
In 2003, MTV did a modern adaptation of Wuthering Heights. It starred Erika Christensen and Katherine Heigl, and Heath is described as "white trash." It looks interesting, light, fun, and definitely modern... but I feel as though they are missing the point in a way that the Lifetime adaptation may have figured out.
BBC's Sparkhouse
This adaptation, with Richard Armitage from The Hobbit, not only set the story in modern times, but reversed the gender roles. They did, however, keep the original setting.
Wuthering Heights In Other Languages
Above is the trailer for Hurlevent, a French adaptation from 1985. There have been many adaptations of this classic over the years, including a Fillipino adaptation in 1991 called Hihintayin kita sa langit which also set the story in modern times. There are several other Fillipino adaptations, as well as a Japanese adaptation that was set in medieval Japan.
Image: The Global Asylum/Lifetime