The 'Paper Towns' Poster Seems Intentionally Vague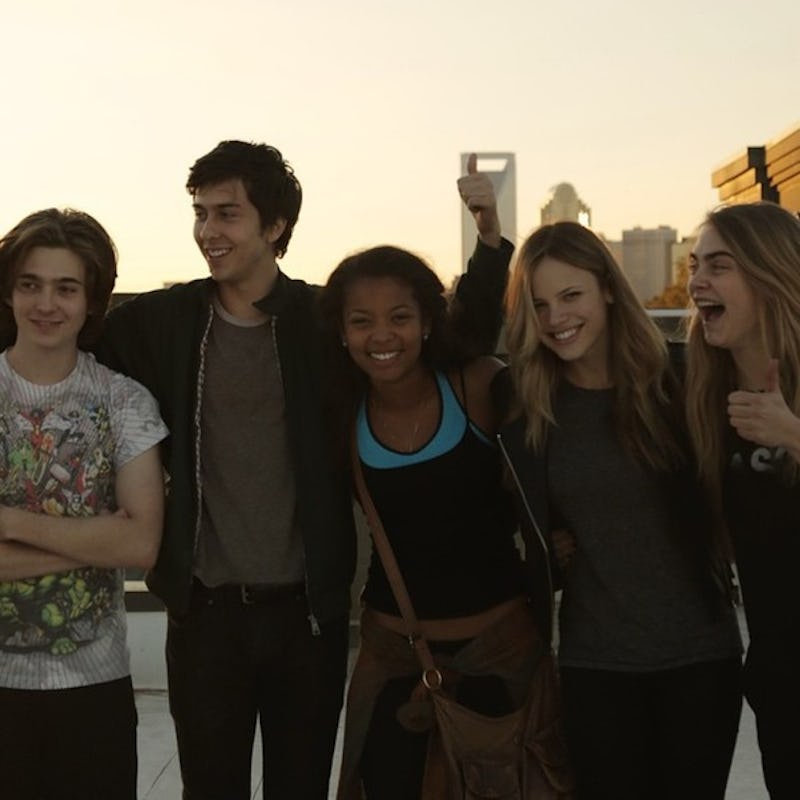 It may seem like an infinity since The Fault in Our Stars came out, but John Green's book adaptation hit theaters less than a year ago. The follow-up to the beautiful, ugly-crying-filled story of Hazel and Gus has many similarities to TFIOS, and the Paper Towns movie poster shows that right off the bat. Green's second novel-to-film stars Nat Wolff, who memorably played blind best friend Isaac in TFIOS. This time around, the leading lady isn't an established actress, but she's 100 percent a recognizable face: Cara Delevingne. The poster has a shot of Quentin (Wolff) and Margo's (Delevingne) faces side by side, and though they aren't in the same position as Shailene Woodley (Hazel) and Ansel Elgort (Gus) were in the Fault picture, the close-up angle is very similar. The tag line is less controversial than "one sick love story" by far, stating simply: "Get lost. Get found."
Even though Paper Towns is a beloved bestselling book, it isn't as much of a cult favorite as TFIOS. The poster seems intentionally vague, and my focus drifts to how Wolff and Delevingne both have incredible eyebrows that look almost identical. To clear up what to expect from the movie, here's the official synopsis:
"Quentin Jacobsen (Wolff) has spent a lifetime loving the magnificently adventurous Margo Roth Spiegelman (Delevingne) from afar. So when she cracks open a window and climbs back into his life — dressed like a ninja and summoning him for an ingenious campaign of revenge — he follows. After their all-nighter ends and a new day breaks, Q arrives at school to discover that Margo, always an enigma, has now become a mystery. But Q soon learns that there are clues–and they're for him. Urged down a disconnected path, the closer he gets, the less Q sees of the girl he thought he knew."
Intrigued yet? The official trailer will be released on the TODAY show on March 19 by John Green and Paper Towns is in theaters on July 24.
Image: Nat Wolff/Instagram