7 Ways To Embrace Your Freckles This Spring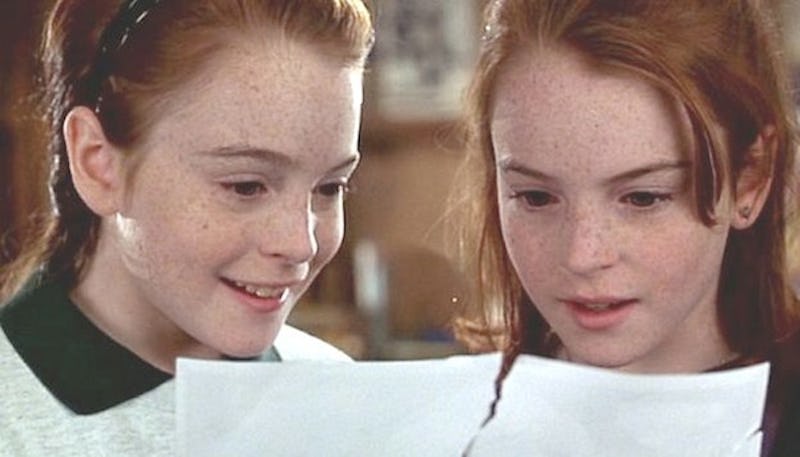 Freckles are arguably one of the cutest things on human faces. They're natural, beautiful beauty marks that are equally permanent. Freckles don't have a pattern, and they don't make sense, but they are possibly one of the best things to come from warmer seasons. Because, you know, the sun makes them glow even more!
My grandmother used to always tell me that my face was "covered with a thousand angel kisses." And as a young girl, I used to love that. As a tween, however, I began to despise my freckles. In combination with my adolescent acne, I didn't think I was ever going to have clear skin again. After many years and bottles upon bottles of foundations used to try and cover up my freckles, I've learned to not only love them, but to actually embrace the dark spots laden all over my nose and cheeks.
I still remember the moment in eight grade, when everything sort of changed. I received pictures from our homecoming dance, only to realize that the photographer had taken it upon himself to Photoshop freckles and braces off of me (and all of my friends) — and the pictures were horrific. We looked plastic and unreal. It was then that I discovered that I loved my freckles and that without them, I would not look, well, like me. Plus, I still enjoy the concept of being covered with a thousand angel kisses. So I stopped buying the thickest foundation I could find and embraced lighter, tinted colors. If you want to embrace your natural, beautiful freckles these spring and summer seasons, try these seven products and tips for a more natural glow:
1. Powder Foundation
Translucent powders are great for evening skin tones, but not taking away from natural beauty marks. Apply lightly with the brush given or with your own makeup brush in order to not completely cover the face. Too much of this powder could leave you with a makeup mustache or a discolored complexion.
truBLEND Pressed Powder, $8, Target
2. Bare Minerals
From day one, Bare Minerals have been all about promising "nourishing, skin-loving minerals." Unlike many loose powder foundations, this one does not completely cake on skin, but evens skin tone and definitely helps with a clear complexion. SPF 15 is also included in the foundation, so it helps protect skin in the sun while allowing those natural freckles to pop.
ORIGINAL Foundation Broad Spectrum SPF 15, $29, Bare Minerals
3. BB Cream
Used over a period of time, BB Cream can remedy oily skin and even skin tone on its own. But it does all of this without acting as a second layer on the skin, which is definitely uncommon for a liquid foundation. And ideal when trying to show off freckles!
Smashbox Camera Read BB Cream SPF 35, $39, Sephora
4. Tinted Moisturizer
If Jennifer Aniston swears by it, then it has to be good. Tinted moisturizer combines the efforts of a daily moisturizer, a light foundation and sunscreen. It acts as a much lighter liquid foundation, without completely covering the face. A great option for those days at the lake or tanning in the summer sun.
Aveeno Positively Radiant CC Cream Broad Spectrum SPF 30, $12, Amazon
5. Use Your Same Foundation, But In A Shade Darker
Sensitive skin is nothing to be messed with. If a certain foundation works, but another doesn't, don't change it and risk unhealthy skin. Instead, use the same foundation for all months of the year, opting instead for one shade darker. Not only will this help match your skin tone to your freckles, but it'll also be perfect for your tanner complexion come the summer.
Maybelline Dream Matte Mousse, $7, Target
6. Coral Blush
Beauty professionals often recommend staying away from pink blushes in the summer. So instead, try a more coral-based color for a sun-kissed tone. It will also compliment your complexion rather than adding a completely different shade — highlighting your freckles along the way!
Stila Custom Color Blush, $20, Sephora
7. The Sun
With protective SPF, there's nothing better than going au-natural in the summer months. The sun usually takes care of uneven skin tone and acne, leaving room for your freckles to shine. To protect your skin best and give it a break from makeup, try using sun screen daily (leaving the foundation behind).
Images: Disney Pictures; Getty; Courtesy Brands