Kaitlyn's Thoughts On The 'Bachelorette' Twist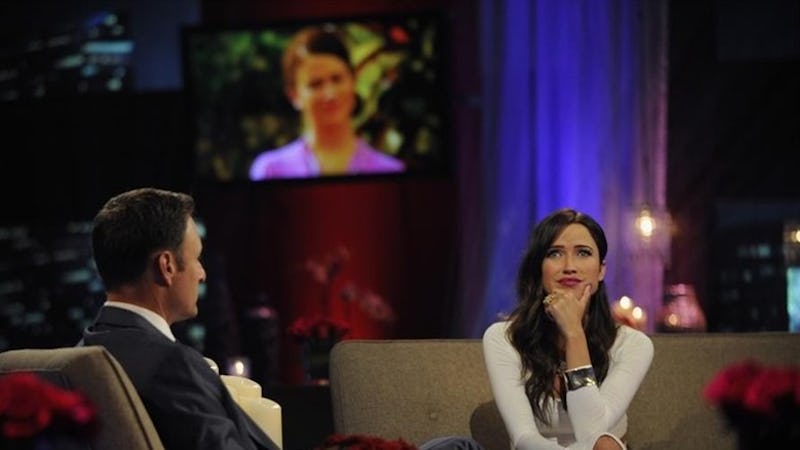 "It's definitely not ideal," Kaitlyn told People of being one of two women on The Bachelorette Season 11. One thing to love about this girl is that she has never been afraid of saying exactly what she is thinking. On After The Final Rose, when Britt was all smiles saying how excited she was, Kaitlyn looked not excited which is the reason so many people love her. So while Britt was smiling about the situation, you, Kaitlyn, and me are sitting here like, "Ugh, really?" Kaitlyn told multiple outlets that the idea wasn't an "ideal situation," but would always pick up the comment with something along the lines of it being a great opportunity. Is it, Kaitlyn? Is that what you really think about the two Bachelorettes twist?
If Kaitlyn is chosen by hers and Britt's flock of suitors to pursue love on The Bachelorette, then yes, this is a great opportunity for her. Her very individual personality is something that the show deserves, and it's something that men should really appreciate about her. Because Kaitlyn hasn't really held back regarding her opinions on the twist, so we know where her head is at, but let's analyze her comments about the twist via social media a little closer.
This Jimmy Kimmel Picture
You know Kaitlyn is thinking, "Wow, this crop job is 1) amazing, 2) IDEAL, 3) HOW IT IS SUPPOSED TO BE."
Maybe Avoiding Britt?
Thoughts: "I'm going to hang out with Ashley S., and hear about bicycling instead of hanging around Britt and thinking about how she and I have to win over guys and make them choose us as The Bachelorettes, because that's BS."
Reasons SHE Should Be The Bachelorette
Kaitlyn liked this article enough to publicize it. "But don't you see, Bachelorette producers, it says 'Why Kaitlyn should be the Bachelorette' not 'Why Kaitlyn & Britt should be the Bachelorettes" is what she really means by the "Well how nice is that!!!" part of her tweet.
Recruiting a Bachelorette Alum
That "Not yet..." is definitely Kaitlyn's way of saying they'd never announce it being just Kaitlyn.
Images: David Moir/ABC