'RHOA' Season 8 Is Going To Be Out There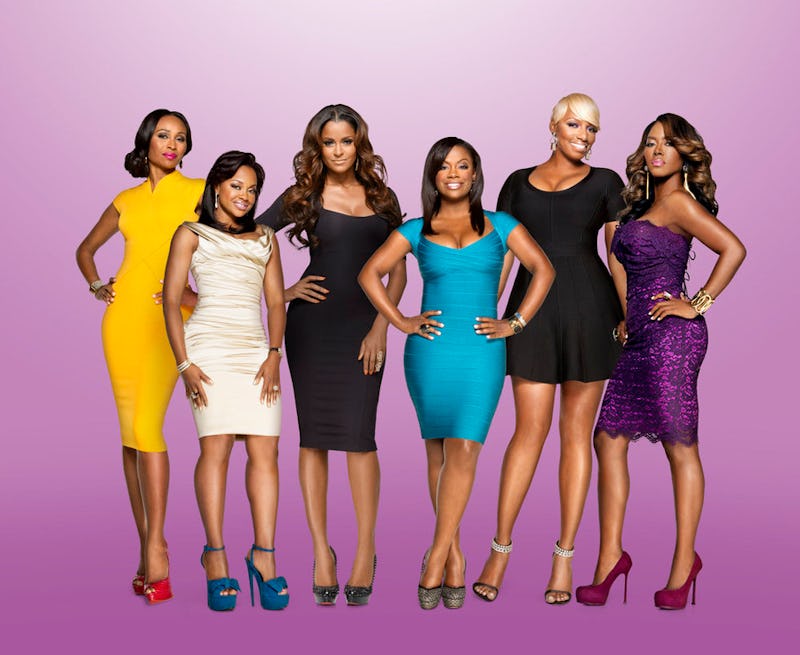 The eighth season of The Real Housewives of Atlanta is still almost a year away — Season 7 hasn't even ended yet — but unlike scripted TV, the spoilers for Real Housewives Of Atlanta Season 8 are happening real time. And everything that's been going on in the offseason will probably make it into next season. And these ladies have not been laying low, either. They're all staying busy with their different jobs (or jobbbbbssss), promoting themselves on Twitter. Kenya's preparing a whole new identity for this season, and there are all these solitary articles floating around about how crazy the production of her pilot, Life Twirls On, has been. They haven't coalesced into one solid piece of gossip yet, but when they do, look out, because it will be hilarious.
So far, everything that the ladies of Atlanta is up to is a mix of exactly what you'd expect and some attempts at surprises from the cast. Noticeably, there's no news or rumors about if anyone else who could be added to the cast, but this is the one Housewives franchise that doesn't really need to be shaken up very much. If all six members of the cast remain for another year, it will make for a fantastic RHOA Season 8.
NeNe's Already Second-Guessing Her Return
Finally, it seemed like NeNe Leakes was on her way out of the show, finally done with RHOA. But even though news just broke that NeNe was offered her own show on the Oxygen Network, she's not saying "Bye, Felicia" to the rest of the ladies just yet. Recently, she tried to walk back all of her promises to leave the show and call it all "Twitter gossip." She's also said that she prefers being in an ensemble to being alone. Hmm... her behavior this season doesn't really seem to show that.
Kenya's Got Another New Boyfriend
Kenya claims she has another secret boyfriend who will appear on the next season of the show. Producers from The Millionaire Matchmaker have supposedly confirmed the story to Uptown Magazine. I guess we can expect Kenya to try her best at milking another season out of phony romance. She took a backseat this year, and maybe she's ready for Season 8 to be the center of attention.
Demetria Is Back With a New Music Video
Demetria didn't made a very big impression on the seventh season of the show, but she recently opened up about her relationship with Roger Bobb, everyone's favorite Tyler Perry producer, in music video format. In the grand tradition of the Countess LuAnn, a couple of the other 'wives are in the video, too — Cynthia Bailey and Claudia Jordan. The behind the scenes drama over who was chosen has to be contentious. Like why wasn't Kenya there? That's her clique. Maybe a little jealousy over which lady has music video supremacy in the group.
Apollo Is Officially Gone
Apollo Nida, Phaedra's ex-husband, went to jail just a few episodes ago after an explosive fight with his wife at their home. But now that he's serving his eight-year sentence, he's been fired by Bravo and won't be appearing on any seasons going forward. I guess if Phaedra does decide to take her sons to visit their father, it will just be a private family affair.
Image: Alex Martinez/Bravo; Giphy (2)