7 Things You Forgot About 'The Voice' Season 1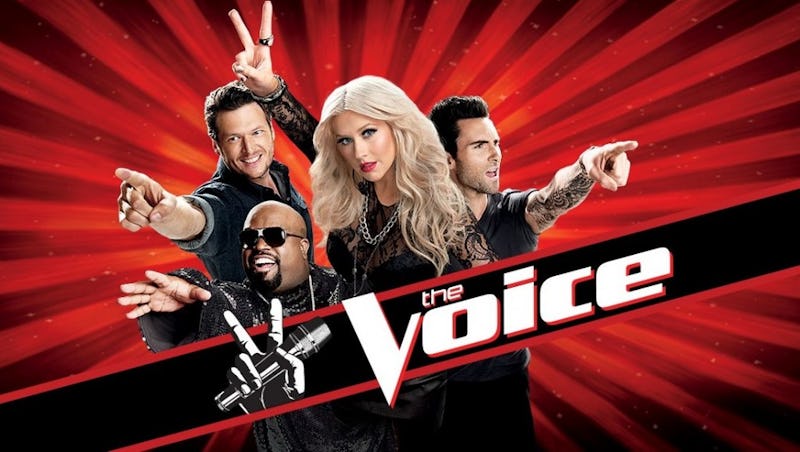 The Voice is the gift that keeps on giving. Whether you tune in for the celebrity coaches, for the live performances of celebrity mentors, for the actual contestants, or for the epic bromance between Blake Shelton and Adam Levine, the hit show has a little bit of something for everyone. The Voice is heading into its eighth season with many seasons more to come, but, at times like this, it's always nice to look back at how far we've come since the very beginning. Let's take a walk back to when The Voice was a brand new show that we had no idea we would become this addicted to.
Of course, rewatching Season 1 now might feel like watching an entirely different show. The people were different (no, not the contestants), the format was a little different, and little twists that we've become so familiar with were outright excluded. However, that's far from a bad thing. The Voice perfected an already winning formula until it went from well-liked to beloved, so seeing how much has changed from the first season to now will just make you feel like a proud mom whose child is all grown up.
Remember when...
1. Alison Haislip Was In Charge Of Social Media
Remember Alison Haislip? After eight seasons, don't be upset if you've forgotten about her. During Season 1 of The Voice, Haislip was the Social Media Correspondent for the show. Whether you loved her segments, hated her segments, or didn't care about her segments, she was replaced by Season 2 with Christina Milian — giving a whole new meaning to Milian's song "Call Me, Beep Me."
2. There Were Only Eight Contestants Per Team
Since The Voice was a new show at that point, it's no surprise that everything was done on a smaller scale. One such thing was the size of the teams. The number of people each Coach got to work with almost doubled in Season 2 (going up to 12), but, way back in Season 1, each coach only had eight contestants. That went along perfectly with the fact that...
3. The Entire Process Was Way Shorter
The Voice Season 1 did in 11 episodes what takes over 20 episodes to do now. Each of the stages of going from audition to winner was done in a much shorter time than it's done today. But, don't worry. There were still performances from the judges and the guest mentors. I mean, not everything has changed.
4. The Season Ended With A Voice Live Tour
During the season finale, Carson Daly announced The Voice Live Tour — and that was the last time the show had a tour until it was brought back in 2014. Much like Glee or American Idol, the tour could have been a great reoccurring resource for the competitors to still get their music out there, but, in Season 1, it was a short-lived moved that was nonetheless groundbreaking.
5. Each Team Only Got One Celebrity Mentor
Nowadays, each Coach can get anywhere between one to three celebrity mentors for their team, but Season 1 didn't really allow for that. Every team had one mentor and only one mentor, so they really had to make the most of the lessons they could gain from that Adam Blackstone, Reba McEntire, Monica and Sia.
6. There Were No Instant Eliminations
You know that part in the Quarterfinals where each Coach has to give an artist from their team the automatic boot? Yeah, that whole process didn't exist back in Season 1. (And the concept of the Instant Save didn't become a thing until Season 5.) Considering how much tension the Instant Eliminations add to the competition, it's a good thing that it was added later on.
7. The "Shevine" Bromance Was Just Starting
Perhaps the most jarring thing about Season 1 — at least to people who adore Shelton and Levine's bromance as much as I do — is the fact that their bromance wasn't as heavy in Season 1 as it would be in later seasons. Oh, sure, they had an instant connection, but the years of being the only two Coaches on The Voice to last from Season 1 all the way to Season 8 helped them become the "Shevine" we all know and love today. Still, it's adorable to go back to the first season and rewatch the friendship blossoming all over again. (Especially that hug in the season finale. Awwww.)
Image: NBC; xlera, blakesheltondaily, tears-dry (5)/Tumblr