2015 Book-To-Film Adaptations To Fit Every Mood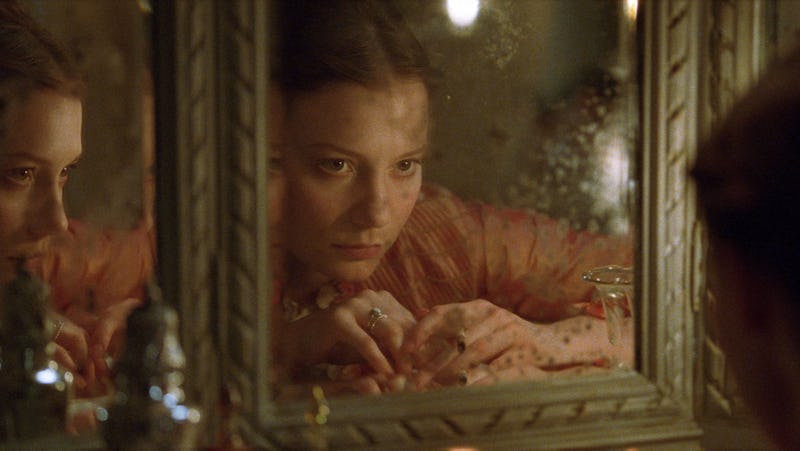 How many times have you watched Bridget Jones' Diary after a breakup, or The Devil Wears Prada when you have the flu and need a little cheering up? Or maybe you like to re-watch Horrible Bosses every time you have a crappy day at work, or The Ring when you just really have an urge to feel utterly terrified. There are movies (and books) for every mood. In fact, right now there are several book-to-film adaptations in the works that'll be perfect for rainy days, hormonal weeks, and every emotion that passes through your mind/body/soul.
Insurgent hits theaters this month, so if a little ass-kicking is in the cards then get thee to the theater, pronto. You've also got Mockingjay , which should conjure up all sorts of emotions: joy, fear, amorousness, nostalgia, sorrow that The Hunger Games movie franchise is coming to an end. If you're a Thomas Hardy fan, there's an adaptation of Far From the Madding Crowd coming soon with Carey Mulligan playing the willful Bathsheba Everdene. You do not mess with a woman named Bathsheba.
When you find yourself in a romantic mood this summer, go watch Paper Towns, based on John Green's book. Model Cara Delevingne takes a break from Paris fashion week to play the mysterious Margo Roth Spiegelman, whose name is not nearly as cool as Bathsheba.
On that note, here are eight upcoming book-to-film adaptations to fit (almost) every mood.
Madame Bovary by Gustave Flaubert
Mood: Frustrated
Mia Wasikowska (Jane Eyre, Tracks) plays Emma Bovary, the unhappily married woman who embarks on a series of affairs to escape her bland, oppressive existence. Things don't go so well for Emma in the wake of her rapturous affairs, so if you're feeling frustrated about life and want to get extremely upset about the ways women were treated in the old days (which, let's face it, is still frustrating today) then watch this film, let your anger bubble up, and argue about the injustice you just witnessed when the credits roll until you've let all that frustration out. Then go have a cocktail and relax.
Click here to buy Flaubert's Madame Bovary.
Macbeth by William Shakespeare
Mood: Randy
If you thought Fifty Shades of Grey was hot (because evidently millions of people did), that is nothing compared to the thought of Michael Fassbender and Marion Cotillard scheming and plotting and having mad, passionate… anything, really. They are both earth-shatteringly hot, and just the thought of them exchanging smoldering looks on screen is enough to make you weak in the knees. Or maybe that's just me.
Click here to buy Shakespeare's Macbeth.
Me Before You by Jojo Moyes
Mood: In Need of a Good Cry
Game of Thrones' Daenerys Targaryen (aka Emilia Clarke) trades in her dragon babies to play the main character in Moyes' tearjerker about a small-town girl who forms an unlikely bond with the paralyzed man she's taking care of. If you're feeling the need to just feel and weep for a finite period of time, grab some tissues and watch this one when it comes out.
Click here to buy Moyes' Me Before You.
Dark Places by Gillian Flynn
Mood: Broody
Like Gone Girl's Amazing Amy, Dark Places has a main character (played by Chloe Grace Moretz from Kick-Ass and Carrie) that has some crazy demons lurking in her brain — hence the title. If you're feeling a little broody and dark, this thriller will be the perfect movie to compliment your mood. Yikes.
Click here to buy Flynn's Dark Places.
Child 44 by Tom Rob Smith
Mood: Curious
Want to know what the Stalin-era Soviet Union was like? Feeling the need to crack the code of Tom Hardy's sex appeal? This movie is for you. Hardy plays Leo Demidov, a disgraced war hero who investigates a series of grizzly child murders, and uncovers truths his country would rather keep under wraps. It'll keep you guessing. It'll keep you contemplating the gorgeous hunk of muscle that is Tom Hardy.
Click here to buy Smith's Child 44.
True Story by Michael Finkel
Mood: Mischievous
This one is about the relationship between journalist Michael Finkel and Christian Longo, an FBI Most Wanted List murderer who lived outside the U.S. under Finkel's name for years. Jonah Hill plays Finkel and cultural shapeshifter James Franco plays the illusive Longo. Watch this if you want to live vicariously and pretend you're going off the grid under an alias with a forged passport. Just don't do it in real life.
Click here to buy Finkel's True Story.
Frankenstein by Mary Shelley
Mood: Melancholy
Don't confuse this with that lame-o action pic I, Frankenstein — the one that probably caused Shelley to turn over in her grave. This new movie, called Victor Frankenstein, stars Daniel Radcliffe/Harry Potter as Igor and James McAvoy as Dr. Frankenstein. It's told from Igor's POV, which is a new twist on the classic. It'll no doubt be dark and dreary and the perfect fit for a melancholy mood.
Click here to buy Shelley's Frankenstein.
A Hologram For the King by Dave Eggers
Mood: Determined
Tom Hanks plays Alan Clay, an American businessman struggling financially who heads to Saudi Arabia to try and sell a brilliant idea to a wealthy monarch. It's impossible not to root for Tom Hanks, and if you're in the market for a little inspiration, why not watch him play a dude who is determined to get his life back on track by any mans necessary? If Tom Hanks can't motivate you, no one can.
Click here to buy Eggers' A Hologram For the King.
Now you have plenty of movies to add to your must-see list, whether you're feeling hopeful, mischievous, or in need of a good cry.
Image: Alchemy Films