Everything Apple Might Unveil Next Week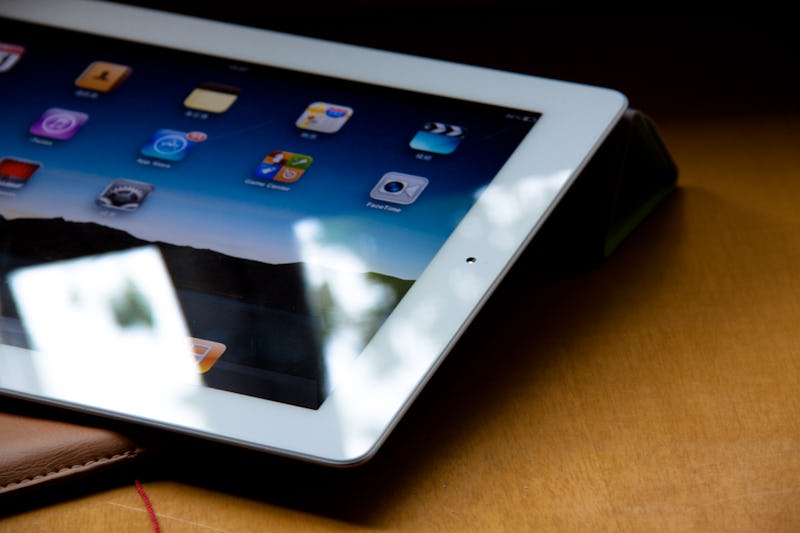 One week from today, we'll get to meet Apple's refreshed line-up of products, from the iPad and iPad Mini to the sleek, jet-black Mac Pro. We know that the shiny new iPads will be faster, thinner, and sharper, and that the invitation's tagline — "We still have a lot to cover" — implies that the iPads will come with a brand-new keyboard cover, turning your tablets into a tiny computer at a moment's notice. Also anticipated is one or more of the following: OS X Maverick, a "smartwatch," and/or a reconstructed Apple TV. The Cupertino-based giant tends to unveil its newest products in the fall, meaning that we can expect almost anything at the Oct. 22 event.
What do we know for sure?
In short: new iPads. Apple's entire line of tablets is being refreshed for their fifth generation of being, and they're getting a Retina display, which was previously consigned to MacBooks and boasts the most pixels the human eye can see. They're all getting a design reboot, since Apple's raison d'être at present appears to be acing the product design on the iThings they've already made, hence this week's hire of Burberry's CEO. The new iPads are getting faster (better processor), sharper (Retina, plus better camera), and thinner (um, self-explanatory).
Apple doesn't mess around with its taglines, and "We still have a lot to cover" suggests that a new keypad cover for the iPad — the sort that's worked pretty well for Microsoft — is in the works. It'll link up to the iPad in the same way that a laptop keypad does, only it'll be your decision whether to whip out the keyboard-slash-cover on the go, or just type on your tablet instead. Sales of laptop computers are being slowly eclipsed by tablet products, and there's room in the market for anybody who can combine the processing powers of a computer with the size of a tablet.
What else might happen?
We already know that there's going to be a new Mac Pro processor, a black, slightly odd cylinder that powers your workstation Mac. In Apple's initial unveiling, the company said vaguely the Mac Pro would come "later this year," and it's expected either now or in mid-November. Coming up, the most melodramatic ad for a gadget you've ever seen...
It's not clear if there will be a new screen, nor what it'll look like as a whole, but according to that ad it's going to take mankind in an entirely new direction. We're going with: faster, cleaner, sharper, smaller. Oh, and it'll have Maverick.
What on earth is Maverick?
Maverick is the big brother to the current Mac operating system, the Mountain Lion. Its logo is quite a bit less exciting. Apple's vice president said jokily that the company had run out of good cat names, and was now taking inspiration from physical areas close to Apple's Californian HQ.
According to TechRadar, Maverick will bring us a big selection of tiny updates:
Mavericks isn't a huge leap forward in terms of features, but it sees Apple tweaking and introducing content related apps and services such as Maps and Notifications synchronizing across all Apple devices and iBooks now coming to OS X. Also going are the irritating and outdated interface elements such as leather/paper-style backgrounds.
Everyone will see improvements in the way full-screen apps work plus the ability to open multiple tabs in Finder windows, apply tags to file for easier organization and reply within notifications.
Because Maverick isn't a huge update — it's also catchily referred to as version 10.9 — Apple might want to keep it on the down-low, which might be why they haven't hinted at Maverick in next week's event invitation. The design interface of that big, boring X would imply the same thing.
What else might happen?
Well, the MacBook Pro line might get an update, which might lend the Retina technology to Apple's entire range of portable MacBooks, and up the laptops' design specs — in other words, more of that "faster, thinner, shinier" stuff. Apple's notoriously tight-lipped about upcoming products, but it's safe to say that at least with the classic MacBook line, nothing will be gold or obscenely colorful.
There's also an expansion to the Apple TV line. Apple TV is a relatively niche product, and effectively wipes the need for that pesky, unpredictable "television" thing by giving you the capability to watch everything and anything you want on your TV screen, utilizing the iTunes Store, Netflix, HBO Go, and whatever else you choose. Google and Amazon are hotly tipped to enter the television market, so Apple may well want to one-up them.
There's also that famous smartwatch, which is unlikely to come so early, but not impossible. The intelligent watch will enter an arena that Samsung, LG, and Google are about to populate: it's a "wearable tech" device you place on your wrist, which syncs with your phone. Notifications, calls, pictures, the weather, and the ability to take photos, for example, will then be right there on your wrist.
In other Apple news, a New York filmmaker who recorded his depressing experience with iPhone 5S and 5C launch lines was pretty shocked to discover this week that Apple had edited out said "depressing" parts, and used tape of the lines as, um, a motivational video for their employees.
Image: Leondel/Flickr