Why It's So Great To See Xtina Back On 'The Voice'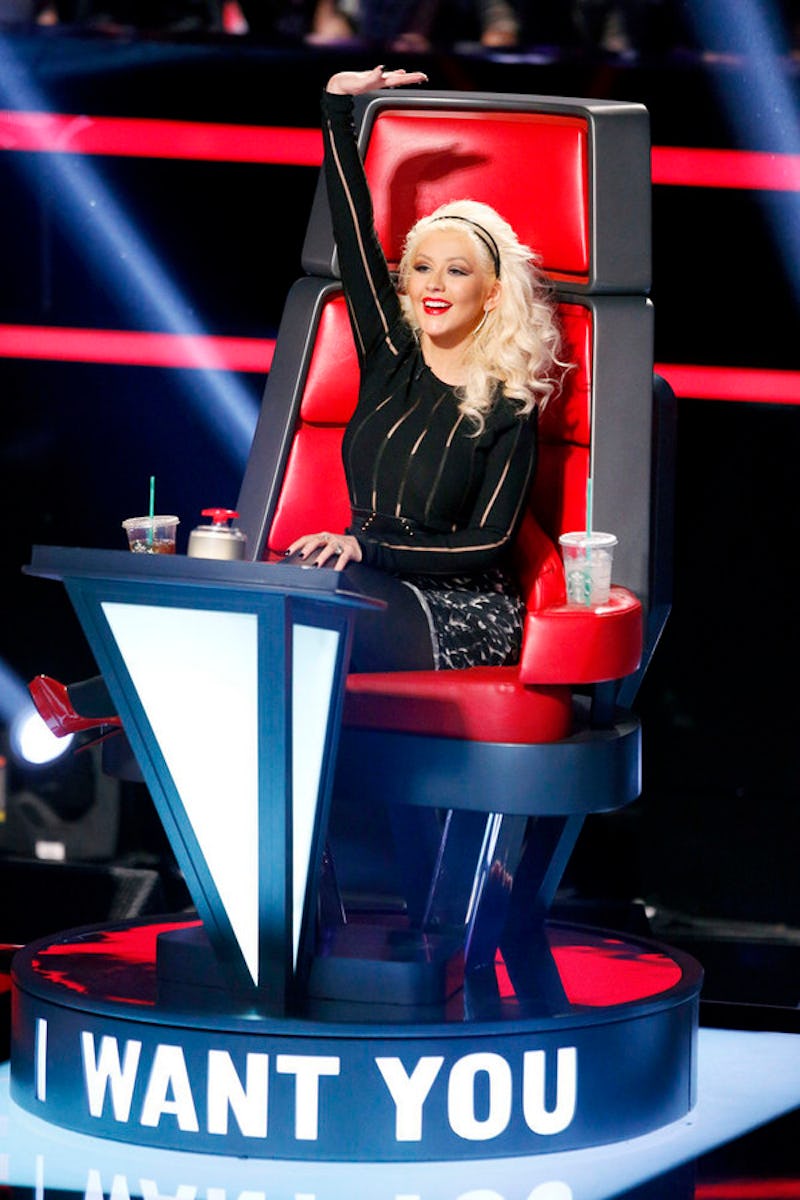 Recently, I've become a total The Voice addict. I rush home from work on Mondays and Tuesdays to watch established musicians Blake Shelton, Christina Aguilera, Adam Levine, and Pharrell Williams coach amateurs through a tough — but incredibly engaging — singing competition. I still have no idea exactly when or how I first got sucked in, but I did and now I just can't get enough of Shelton and Levine's antics, Williams' confident coolness, the awesome celebrity guest advisers, and, of course, the amazing unknown-but-soon-to-be-known voices. Though No Doubt's Gwen Stefani was a fun addition to last season, I have to say, it's so good to have Christina Aguilera back in that red chair on The Voice .
The 34-year-old diva, known for her incredible voice and hits "Genie in a Bottle," "Beautiful," and most recently, "Say Something" (with A Great Big World), is one of the original coaches and has been with the NBC singing series since its premiere in 2011. Aguilera has taken breaks from The Voice in Seasons 4 and 6 — in the fourth season, she wanted to focus on her own music career, and she didn't appear last season due to her pregnancy. "Our coaches have their chairs for life," producer Mark Burnett said. Which is why Aguilera is back and better than ever.
I think the energy has certainly changed with the return of the singer and it's definitely making this season a must-see, because Aguilera just brings so much to the stage. Here are all the reasons I'm so glad that Xtina's back on The Voice.
Her Contagious Excitement When She Gets The Singer She Wants
There's nothing like hearing Aguilera's little squeal when a singer chooses her as their coach during the Blind Auditions. It's hard not to be happy for — and with — her.
Her Unabashed Love For Strong Voices With Range
Aguilera has an incredible voice of her own, so it's understandable that she can't resist other amazing vocalists who knock it out of the park.
Her Awesome Wardrobe
Xtina always shows up with her own snazzy sense of style, whether it's a classic white T-shirt and jeans, or wacky colors.
Her Always-Surprising Hair Styles
Speaking of style, Aguilera's hair always shocks and surprises — in the best possible ways. She proves there's always a new way to wear your hair.
When She Breaks Out Her Own Incredible Voice
Wow. Can't top that.
Her Stellar Performances With Other Singers
From singing with Maroon 5 on the hit song "Moves Like Jagger" to a duet with Lady Gaga, Aguilera's own stellar voice goes fantastically with every singer on the planet.
When She Wears Her Heart On Her Sleeve
It's so good to have you back, Xtina.
Images: Trae Patton/NBC; Giphy (14)