I Visited The Real Stars Hollow, You Guys!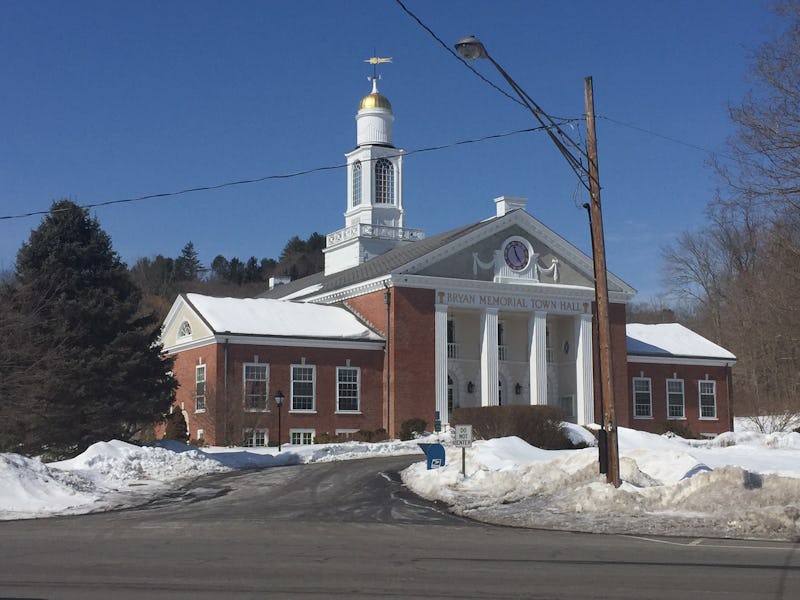 I took a road trip to Vermont last week, but along the way my friend and I decided to take a detour to Washington, Connecticut. In case you didn't know, Washington is the town Gilmore Girls' Stars Hollow is based on. The creator of the show, Amy Sherman-Palladino, and her husband went on a trip to Connecticut and ended up staying in the small town of Washington and while at the Mayflower Inn, wrote the plot and even some of the pilot dialogue. She told Deseret News in 2001, "We went to a diner and everyone knew each other and someone got up and they walked behind the (counter) and they got their own coffee because the waitress was busy, and I'm, like, 'Is this out of central casting? Who staged this thing for me?'"
Naturally, I had to stop by this tiny town while I had a car on hand and a friend with me who is as obsessed with Gilmore Girls as I am. To get to the town we drove through New Milford, which had the world's best gazebo in town. After spending about 20 minutes on a winding road, we passed a street called "Popple Swamp Road" (clearly reminding me or Sores and Boils Alley), we were finally in the center of the town. Before I walk you through my experience, I just have to share a few first glance opinions of the real life Stars Hollow:
There is no gazebo in the center of the town
If I lived here, I would open a diner
Where is everyone?
Here's what happened on my trip to Washington a.k.a. the real Stars Hollow:
Where Is Luke's Diner?
In the main street of Washington, Connecticut there is no diner, unfortunately. Instead, there is a upscale cafe called Marty's with delicious pastries. Marty's was the first stop on our tour. While I got the Lorelai classic — black coffee — my friend ordered an espresso, something that would have never been available in Stars Hollow.
Inside, there were a few customers in line. As I watched them, I wondered if they knew each other or if they were strangers. My question was quickly answered when an older woman in line hugged an older man in line and started talking about her driveway and how the weather was damaging it. They addressed each other on a first name basis and talked about their families. As she was leaving she looked at the man and said, "I'll call you later." It's confirmed. Everyone knows each other.
It was perfect.
What About Gypsy's Garage?
After my great cup of coffee, we walked around the town and found the Woodruff Garage. It almost felt like walking up to Gypsy's, except it was a Saturday and the car shop was pretty much a ghost town. Regardless, Woodruff is exactly how I pictured Gypsy's. Two cars at a time in a small cozy building, with what looks like a small apartment on top.
There Is (Sort Of) A Stars Hollow Books
Welcome to the Hickory Stick Bookshop, which in my opinion was better than Andrew's store. The name alone is so small town and Stars Hollow-like that I immediately fell in love with it. Inside was big and they sold books, candles, toys and of course, Washington memorabilia. Rory would have been here all the time.
Why Isn't Town Hall In A Dance Studio?
As I walked over to the market, the Town Hall was across the street. Was I upset that town hall meetings aren't held in a local dance studio? Yeah, pretty much. I looked around the main area of the town and realized that there was no dance studio around, meaning that Ms. Patty isn't real. I still hope that there is a Taylor Doose running around that town hall though, making people jump through hoops over nothing.
There Is Something Like Doose's Market
The market was totally cute and decently sized. It definitely wasn't as small as Doose's on the show, and there were plenty of product opinions. We went in for some road trip food. I got BBQ Cape Cod brand chips, parmesan garlic pretzel chips, and a Diet Coke. Yum.
At this point we had been there about an hour and needed to get back on the road. As we checked out, this over-the-top woman started talking to us, because she thought my friend was talking to her... she wasn't. When she realized that my friend was talking to me instead, she laughed and said that she spends most days talking to herself — which definitely makes her the sort of person you'd find in Stars Hollow.
Finally: The Most Stars Hollow Thing About Washington, CT
This. This is what every single person imagines Stars Hollow to be like: A puppetry festival, probably starring the town's angelic darling of an A+ student, a la Rory Gilmore (I can only hope, anyway). Well done, Washington. Now, if you can just get on that gazebo. And maybe a diner...
Images: Lindsey Kupfer (8)