Jax Has A Tattoo Of Stassi's Face On 'Vanderpump Rules' But Here Are 7 People He Should Have Inked Instead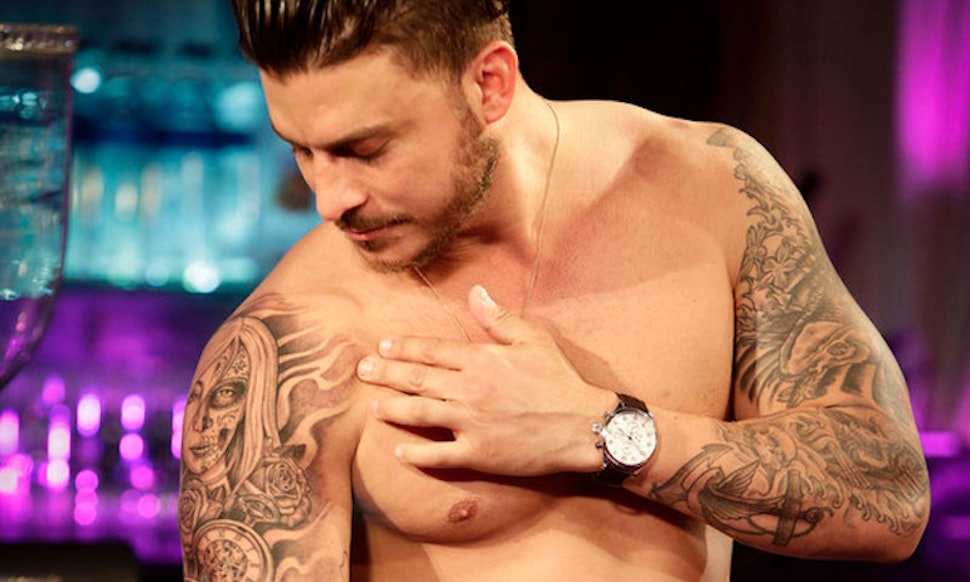 You know how getting tattoos of a love interest's name can be super risky? (What if you break up? Will this completely jinx the relationship?) Well, as it turns out, getting a tattoo of their entire face is way, way worse. Especially when you do it years after the breakup... for some reason. And, unfortunately, it's something Vanderpump Rules star Jax Taylor knows from personal experience because — that's right — Jax's newest tattoo is of his ex-girlfriend Stassi Schroeder's face. Awkward doesn't even begin to explain this insane situation.
Seriously, this was not the most well thought out plan, my friend. I mean, I don't know about you guys, but I'd hate to have a reminder of a relationship turned sour permanently inked on myself for all time. Plus, having another girl's face tattooed on your body? Doesn't exactly scream chick magnet, right? So in light of this ill-advised decision, I thought I'd take the liberty of listing a few other faces Jax should've tattooed on himself instead. Because, let's be honest here, any decision would've been better than this one…
Image: Nicole Wilder/Bravo
Lisa Vanderpump
Want to know one way to suck up to your boss? Get a tattoo of her face somewhere on your body. Could it be perceived as kinda creepy? Sure. But there's no way she'd be able to deny your dedication to the job.
Giggy
I mean, what better way to show that you've got a soft spot for cuddly animals?
Jennifer Lawrence
Because who wouldn't want J. Law's face tattooed on their skin for all time? (That was a trick question, of course, because the answer is absolutely no one.)
Beyoncé
Who run the world? This amazing tattoo, that's who!
Shonda Rhimes
That way, Jax could carry the wonder that is Shondaland around with him always. It just doesn't get any better than that.
Queen Elsa
Think about it: if Jax got this tattoo, then he'd never have to let it go. (See what I did there?)
Images: Disney
Taylor Swift
As TSwift herself has said… "it'll leave you breathless or with a nasty scar" (depending upon how good your tattoo artist is).