Why Plus Size Bloggers Are Such Major Influencers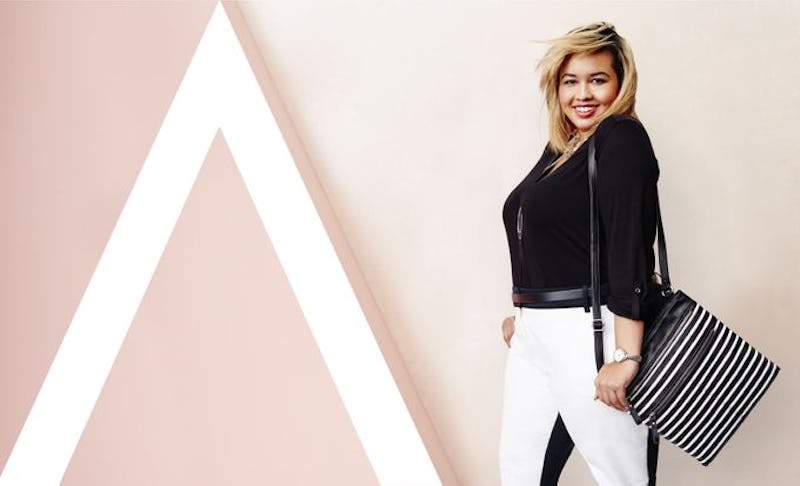 Today, Elle Magazine put out their list of the "most influential" style bloggers of the moment. Fresh off the heels of Paris Fashion Week, the feature was rife with photos of thin women sitting in the front rows of shows or captured in street style shots. I have nothing against Olivia Palermo or Chiara Farragni, and they are undoubtedly influential, hustling hard as businesswomen. I just heaved a little sigh at the lack of diversity in personal style and body size within this list, paralleled to so many before it. When Fashionista chose Nicolette Mason and Gabi Gregg as two of their 20 "most influential" bloggers, I guess I'd sort of gotten my hopes up that this was a sign of changing times and plus-size bloggers getting the recognition that they deserve.
I've been reading plus-size blogs for years now — since long before I would have to almost exclusively shop in the plus-size section. Long before I lovingly began to refer to myself as fat. I was, and still am, inspired and in awe not just by the looks that they create, but also by the fact that they create such gorgeous and unique styles with a much more limited variety of clothing than straight-size style bloggers have at their disposals.
It was these women sharing their outfits and senses of style with the whole entire internet, including me, that made me even get interested in fashion again — and that made me feel like I had a right to be seen. When I think about the term "influential," these women are at least part of what I'm thinking of: People who connect with and move their audiences. If that's how most of us define "influential," then surely plus-size bloggers should be considered some of the most influential fashion bloggers, no? Yes, sitting front row at fashion week and partnering with fashion houses is pretty influential in a very particular way. But mobilizing thousands of women to stop actively hating their bodies and feel like they deserve to look stylish? That rings strongly of deep influence to me.
Unfortunately, it's not always seen that way by the mainstream fashion media and I'm starting to get frustrated by the lack of representation of plus-size women on these "most influential" lists. Plus-size style bloggers aren't just inspiring women of all sizes, but they are also the catalysts for real change in the fashion industry. Mason writes a column and is a consultant for Marie Claire Magazine and makes regular appearances to dispense fashion advice on Today and Good Morning America. She's partnered on trend-setting collections with Mynt1792 and ModCloth. Gregg has appeared in US Weekly and has created her third collection of drool-worthy bathing suits/"fatkinis" that are perennially sold out. Nadia Aboulhosn has modeled for and designed a clothing collection for retailer Boohoo, also collaborating closely with Canadian plus-size retailer Addition Elle. All three starred in the same "Meet My Love" campaign by Addition Elle.
And while it's not couture, Gregg and Mason along with Chastity Garner of GarnerStyle were positively instrumental in the launch of Target's new plus-size line, Ava and Viv. In fact, Garner's protest and boycott of the company after they announced they would not be offering their Altuzarra collab in plus has been pointed out by some as the turning point for the retailer taking their plus-size offerings more seriously.
Influencing one of the country's biggest retailers to launch a new clothing line and make cute, plus-size clothes accessible to hundreds of thousands of plus-size women is not a small deal in the least. This is probably why the ladies have 549.4 thousand followers on Instagram between the three of them. They sit front row at fashion week even though most designers don't produce clothing in their size. Yet, Garner and Aboulhosn have yet to pop up on even one of these "most influential" lists. If these moves don't count as influential, then I'm not sure what does.
It might seem petty to be concerned about being on a list or being considered by one outlet to be "influential" — as long as they're out there and doing the work to actually be influential and are making that change, right? Well, sort of. The thing about these lists is that they do account for some level of validation and add to a blogger's credibility when they're looking to pursue new projects. If the same 10 or 15 bloggers, who are mostly thin white women, are featured over and over, then they're going to keep scoring new partnerships and inking new endorsements and collabs. Which means that the next time someone's compiling a list of the "most influential," they're going to look to these projects that were partially won by the last list and the cycle repeats itself insidiously.
It's... frustrating. Whether the people compiling these lists are just not including plus bloggers, putting them in a different category, or not feeling like their accomplishments are "high fashion" enough, it feels like the progress that they're after is a bit of a slower-moving train than we thought. Plus-size bloggers are not only influencing the fashion community, but shaking things up and creating a different narrative altogether, rather than just playing within the old one. It's about time they were recognized for their work — and for their killer style.
Images: Target; Giphy