Crossing American Border Into Canada Just Got Easier For U.S. Citizens Thanks To A New Deal Between The Countries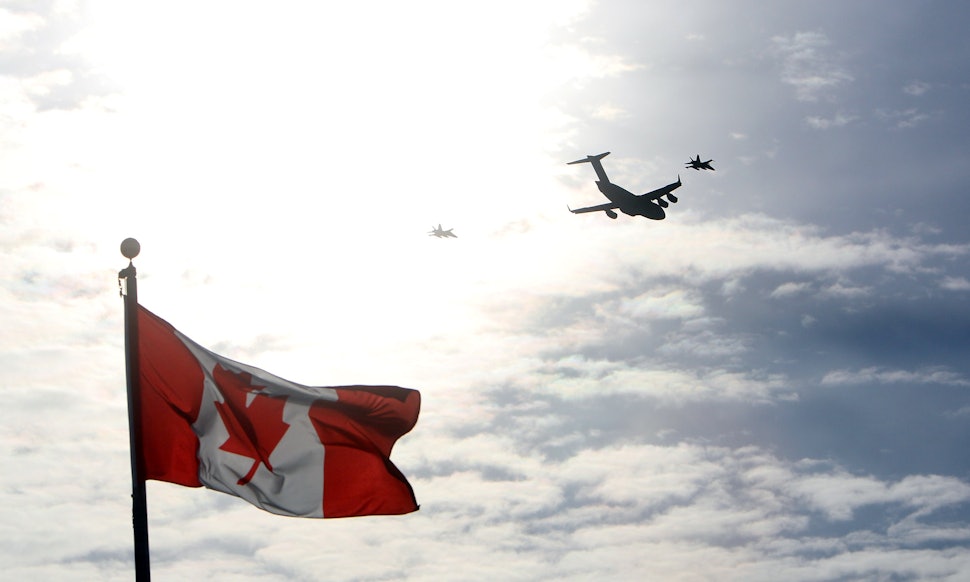 AFP/AFP/Getty Images
If you've been thinking about making a trip across the border to Canada, now is the time to do it. Thanks to a new border deal, travel between the U.S. and Canada will become more efficient. The deal will extend preclearance from air travel to include rail, land, and water travel. Both countries believe that, with this new deal, strong border security will be maintained and the flow of people and goods between the United States and Canada will be both faster and easier.
The new cross-border deal was announced at a Washington, D.C. press conference on Monday, which was held by U.S. Homeland Security Secretary Jeh Johnson and Canadian Public Safety Minister Steven Blaney. The announcement has been in the making for years, with President Obama and Canadian Prime Minister Stephen Harper signing the Beyond the Border deal in 2011 to expedite the flow of trade. However, the deal missed the late-2012 deadline. Now, two years later, it's finally come to fruition.
The new preclearance policy will allow U.S. border officials to work in Canada to inspect people and goods before the border crossing. When customs preclearance is done, there generally isn't any further inspection once the border has been crossed, which speeds up the process. Johnson said Monday of the deal:
This will reduce congestion and delays at the border, and increase efficiency and predictability in cross-border travel, tourism and transportation.
Although such cross-border policy has already existed for air travel in eight cities, including Vancouver, Toronto, and Montreal, many had expressed concerns that the choke points around the border were impeding economic competitiveness and the transfer of goods. According to The Wall Street Journal, an estimated 300,000 people cross the border between the two countries on a daily basis, and an estimated $2 billion goods and services are traded each day, which is described as the world's biggest trading relationship.
However, while it's most definitely good news that this long-awaited deal has finally been announced, it's not without hiccups. Firstly, the deal still needs to get the stamp of approval from lawmakers in both Canada and the U.S. As CBC News points out, while Canada shouldn't have a problem getting the legislation passed, getting things passed in the U.S. can take a lot longer and involve a lot more drama. The second hang-up in the whole deal is that it remains unclear exactly how the facilities to support the increased preclearance measures will be funded and where exactly they will be built.
Regardless, Maryscott Greenwood, Senior Adviser to the Canadian-American Business Council, said of the agreement Monday:
It's dramatic, it's historic, it's a big day in Canada-U.S. relations.
So, maybe wait just a bit to pack up that suitcase and head North. When you do, it's bound to be a much breezier and efficient trip.
Images: Getty Images (2)