What Happened To Donna From 'The West Wing'?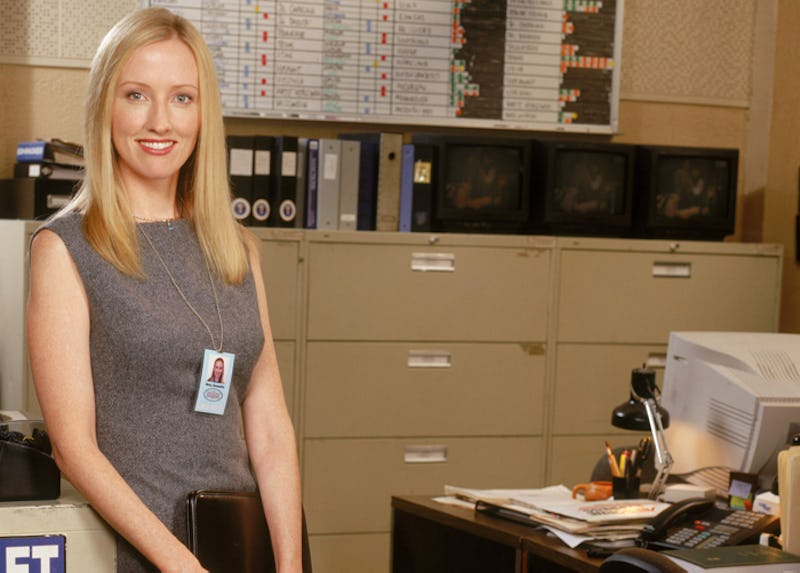 Long before other, lesser, politically-based TV shows made their way onto our small screens, there was a major cultural phenomenon known as The West Wing . The Aaron Sorkin-created TV series that fans absolutely loved followed the lives of the fast-talking people working in the West Wing of the White House, and followed the presidential staff through both their professional and personal accomplishments. One of the most popular staffers on The West Wing was self-appointed Deputy Deputy Chief of Staff Donna Moss, Senior Assistant to the Deputy Chief of Staff Josh Lyman. The ambitious Donna rises through the ranks to become Chief of Staff to the First Lady, but not first without having a will-they-won't-they romance for the ages (Josh and Donna forever) and a few huge campaigns under her belt.
Janel Moloney portrayed Donna for the seven seasons of The West Wing, which ran from 1999 to 2006. But, though she spent 156 episodes on the series, Moloney didn't wrap up her acting career when she wrapped the Sorkin gig. So where did Donna's counterpart end up after The West Wing bowed out? You may be surprised where you've seen her face.
Here's what Moloney has been up to since 2006.
Brotherhood, 2007
Moloney moved on to another TV show shortly after The West Wing finale aired in 2006. The short-lived Brotherhood centered on an Irish-American family in Providence, Rhode Island, who stand on opposite sides of the law. Moloney had a five-episode arc as Dana on the second season of the series, which ran from 2006 to 2008. She later appeared in one-episode guest stints on series like House M.D. (2008's "It's A Wonderful Life,"), 30 Rock ("Reunion," 2008), and Life on Mars (2009's "Revenge of Broken Jaw.")
Becoming A Mother, 2010
On Valentine's Day, in 2010, Moloney gave birth to a son named Julian Francis Zarvos with film composer Marcelo Zarvos. While no information about a wedding ceremony between the two is available to let us know if Zarvos is her boyfriend or her husband, the two make for an adorable, and private, pair.
The Leftovers, 2014
Moloney joined the cast of the chilling HBO series, currently prepping for its second season. Moloney portrayed Mary Jamison on the series, the wife of the former minister determined to prove that the Rapture wasn't a God-sanctioned event.
Alpha House, 2014
Moloney moved back to D.C. — at least, the TV version — with Alpha House, an Amazon original series about four senators who live together.
Hanging Out With Fans, 2014
Moloney was spotted at a Justice For Vets event in September 2014, where she stopped to pose for some selfies with her fans. It also marked an awesome West Wing cast reunion that punched us all right in the feels — at least until another took place in January 2015. (Moloney, sadly, wasn't present.)
The Blacklist, 2015
Moloney had a two-episode arc on The Blacklist, which aired immediately after the 2015 Super Bowl. Here's to many more arcs and starring roles for the former Donna moving forward. Our Moloney sightings are much too rare these days.
Images: NBC; Giphy