'Broad City' Girls Don't Want To Smile For You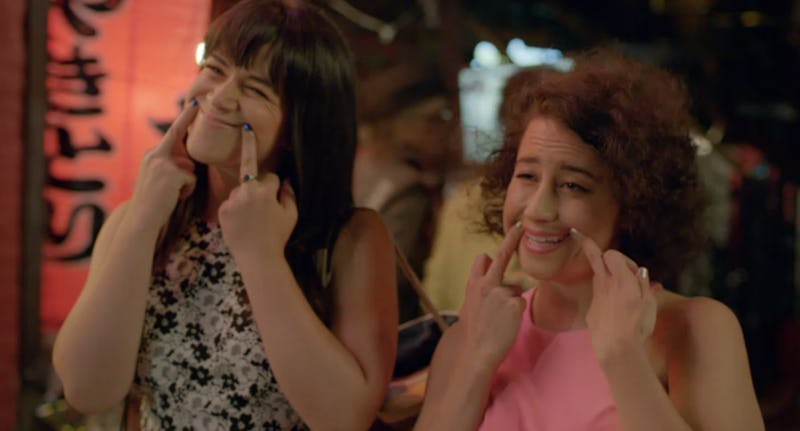 There are a bevy of reasons Broad City is my favorite comedy on cable television. The show's stars, Ilana Glazer and Abbi Jacobson, are a never-ending pool of comedic wit and relatable scenarios. Their writing is distinctly crafted for a female, 20something audience, and in a landscape still dominated by male comedians, there's never been a more opportune moment for these queens to reign above the rest. And with Wednesday night's episode, the girls gave us of another reason to love their self-named characters: They're total badasses who won't put up with anyone's sexist bullshit.
In "Ilana's 23rd," we see the girls celebrating Ilana's birthday, walking down the street towards their foreshadowed night of absurdity — but what else is new? When a stranger on the street says to the women, "You girls are so pretty, you should smile," it prompts the ultimate response: using their middle fingers to position their false smiles in place.
Bustle addressed the worst cat-call in the history of cat-calls, that is, getting approached by a member of the opposite sex who says — "Why aren't you smiling?" — way back in July. It's a particularly nasty breed of taunt, for several reasons: You're being told that your outer, as well as inner, emotional state needs to be altered. You're being perpetrated by the male gaze, and told your appearance is paramount. And you're also being straight up harassed on the street by someone you had no intention of interacting with.
So when Ilana and Abbi give the 'ol middle finger to the dude that demands they smile, it isn't rude, it's completely warranted.
Watch the clip below:
Image: Comedy Central