Sophia Webster's Bridal Line Has Me Saying, 'I Do'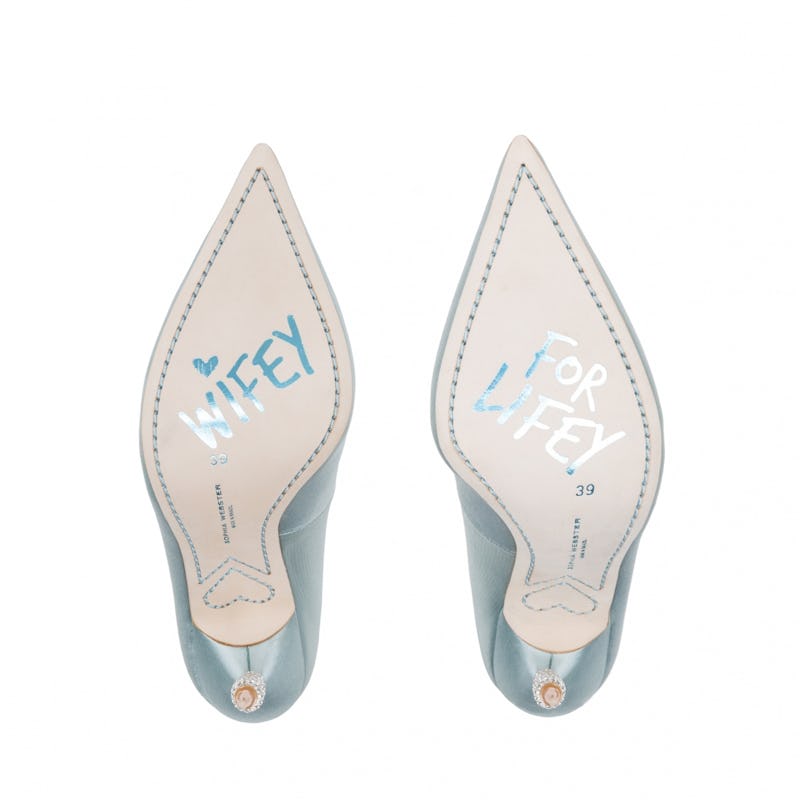 Sophia Webster fans everywhere, find a place to sit down. Are you sitting down, now? Ok, then it's safe to tell you. Sophia Webster launched a bridal shoe collection! So, forget walking down the aisle — now, you'll want to saché down! Known for her incredibly fun and over the top designs, Webster is bringing her quirky style to bridal, and it's pure perfection. Because, I mean, why wouldn't you want the best day of your life to also be the most fun?
Featuring baby blues, rhinestones and sayings like "Wifey For Lifey" inscribed on the soles, Webster manages to pull some classic trends from bridal but keep it her own by adding so much sass and flair. These shoes aren't for your average bride, and I think that's what makes them so great. Well, it's part of it.
Something else unique about this bridal shoe line is that there are a variety of colors and styles. There are tall heels, small heels, red heels (and even clutches!) that would be great for days leading up to and after the wedding, as well as shoes suitable for the actual day. So, your entire bridal style can be filled with Sophia Webster originals. I'm saying yes to these shoes, now!
Here's how I'd wear these Webster masterpieces for all of the events leading up to my big day. (Now, all I need is an official proposal, the gown, the venue… but, hey, at least I've got a plan for the shoes).
Bridal Brunch:
Bachelorette Party:
Rehearsal Dinner:
Wedding Day:
Wedding Night:
Honeymoon:
This bridal line is on sale from $450- $720 at Sophia Webster's website and Net-a-Porter. So, get to shopping, all you brides to be!
Images: Sophia Webster (7)