Why Literally Everyone Shops At Forever 21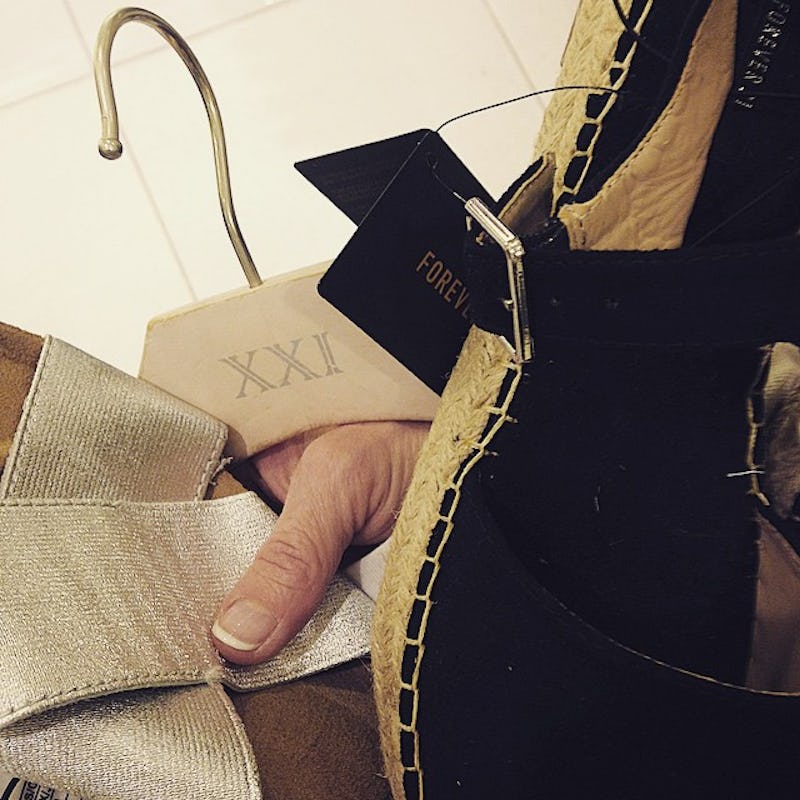 When you're shopping for something specific or looking for the latest trends without wanting to spend a lot of money, Forever 21 seems to be the one-stop shop. But when Racked asked the international store who its demographic is, they didn't really have a straight answer. It turns out, no one really knows who the Forever 21 shopper is, yet its sales are skyrocketing.
When retailers, boutiques, magazines, etc. begin their venture as a company, it's important to establish a demographic. Usually this determines exactly the type of human they want to be shopping at their store or buying their products. Think: gender, age, salary, type of job, interests, weekend hobbies. Not only does this help a company know what goods and services to provide, but it also helps us consumers determine where we like to shop and what we like to buy.
Forever 21, however, has thrived for 31 years without narrowing its demographic down to one particular group. On shopping trips there, my immediate family seems to always leave with filled shopping bags. There's always something to suit my edgy taste, my sister always spends the most money catering to her ballerina-esque look, and even my mom finds really cute styles there.
So who is the Forever 21 shopper? Everyone. Just take a look through its Instagram account to see just how varied its customer base can be.
Boys
The store isn't just for ladies. Many of the larger locations feature a mens section for dudes with style.
Festivalgoers
No matter the type of festival you're gong to or the bands you're choosing to watch, Forever 21 has you covered this season. Not only does it have the clothes you need, there are plenty of shoes and accessories to get you stopped by tons of street style photographers.
Wanderers
If you're the kind that can't seem to stay indoors and yearns to be climbing mountains or hiking through trails, then Forever 21 not only has clothes that you can sweat in and re-wear, but it has the gadgets you need, too.
Denim Lovers
Literally all the denim styles and colors you can ever dream of.
On-The-Go Fashionistas
Are you the person that's constantly on the go, but is expected to look good at the same time? You're definitely a Forever 21 girl. You can find an outfit to match every travel coffee mug on the market, not to mention plenty of simple, easy to wash and wear basics. You may have to take an afternoon off to shop the entire store, however. There's a lot to go through.
Business-Casual Mavens
I'm pretty sure I've seen Eva Chen wear this before. If you're lucky enough to work at a place that allows dressy-casual wear, or even casual Friday's, Forever 21 has plenty for you.
Graphic Tee Lovers
I'm always searching for the next graphic tee to get my friends or add to my own collection.
Professionals
Sure the first thing you see when you walk into a Forever 21 store may be denim shorts or printed rompers, but it has really comfortable and cute professional clothes as well.
Fitness Lovers
Yeah, it has workout gear, too. And I think it looks something like what Kylie Jenner would wear to the gym.
Trendsetters
No matter if you're loving the '70s trend or into the classic, preppy style, it has clothes for every genre. Which is exactly why literally everyone shops at Forever 21.
Image: Lamomma/Instagram