Are You Using The Right Eyeliner Brush?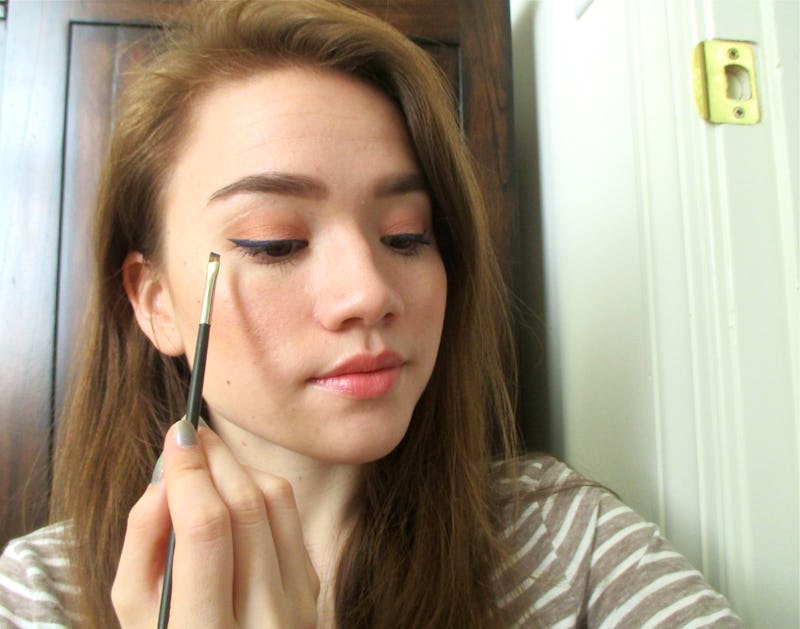 While I love the ease that comes with applying a pencil eyeliner, using your best eyeliner brush can usually give a much cleaner, crisper look. But how do you know what type of eyeliner brush to use? And what's the best way to use them anyway? If you've ever wondered about switching up your eyeliner game, here's a guide to the various brushes you might want to try:
Flat Definer Brush: These brushes are best for lining the lower lash-line and really closely lining the top lash-line. Because the shape allows one to deposit product extremely close to the lash-line, this type of brush is best for when subtle definition is desired. It will make lashes look thicker without it also looking like there is an obvious line. Try this type of brush with a powder or cake liner.
Angled Liner Brush: Perhaps the most versatile of the bunch, these brushes are good not only for eyeliner but also for filling in eyebrows. Try a classic wing or even smudged liner with this brush. It can easily be used with powder, cake, or gel liner.
(Bent) Eyeliner Brush: Whether the ferrule is bent or not, the classic eyeliner brush will allow more control over detail because of the extra-fine tip. These brushes can help you master the winged eyeliner look, whether you prefer a dainty or dramatic flick. And as far as the bend goes? It's up to preference. Some prefer a bent brush because it allows one to better see what she's drawing. Classic eyeliner brushes can be used with powder, cake, or gel liner. But if the brush has a silicone tip, it's better to stick with gel.
Here are some to try:
From Left: Make Up For Ever 256 Definer Eyeliner Brush, $24, Sephora; Japonesque Professional Angled Eyeliner Brush, $15, Amazon; Real Techniques Silicone Eye Liner Brush, $4, Amazon; E.l.f. Studio Angled Eyeliner Brush, $3, Amazon
What To Do
Of course there are many different ways to apply eyeliner, but when using a brush, this is one of the easiest methods to create winged eyeliner. Just remember that winged liner takes practice to master. A cotton swab dipped in makeup remover will be your best friend if your wing turns out a little wonky.
Start by lining your top lash line (you can even still use a pencil for this part if it's more comfortable), and creating your flick. You'll want the flick to follow the same angle as your lower lash line. (It should move toward the outer point of your eyebrow.)
Connect the tip of your flick back to your lash line. You will have created a sort of triangle.
Then just fill in, et voila!
Images: Miki Hayes; Courtesy Brands