Where Did This 'Southern Charm' Star Get Her Sass?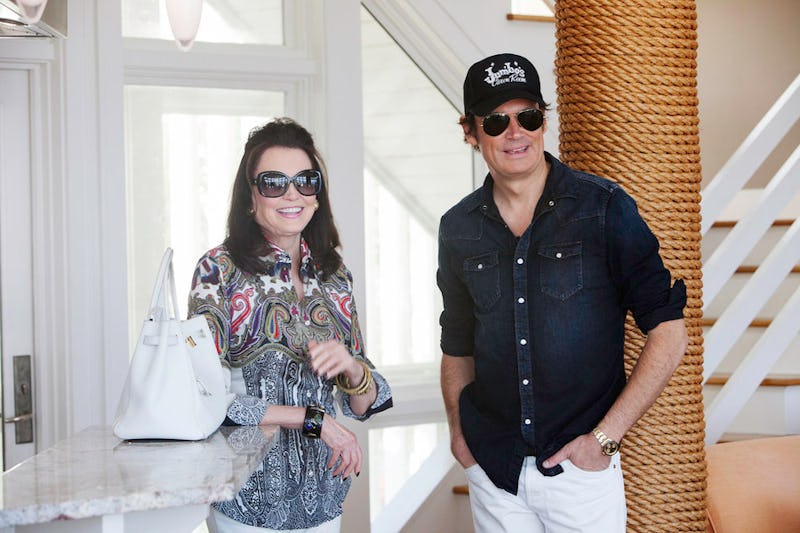 There's simply nothing not to love about the sassiest cast member of Southern Charm, even if Whitney's mother Patricia Altschul is a far cry from my precious and doting Southern mother. The woman could command the room in any geographical region, as evidenced by The New York Post recently publishing a tour of her house, another spread in Architectural Digest, Lady Gaga tweeting that looking at Patricia is like looking in a mirror, and Bustle's own extensive admiration of Patricia's interminable cheekiness. You can only come by Class n' Sass like that in one way: You're born with it and spend a lifetime honing it into a silky drawl and biting wit. Living her life as a Manhattan socialite turned Charleston highfalutin resident, Patricia brings the societal foundation Southern Charm needs, in addition to its young cast's antics.
You may remember that our first introduction to Whitney's mom Patricia in Season 1 was as her son poured her a $2,000 glass of wine while she bashed his assistant. ("I do not like Brandi. I don't like her, I don't like her, I don't like her.") And Season 2's introduction shows that Patricia's combination of sass and class has only grown in scale in both our minds and hers: She sits in her bed among a sea of furs, wearing bedclothes made possibly of 100 percent feathers, being served breakfast by her butler, and talking smack about Thomas and Kathryn's out-of-wedlock newborn: "You shouldn't have a second christening. It just invites comments."
Oh, you thought babies might be off limits to Ms. Altschul's remarks? Think again — it's in her DNA. So, what special cocktail (and cocktails) makes Patricia's sass so effectively charming?
One Part Former Manhattan Socialite
It's not just every Charleston mother who finds herself entertaining Editor of Vogue, Hamish Bowles, Peter Topping of Oscar de la Renta, and housing Ed Grosvenor of American Heritage, in lieu of attending the Southern Charm Season 2 premiere in New York with the rest of the cast, as Patricia told New York Social Diary. Indeed, before her Charleston days, Patricia knew a little something about the New York social scene: Patricia's third husband, whom she married in 1996, was Arthur G. Altschul, a Wall Street mogul, philanthropist, and partner at Goldman Sachs before he passed in 2002. Arthur was a descendant of the Lehman family, of Lehman Brothers and New York political fame (his great uncle, Herbert Lehman, was mayor). That's enough Manhattan connections to earn you a Vogue editor pop-in, even when you've relocated to the South.
Two Parts Real Estate Status
Even more so than Manhattan, where you live in Charleston is what cements an elite social status... and it simply doesn't get much more high class or old money than Patricia's house: She purchased the Mikell House, a 9,480-square-foot mansion built in 1851, for $4.8 million in 2008. It occupies the valuable downtown Charleston real estate at the cross streets of Montagu and Rutledge Avenue (see: one very classy zip code). Manhattan beginnings, or no, it simply doesn't get much more Charleston high society than that.
Even Kathryn — "the granddaughter of long-time State Senator Rembert C. Dennis... and a direct descendant of John C. Calhoun, Vice President of the United States under John Adams and Andrew Jackson," according to her Bravo bio and more than one pair of flapping gums in Season 1 — melted under the Patricia's judging eye for social etiquette at her daughter's *gasp* second christening.
A Healthy Pour of Booze
One simply does not drink cheap wine in the heat, you see. From martinis, to not cheap wine, to bourbon, we've seen Patricia drink it all in her time on Southern Charm, and her motherly love of alcohol clearly plays a key role in just how sassy she gets. From haughtily swilling from a garnished crystal glass to appropriately praising your barkeep for a job well done, you can always tell a lady's social status by her portable martini kit. There simply must be a Lewis Ice Bag and mallet for the crushed ice, and of course...
With a Man Servant Twist!
Patricia's absolute sassiest side is revealed when she's making demands of her butler, Michael. There's simply much more time for doll out Southern wisdom to your grown son regarding women, liquor, and christenings when there's another grown man tending to your every need. From martini making, to escorting Patricia's dogs to and fro their own personal "country house," to show buckling, Michael has it all handled in the name of keeping Patricia's sass on point.
Images: Brianna Stello/Bravo