15 Easy Natural Cleaning Methods You Need To Try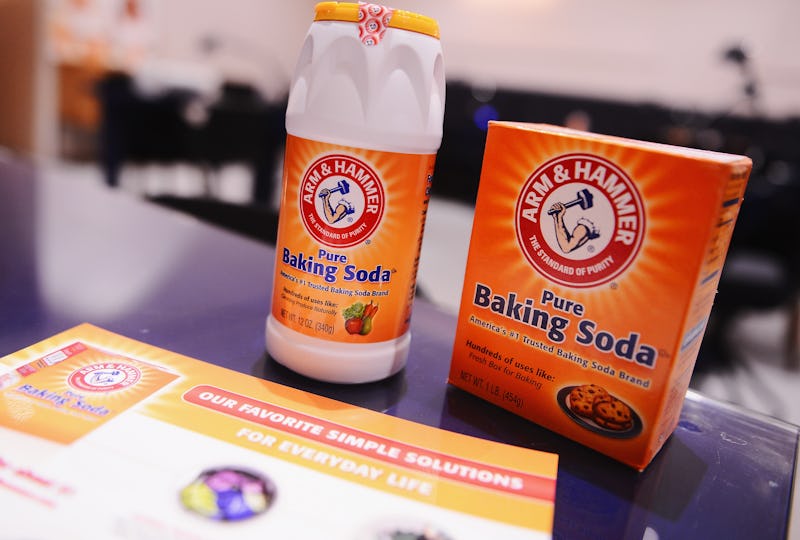 Stephen Lovekin/Getty Images Entertainment/Getty Images
These next few months are all about one thing: spring cleaning. There is something about the sunnier, warmer days of spring that have us itching to get our lives together. But for those of us who want to be environmentally friendly and chemical-free, cleaning products leave a lot to be desired — and that's where natural cleaning methods come in. Sure, it's easy to run to the store and grab a bottle of all-purpose cleaning spray that we can use on everything, but is it really good for us?
That's debatable. With springtime weather finally upon us, do you really want to spoil all of that freshness with a bunch of chemicals? The good news is that you can do some rigorous spring cleaning without the added chemicals and toxins. There are tons of natural cleaning methods that will be better for your home, and will probably save you a little extra money along the way. In fact, you probably have most of the ingredients in your kitchen right now — sounds like a win to me! Interested in working a few environmentally-friendly tricks into your cleaning routine? Here are 15 natural cleaning methods you can easily make on your own to make spring cleaning healthier. Enjoy!
1. Make your own cleansing wipes
This tutorial is easy to follow.
2. Get your toilet bowl sparkling clean with just baking soda and vinegar
Mix 1 cup of vinegar with 1/4 cup of baking soda, apply your mixture to your toilet, and let it sit for 15 minutes. Then, just scrub and flush.
3. Clean your toaster with an unexpected ingredient
Mix 1 tablespoon of cream of tartar with a few drops of water. Rub it onto your appliance, and scrub off with a sponge.
4. Get all that icky gunk off your stove with hydrogen peroxide and water
Mix the two ingredients until they make a paste, then scrub with a sponge to remove stains.
5. Make an all-purpose citrus cleaner to always have around the house
Use this tutorial to do it.
6. Keep your clothes soft and fluffy with DIY fabric softener
Mix five liters of white vinegar with 30 to 40 drops of your favorite essential oils. Shake well, and use a 1/2 cup on regular rinse cycles.
7. Make burnt pots and pans look new again with baking soda
Mix 1 cup of baking soda with some water, add to the pot or pan, and bring to a boil for 15 minutes. Scrub the pot lightly to clean once it's done.
8. Finally get those weird stains out of your carpet with soap and vinegar
Mix 2 cups of warm water, 1 tablespoon vinegar, and 1 tablespoon dish soap. Sprinkle the stain with baking soda, wait 10 minutes, and sponge the mixture onto stain. Blot until it's gone.
9. Get rid of all the dust with a chemical-free dusting spray
Mix 2 teaspoons of olive oil with 1 teaspoon lemon juice, 1/4 cup white vinegar, and 1 cup of warm water. Shake together in a spray bottle, and use it to get rid of dust.
10. Make your own glass cleaner with cornstarch and rubbing alcohol
Mix 1/4 cup white vinegar, 1/4 cup rubbing alcohol, 1 tablespoon cornstarch, and 2 cups warm water in a spray bottle.
11. Get rid of shower scum on doors with two ingredients
Slice a lemon in half, and dip it into a bowl of kosher salt. Then, scrub the scum right off.
12. Polish all your furniture the DIY way
Mix 1/4 cup of white vinegar with a few drops of olive oil in a spray bottle, and go to town.
13. Get your floors super clean with vinegar
Mix a gallon of water with 1/4 cup vinegar and 1/4 cup dish soap. Start mopping!
14. Get your jewelry clean without spending money
Use this tutorial to make everything look brand new.
15. Don't throw away stained clothes — get rid of the stains instead
Mix 1 part Dawn dish soap with 2 parts hydrogen peroxide and baking soda. Apply to the stain, let sit, and then wash in the washing machine.
Images: Getty Images; Giphy.com (15)