J. Law Is Done With The 'X-Men' Franchise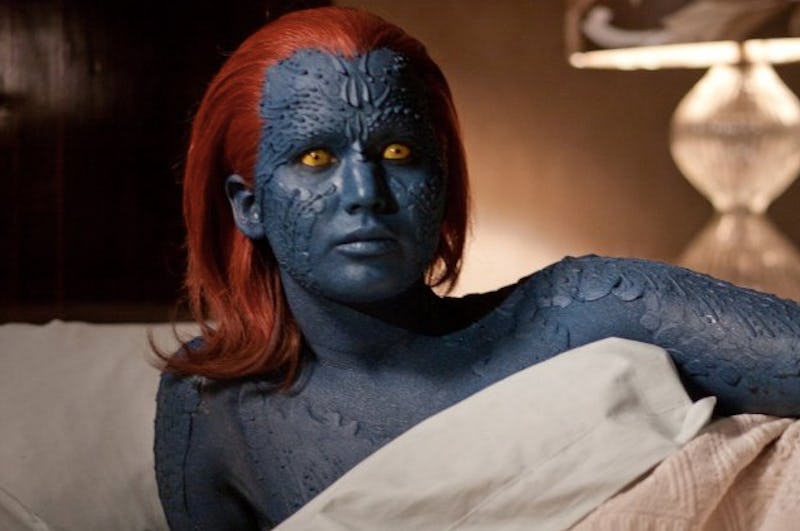 If the only reason you watch the X-Men movies is to ogle at Jennifer Lawrence playing the blue-skinned mutant Mystique, then I have terrible news for you — Lawrence is leaving the X-Men movies after Apocalypse. It's a devastating information bomb for her to drop on us, but I guess at least we have a ton of advance warning. Enough warning that we can soak up every minute of her performance in X-Men: Apocalypse . And, y'know, develop a new crush on a different central character. (May I recommend James McAvoy? I've always had good luck with him.) Based on the title of the next film alone, one would assume that maybe Lawrence's character dies? But we'll have to be content with speculation on that front, because she gave us absolutely no context for or background on her decision.
All she said to MTV News interviewer Josh Horowitz was that she isn't involved in any future films in the franchise. While on the red carpet for the premiere of her project Serena, also starring Bradley Cooper, Lawrence said of X-Men: Apocalypse, "It is my last one, actually." Isn't it crazy how a gal can break your heart with just six words? "It is my last one comma actually."
No who or what or why or when — I mean, aside from the movie's premiere date, which is May 27, 2016. Just that chilling sentence ending our dreams of going on watching Lawrence in these movies until she's old and gray... instead of young and blue. You get it.
Image: Murray Close/Twentieth Century Fox