The Best Bold Lipsticks At The Drugstore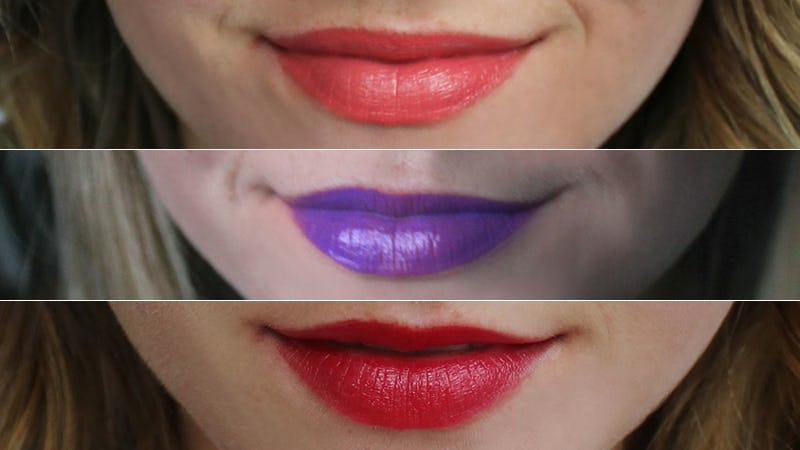 Bold lips aren't going anywhere and, luckily for all of us, there are plenty of bright drugstore lipsticks for sale at prices affordable enough for us to all stock up. Earlier, I sang the praises of a casual-cool neutral lipstick. Today, I'm making a case for the loud-and-proud colorful hues that have no problem making waves in a sea of monotony. I sampled a collection of bright and brilliantly hued drugstore lipsticks in four trendy color categories: Purple, Pink, Coral, and Red. I wore each product below, then jotted down what I did and didn't like about the colors, textures, scents, and lasting power. I set out to find my "special occasion" hue, which would need to be as mesmerizing on the dance floor as it was at my regular weekend brunch hangout. I needed something magical, so there was no chance I'd settle for "meh."
After all, natural shades might be great for the office, but every so often an occasion calls for you to, well, rise to it. And you can't expect to rise to said-occasion if you're donning that same-old shade you've been working from 9 to 5. Rejuvenate that pucker with an electrifyingly saturated purple pout, or show off your spring-ready tan with a set of coral lips. Forget scuba this season; get your certification in tropical taste-making!
But just because these lipsticks might lend my lips a fresh coat of paint, that didn't mean they didn't really have to work. I have zero patience for cosmetics that look good in their packaging but end up being chalky or watery when you finally get to try them on at home. So benefit from my trial and error, and see if you can see yourself in any of my picks below!
Purples
Berry Studel, $6, Ulta
Zenon: Girl of the 21st Century, anyone? Seriously, if I'm not beamed up to the station soon with out-of-this-world lips like these, then I'm not doing this color justice.
The gloss's long-lasting color is impressive, although I found the shade a little too ahead-of-its-time for me to really rock it. But it's a pretty amazing pigment, nonetheless.
Playdate's matte finish meant I was safe from any windblown-hair-in-gloss fiascos, and the color showed up with a single swipe. Still, I felt the moisture wasn't as locked into my lips with this product, especially after a few somewhat-dehydrating reapplications throughout the day because of fading. The scent was pleasant though, like a refreshing swipe of vanilla.
Toasted Marshmallow, $6, U lta
I've never found this warm, super rich purple-cranberry shade in gloss-form before — especially not with a pigment this solid. It wasn't watery, it didn't dry up once I had it on for a few minutes, and it didn't feel gross or paste-like at all. A+, NYX! Also, thanks to some sort of magical undertone it possessed, my teeth looked like they belonged in a Crest whitening commercial (the after picture, obviously). I would recommend this product whole-heartedly.
Pinks
Matte Orchid, $5, Amazon
Though the color was pretty fierce as far as neon pink things go, it wasn't the easiest to apply. It took a few coats to get the color to pop on my lips as vibrantly as it did in the stick, but once you've got it, the long-lasting matte color was gorgeous — like an electrifying cross between fuchsia and purple. And that's a rarity for me to say. In my experience with matte pinks, they have a tendency to look a little Barbie doll-like (not in a "flawless" way, more in a tacky "I-just-borrowed-my-little-sister's-makeup" way). Add the fact that it's vegan, and it's a job well done again, NYX.
Sonia Kashuk Shine Luxe Lip Color in Sheer Melon
Sheer Melon, $11, Target
This scent-free stick was refreshingly hydrating, but the melon pink pigment was a little streaky. It didn't last too long either, and unlike with matte sticks, there was no stain on the lip beneath the pigment to keep up appearances.
If you're looking for a casual color you don't mind touching up periodically, Sonia Kashuk Sheer Melon could be your next go-to pink! It's loaded with vegetal amino acids and works to keep lips' collagen fibers from weakening.
Sonia Kashuk Shine Luxe Lip Color in Sheer Rouge
Sheer Rouge, $11, Target
Though this Sonia Kashuk lipstick had the same streaky finish and staying power as the Sheer Melon, I really loved the natural-looking tone of the red. It was like a berry stain, and its light coat didn't sit too heavily on my lips — always a major plus. With a few extra coats the streaks went away, and as long as I wasn't in a hurry, the reapplication was worth the lovely flushed color.
Corals
Banana Split, $6, Ulta
Though the crazy orange tone of this gloss had me feeling like a bronzed glamazon from the 1960s, I wasn't a fan of how the heavy liquid unevenly clung to the grooves of my lips, while just skimming over the smooth surfaces.
Still, it's seriously tough to top a color that eye-poppingly bright. If you're looking for an inexpensive statement orange hue, this one might be your best bet!
Orangesicle, $6, Ulta The amazing color balance between red and orange made me coat this gloss on with wild abandon. The pigment seemed perfect for a dinner date or adventure downtown, and its classic Hollywood-starlet color was enough to make me forgive this gloss's tendency to streak.
The highlighter red tone meant that after a few hours, the color still hadn't lost its luster, and the thickness of the pigment definitely assisted with keeping everything from wearing off.
Sonia Kashuk Ultra Luxe Lip Gloss in Coveted Coral
Coveted Coral, $9, Target
This Sonia Kashuk gloss was the most subtle of the coral and orange hues, and it glided onto my lips easily with a really nice, non-gooey consistency. The smell was a smidge unpleasant, which is honestly a bit of a turn-off when I need to wear it so close to my nose.
Still, a natural take on the coral hue is seriously the most on-point lip color I can imagine for spring!
Reds
NYX Cosmetics High Voltage Lipstick in Hollywood
Hollywood, $6, Ulta
I am a big believer in red lipstick. It can help me forget about a lot of things — a bad hair day, a not-so-genius outfit selection, the list goes on. In this stick's case, I can forget that this lipstick seems determined to be smudged.
The color is super feminine, and its finish is a fantastic cross between matte and shine with a light blue undertone. But, I can't seem to move my lips without the color bleeding past my lip line, which is a no-go for me when I need to be speaking, eating, or generally moving. Still, I'm really swooning over this shade...
Matte Confident, $5, Amazon
Talk about a game-changer! This color looked velvety-soft when applied, and it was much more bright and lively on the lips than it looked in the tube.
The smell was sugary but light, and it didn't stick with you once applied. Take its long-lasting color into consideration, and I am sold.
Ruby Valentine, $5, Target
This Milani had more of an orange undertone than the Matte Confident, but I was seriously happy about its all-day lip color that barely required a touch up over the course of several hours.
The sharply pointed stick made for an easy application sure to hit all the edges of my lips, and the entire Milani color statement line is packed with vitamins A and C to hydrate and nourish lips.
Images: Elly Ayres