11 Books Every Queer Woman Should Read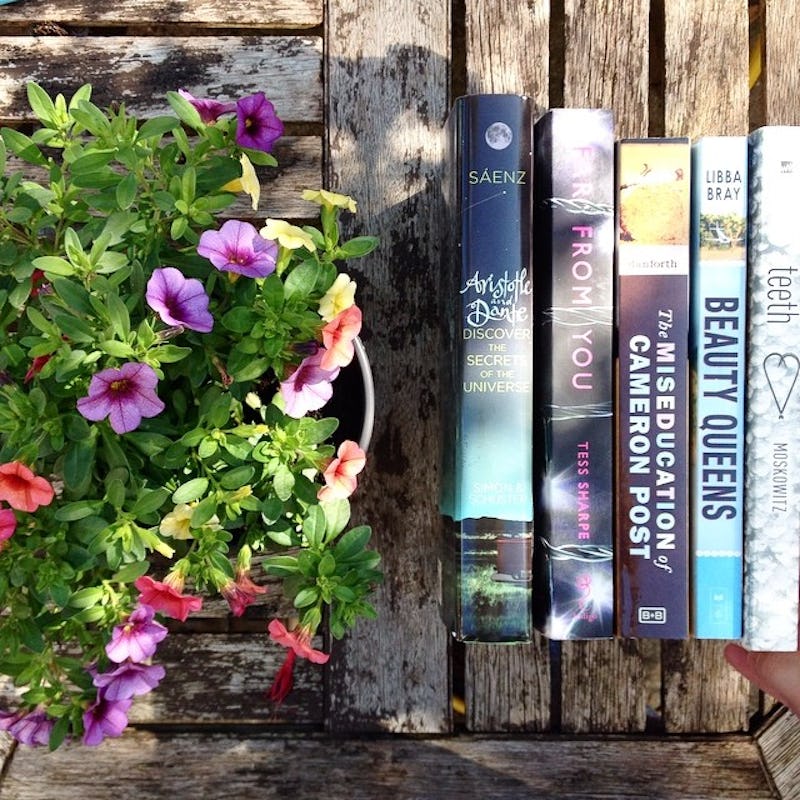 Queer ladies come in all shapes and sizes. We're racially diverse. We're old and young, vanilla and kinky, butch and femme or neither. Some of us consider ourselves queer because we've always loved women. Some of us fell in love with one woman, and that's that, forever. Some of us consider ourselves queer because we're trans. Some of us consider ourselves queer because we're bi- or pansexual.
As different as we are from one another, so is the literature that represents us, that talks to and about us. But there are some themes that many of us can identify with: loneliness, insecurity, fear, all connected to the burgeoning realization that we are queer.
The books on this must-read list represent many versions of the female-identified queer experience: from contemporary Iran to early 19th century England to the Second Wave feminist movement to some of the greatest success stories of queer women... and that's just the start. We're so complex, and the books that we can see ourselves in are as diverse as we are. Unapologetic, confident, and complex: these books are essential reading for queer women who identify anywhere on the rainbow LGBTQIA spectrum.
So, get out your library card, or bring this list down to your local bookstore. Either way, get ready to start reading, because these novels and memoirs will sweep you away, and are total must-reads for ever queer woman.
A harrowing tale of two teenage girls in Iran, this book explores the nature of same-sex attraction and its dangers in Iran. Being a lesbian is illegal and the two girls could be imprisoned, executed, and at the very least beaten for their activities. But interestingly, gender reassignment surgery is legal and accepted in Iran; is it the perfect solution for these two women to be able to marry? This book explores the secrecy, sacrifice, and very real danger of being queer in Iran (and those dangers extend to many other parts of the world as well), and is essential reading.
Another story of the inability to come out, this novel takes place in the United States, where for many teens coming out to their families is the hardest part. Cameron Post — Cam — tries to keep her identity secret, even though she's not yet sure what it is, until it all blows up in her face. Cam's trials and tribulations feel so familiar to so many of us; the book is extremely relatable as well as beautiful.
One of the best-known tales of a young woman coming out as gay, Brown's book is definitely a queer classic. Her main character, Molly, falls in love with girls when she's a girl and with women when she's a woman, and she doesn't see anything wrong with that. She's gutsy and brave and a role model for so many queer ladies, both when the novel came out in 1973 and now.
One of the best-known celebrity lesbians and a queer icon, DeGeneres' memoir, essentially a collection of hilarious essays, is one of those books that comes from a queer perspective but doesn't linger on her identity throughout. DeGeneres, just like everyone else, is made up of more than her relationships and sexuality. She is smart, funny, and a breaker of stereotypes. She writes: "How does the number of cats you have make you a lesbian? And why is three the lesbian number?" And, in response, I write: how can you not love a book that includes that line?
A queer classic, the titular character Mrs. Dalloway starts out the day in which the novel takes place by deciding to buy the flowers herself. She ends up at her own party, with her husband and daughter, and coming face-to-face with her young adult lover, a woman who has also married and had babies. While Mrs. Dalloway remembers her ex-lover fondly, the other seems totally oblivious to the significance of their history together. Seeing exes can be a bitch, especially when they seem to have "gone straight" on you. But in the early 20th century, marrying was simply what one did. This book always reminds me how lucky we are to be living in a more enlightened time and place.
A fast-paced and incredible autobiography by one of the most important feminists of the second-wave, Lorde's book is truly a must-read for all queer ladies and feminists in general. The autobiography starts with Lorde's early years in Harlem, New York, and explores the women who helped shape her identity and opinions throughout her life.
Ash by Malinda Lo
Basically a retelling of Cinderalla, but with a girl-on-girl love affair. The main character, Ash, discovers her love for a huntress while a man, Sidhean, has decided he must marry her. The metaphor is fantastic (woman breaking away from patriarchal expectations of traditional marriage) and the story is riveting, since our familiarity with the Cinderella story is challenged at every turn. Ash is a great YA introduction to queer emotions.
A novel about gender, sexuality, and growing up with the uncertainty of one's identity, Feinberg's classic is a queer must-read. Feinberg, who identified with the pronouns they/them at the time of their death, is a queer icon. Beyond their activism, Feinberg's writing and prose is fresh and gripping, and the novel is worth reading for its story as well as for its central place in queer literature.
Lynch (whom you might know best as the mean, yet occasionally humane, coach on Glee) has traveled a long way to accept her sexuality and herself. Her autobiography is wonderful in its candor and humor. She, just like so many of us, had to move back in with her parents, had to work a variety of odd jobs to make ends meet, and took years to figure out how to get to where she wanted to be. She and her book are inspirational.
A novel that takes place when seeing a person of color on TV was still a big deal, Sinclair's book takes us through not only some of the major events of the Civil Rights movement in the 1960s (such as Martin Luther King Jr.'s assassination) but also explores a young black woman's sexuality. The main character, Stevie, realizes that she is attracted to a woman, and a white woman at that, and struggles to find her place in a world that discriminates against both her race and the nature of her desires.
As groundbreaking as Rubyfruit Jungle, Garden's novel, which came out in 1982, is unapologetic in its portrayal of a love affair between two young women. These women both come from loving families (breaking the once prevalent belief that same-sex attraction comes from some sort of traumatic past) and are friends first, lovers later. Their relationship develops naturally. Although Garden's novel does not deal with all the complexities of the two privileged white women protagonists, it still deserves to be firmly in the canon of essential queer lady reading.
Image: Instagram