An 'O.C' Reunion Is Happening On 'Hart Of Dixie'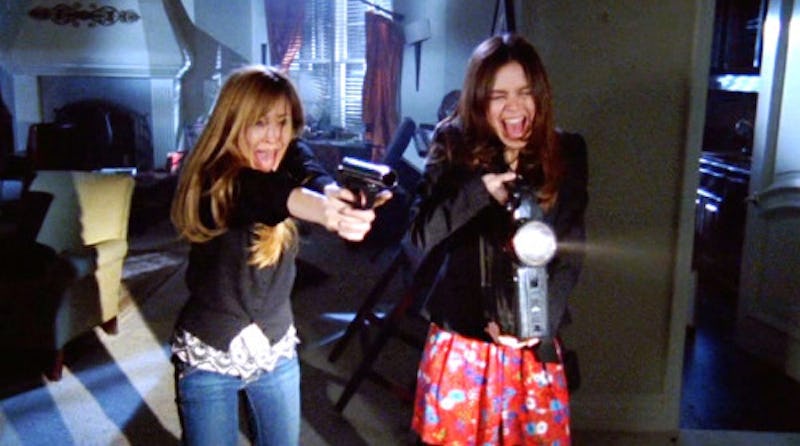 After Marissa Cooper died on The O.C., someone had to take over as Summer Roberts' best friend, and although it was an unconventional pick, Taylor Townsend did the job right. I had a tough time warming up to Taylor after she stormed into Harbor as annoying nemesis for Summer and tried to steal Seth Cohen, but after she stood up for Marissa and calmed down a bit in the circle of friends, I accepted her. Though she still had her quirks, Taylor and Summer were a great team, and even if I remain a Ryan and Marissa 'shipper forever, she and Ryan maybe ending up together and having forever double dates with Seth and Summer isn't so bad. So, understandably, when Hart of Dixie staged an O.C. reunion with Rachel Bilson and Autumn Reeser for the season — and potentially series — finale, I freaked out, and you should, too.
In TVLine's finale clip, we see Olivia (Autumn Reeser) becoming Zoe 2.0 as a very Elle Woods-like lawyer from New York who comes to Bluebell per George's request. She's hyperventilating and breathing into a paper bag as Zoe tries to calm her down, giving everyone flashbacks to Hart of Dixie's first episode. "I'm a New Yorker, too," Zoe tries to explain, to which Olivia quips back, "So you live here by choice?" This probably won't lead to a spin-off, but it's the closest thing to a big O.C. reunion we'll probably ever get. If you're feeling nostalgic now, I've got you covered — check out some sweet GIFs of Taylor and Summer below with reasons why they should give you serious friendship goals.
Their Version Of A Three-Way Call
Actually, more like a four-way call, which always went better than the one from Mean Girls.
Keeping Each Other In Check
Mostly Summer calming Taylor down.
Helpful Love Advice
Again, mostly Summer helping Taylor.
Sharing Exciting Moments
R.I.P., Marissa, though.
And Bittersweet Ones
It's not goodbye; it's see you later.
Having A Shoulder To Lean On
Or Sometimes One To Lei On
But Most Of All, Caffeine & Chats At School
For advice, gossip, and everything else BFFs dish about.
Images: Warner Bros./Fox (1); Giphy (8)