Tituss Is the Real Hero of 'Kimmy Schmidt'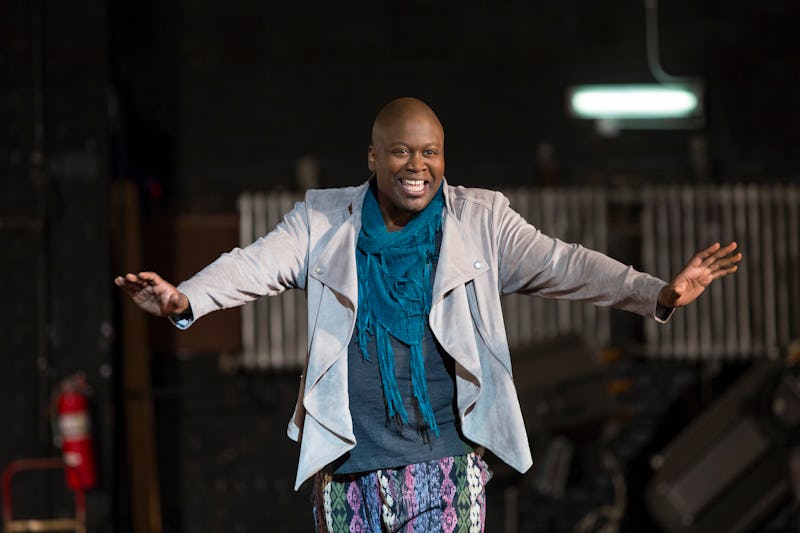 After being kidnapped and trapped in an Indiana bunker for decades, Unbreakable Kimmy Shmidt 's title character has seen some unspeakable horrors. Like the theme song says, "females are strong as hell," and so is Kimmy. But while looking back on the series I binged watched in a day, I can't help but think that Titus Andromedon (a.k.a. Ronald Wilkerson) is the real hero of the show. Played by Tituss Burgess, Kimmy's roommate often dispenses (sometimes not very good) advice and goes on his own enlightening New York City adventures in the series. And does any of that ever break him? No!
Burgess has become a breakout star since the debut of Unbreakable Kimmy Schmidt on Netflix earlier this month. The talented 36-year-old actor can really sing — he's a high tenor — and unlike his character, Burgess has made it on Broadway, appearing in the musicals The Little Mermaid, Good Vibrations, and Guys and Dolls. He has also released two studio albums, which are currently available on Spotify for your listening pleasure. But Burgess is a lot more reserved than his character, who he calls an "ever-shining disco ball." "I'm very much an introvert and love to be left alone cooking and playing the piano," he told Entertainment Weekly. "I'm very involved in church and social-justice issues, and my personality is far more introspective. Outside stimulation makes me nervous!"
But as we all know, Titus Andromedon loves outside stimulation and lives for the attention. So I have a feeling he'd really get a kick out of this list of GIFs and videos that show he's the true indomitable hero of Unbreakable Kimmy Schmidt.
He's Not Afraid to Be Himself
He Stays Committed To the Moment
It definitely was the wrong Boyz II Men song at the funeral, but did Titus drop a note or runaway in embarrassment? No, he finished off the song like a true artist.
He's A True Friend To The Animals, Too
Especially if they can help Titus act out scenes from his beloved musical The Lion King.
He's A Triple Threat
Actor, dancer, singer — what can't this man do?
He Has a Great Sense of Self
He's Always Down For New Opportunity
Whether it's singing for money or to get his shoes back, Titus will do it.
He Knows What He Wants
He Knows How To Draw Boundaries
He's Willing To Test His Limits
Going to a Straightness Coach Le Loup (Dean Norris from Breaking Bad) gives Titus anxiety, but also lets him know he's capable of so much more than he knows.
Two Words: "Peeno Noir"
You'll never look at a bottle of Pinot Noir the same again. Get this earworm stuck in your head. It's worth every second.
Images: Eric Liebowitz/Netflix; Giphy (6); diablodancer, beavenheaven/Tumblr