9 Ways To Wear A Bow Tie This Spring, Because Necklaces Can Get Boring Sometimes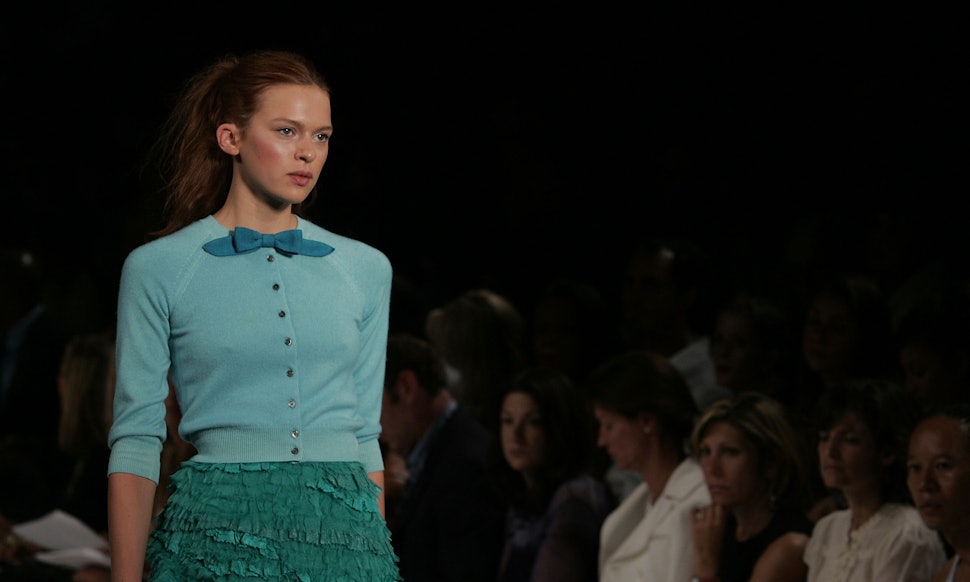 Peter Kramer/Getty Images Entertainment/Getty Images
Bow ties have always fascinated me at how elegant they look with a clean-cut suit. I'll admit that I've spent hours on the #menswear tag on Tumblr re-blogging thousands of photos of bow ties adorning crisp, collared shirts (and admiring the men wearing them, of course). But could I, as a woman, pull off a bow tie? After perusing the web and Pinterest boards aplenty, I think the answer is a loud and definite YES. Another person who believes that to be true is Luis Alejandro Cedillo, co-founder of York & Dillo, designer and maker of stylish bow ties for both men and women.
Cedillo takes a different approach to creating his bow ties by combining interesting colors and textures that allow his designs to be paired with more than a simple white-collared button-up. Moreover, his designs don't always follow the same shape as the classic bow tie, making them more versatile for women to wear. To make things even better, they come pre-tied, so there is no fussing around trying to learn the art of tying one (which just isn't in my lazy agenda).
Now that spring has arrived and the weather is warming up, we can put away our scarves and find new ways to accessorize – with bow ties! Here are 9 ways to wear a bow tie this spring, so you can change up your style and finally flaunt what has mostly been seen as menswear.
1

With a Collared Shirt
If this is the first time rocking a bow tie, consider the traditional method of rocking one with a collared shirt. Instead of finding the perfect necklace and earrings to match your outfit, try a simple, single-colored bow tie to bring the outfit together. Or, as Cedillo suggests, change up the shirt and try a peter pan or sailor cut to accentuate the bow.
2

With a Pattern or Colorful Outfit
Remember that bow ties are an accessory, so they can always neutralize or bring you outfit's colors together. Pairing a solid-colored bow tie with a patterned pair of shorts or a floral (because spring) skirt can add a sweet, feminine look, while also spicing up your style. Cedillo suggests breaking the rule of collared shirts and finding a blouse or t-shirt instead.
featured: Gold Silk Shatou Bow Tie
3

With Your "Little Black Dress"
If you're venturing out for an evening soirée or feeling adventurous with bows, an asymmetrical floppy bow tie is a great start. Unlike the classic cuts, it is very feminine and adds a cute flare to your little black dress.
featured: Tiffany Women's Bow Tie
4

With Some Denim
I still walk around in a denim vest or shirt from time to time, but denim can sometimes get a little boring. It's just blue (or black or whatever color you are wearing). A new way to add some sparkle to your denim could be with a bow tie! It avoids having to make holes in your jacket or bedazzling it for sparkle.
featured: Yaasa Bow Tie
5

With a Blazer and Shorts
Unlike summer, spring is still cool enough to wear some layers. If you want a more classic look without the collared shirt, find a funky or simple blazer to match your bow tie. Neutral and muted colors can give this look a preppy vibe. Or, you can brighten up a black blazer with more intense colors.
featured: Multicolored Gingham Bow Tie
6

With a Crew Sweater
For the chilly winds that can sometimes roll through on a spring evening, a bow tie with a crew sweater is a nice way to dress up an otherwise casual staple. If your sweater is plain, add a textured bow tie to change it up, like York & Dillo's zipper bow tie. A tiny bow tie can also do the trick. Just wear it to the side as an accent to your look
7

With Solid Colors
Sometimes wearing patterns can feel like too much, but it's always nice to throw in some polka dots or stripes in an outfit. Finding a patterned bow tie can be just the thing to add a subtle pop to your spring pastels.
featured: Coral Flower Print and Shimmer Rust Shantou
8

With a Simple Dress
I've bought a few plain dresses from thrift stores, only to come home and have no idea how to accessorize them. If you want to add some fun to your dresses without taking too much away from the design, pair it with a simple bow tie.
9

By Themselves
Bow ties are beautiful on their own, so if you simply want to wear one, by all means, do it.
Images: York & Dillo; yorkandillo/Instagram.