Hilary Reveals Hair Inspo And New Tats On 'Ellen'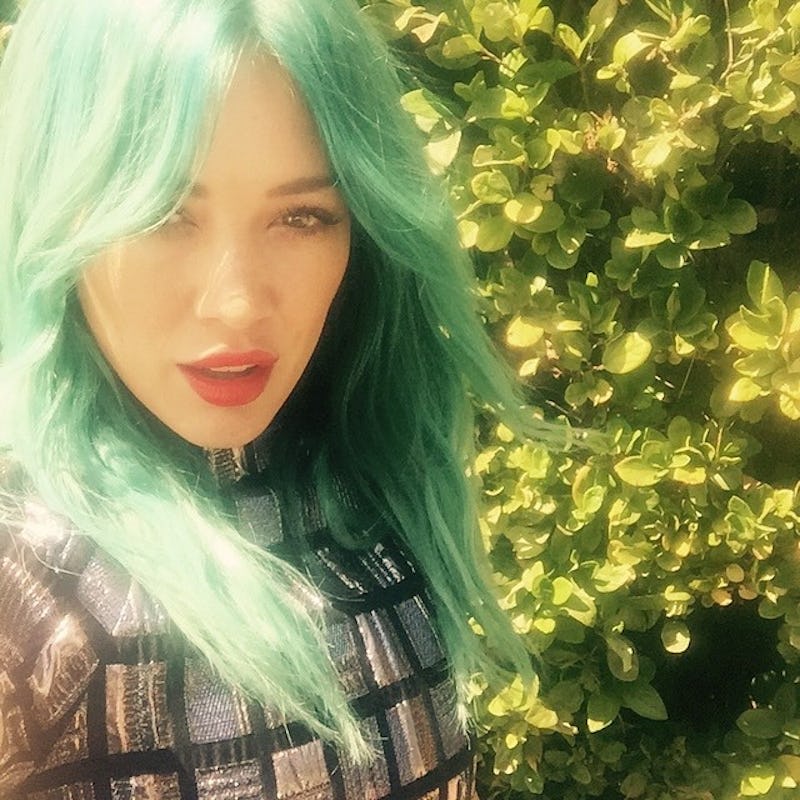 Who would have ever guessed that Lizzie McGuire would dye her hair green, get a dozen tattoos, and post a sexy selfie on Instagram? Hilary Duff's interview on Ellen this week proves that Lizzie has definitely grown up and turned into a beautiful, confident, and happy young woman. Less than two weeks after debuting her mermaid-inspired hairstyle, Duff went on Ellen DeGeneres' show to talk about what inspired her daring new 'do.
"I was just in Cabo with my son and I was staring at the ocean and I was like, 'I want that on my head,'" Duff said. The actress and singer also shared an adorable story about how her 3-year-old son Luca fully approves of her aqua-colored mane even though he's been critical of her other hairstyles, such as wearing it up in a bun or ponytail, in the past. "He is very particular about how he likes my hair," she added. "He's very, very funny."
DeGeneres then asked Duff about a bikini selfie that she posted on Instagram a couple of weeks ago, which led to an audience-approved message about loving your own body. "My Instagram page is pretty tame," Duff said. "I spent all weekend in a bikini and I was feeling pretty good. I'm just like everyone else, usually I'm not feeling so good. I have a love-hate relationship with my body. It's been three years since I had [my son] and I'm just so proud of my body and what it's done for me. It gave me the most beautiful little boy and I feel strong and powerful and I wanted to inspire other women."
Duff also shared how she got the letters "BK" (for Brooklyn) tattooed on her arm. "I don't know if you know this, but I have quite a few tattoos," she said. "Part of me loves tattoos and part of me doesn't want the full commitment of getting to see them all the time. So, when my arms are down, I look just like a 'normie' and when my arms are out, I look super hardcore." Duff then showed DeGeneres some of her other tattoos, which includes a bird (her personal fave), the phrase "Stand by me," her son Luca's name, a wishbone, a heart, the phrase "Thick as Thieves" (which her sister Haylie also has), and two cents. As a surprise to the TV host, Duff revealed her latest tattoo, placed on her upper thigh, in honor of her 12th appearance on the talk show.
Watch the clip below to find out what Hilary Duff's new tattoo looks like:
Image: Hilary Duff/Instagram