McDonald's All-Day Breakfast. THIS IS NOT A DRILL.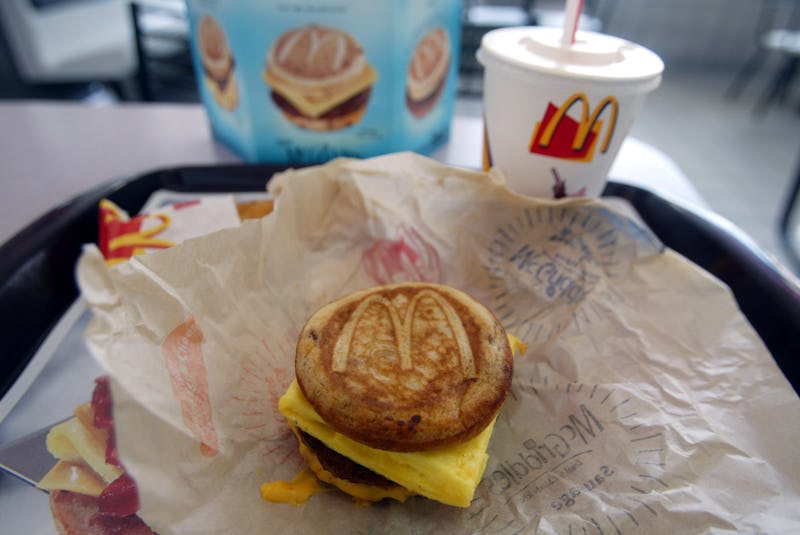 Joe Raedle/Getty Images News/Getty Images
Excellent news for anyone who has ever dreamed of ordering a midnight McGriddle: McDonald's all-day breakfast might soon become a thing. No, I am not kidding. I am absolutely, 100 percent serious. All-day McDonald's breakfast. Egg McMuffins for all! Hoorah!
According to CNBC, the burger chain will be testing out all-day breakfast in the San Diego area starting in April. Up until now, breakfast has only been available until 10:30AM every day; although there were rumblings of a McDonald's "brunch" schedule kicking up sometime last year, it seems not to have materialized into a full-fledged brunch program. Sigh.
I have a sneaking suspicion, however, that all-day breakfast will be far more successful than any brunch menu could possibly be. Spokeswoman Terri Hickey confirmed the news in an email to CNBC, writing, "We're excited to serve our customers in this area some of McDonald's great-tasting breakfast sandwiches, hash browns, and other favorites all day long." She also, however, suggested that we all need to temper our expectations a bit and not get too excited right now: Although she said the chain "[looks] forward to learning from the test," she noted that "it's premature to speculate on any outcomes." So, y'know… don't start celebrating yet. There will be time for a balloon drop later — if all goes well, that is.
Mmmm. Dat vintage McMuffin ad, though.
It's worth noting, of course, that there's a reason McDonald's has hitherto not made all-day breakfast a thing: As Business Insider points out, the grills just aren't big enough to accommodate both breakfast items and lunch/dinner/snack/drunken drive-thru run items. But hey, maybe they'll be expanding the kitchens. Or reorganizing them. Or otherwise optimizing them to adjust for the addition of breakfast items. Or something. There aren't a lot of details right now, but a girl can dream, right?
In celebration of all-day breakfast at least making it to the testing phase, here is my favorite Superbad GIF:
As well as one of the most impressive displays of dancing at a McDonald's I have ever witnessed:
Happy Monday, everyone!
Images: Getty Images; Giphy (3)