Even The 'DWTS' Judges Are 'Shipping Kym & Robert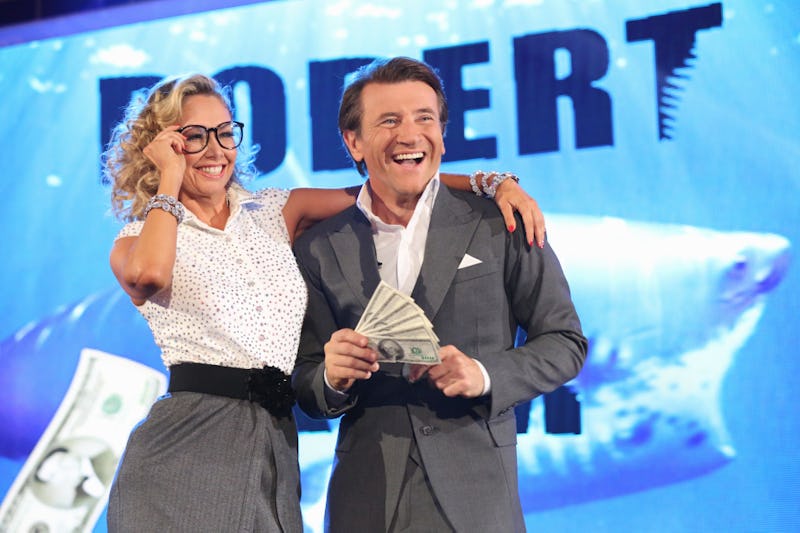 I think it's official that Robert Herjavec and Kym Johnson are the new Maks & Meryl on Dancing With the Stars. Although they haven't confirmed that they're dating, everyone wants them to—even the DWTS judges. During this week's performance, Kym and Shark Tank star Robert scored an impressive 29 out of 40. But even better than their moves on the dance floor was their chemistry on stage and off.
When Robert experienced back pain during practice he said it was Kym who motivated him to keep trying. "No matter how much pain I'm in I'm so lucky to have Kym to get me through," Robert gushed during practice. Their chemistry is palpable, but the two of them are staying quiet on the dating rumors. Last week they addressed the topic, but their answer was less than satisfactory to fans who want them to be a couple. "I'm not sure either of us pay attention to that stuff," Robert said of the rumors. "No, we're too busy dancing aren't we?" Kym agreed.
But no matter how much they protest or avoid the dating rumors, there's no denying that they have a strong bond. Even the judges could feel it. After their performance was over, Bruno Tonioli informed them that their Latin-inspired number was "how you set the mood for love." Carrie Ann Inaba agreed. Last week she said the pair made her nauseous because they were "like a fairytale." This week she continued to 'ship them saying, "Your chemistry is ridiculous."
Even host Erin Andrews couldn't resist throwing her two cents in, pointing out that the white gown Kym wore and the tux that Robert sported looked like wedding attire. Then she implored fans to vote because "we want to see where this goes."
Indeed we do. Because whether they're dating or not, their chemistry is undeniable and their dancing is supreme.
Image: Adam Taylor/ABC