How True Is Thomas Cromwell's Tale In 'Wolf Hall'?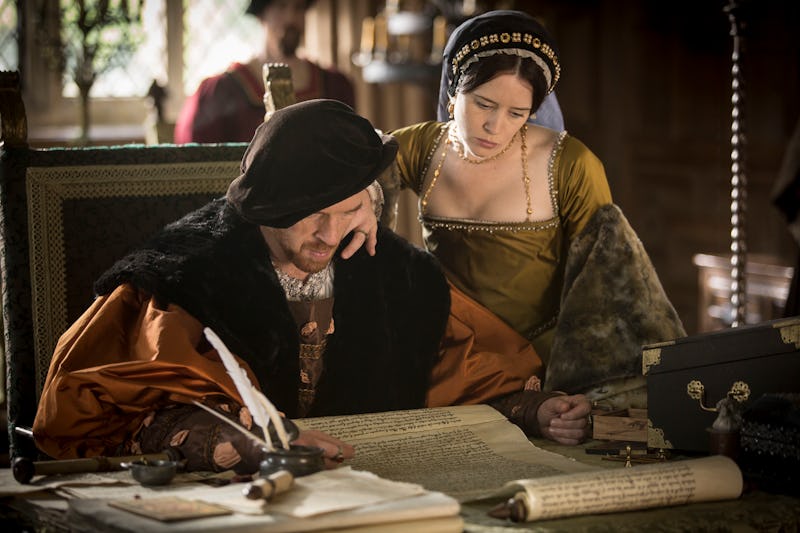 Oh, Henry VIII, the bad boy of the 1500s. Novels, books, and television shows just can't get enough of the history behind Henry VIII, his six wives, and Thomas Cromwell, so how historically true is the new miniseries Wolf Hall? The six-part Masterpiece miniseries based on Hilary Mantel's novels Wolf Hall and Bring Up the Bodies premieres on PBS on Sunday, April 5 at 10 pm. The series tells the history of Henry VIII and how he dissolved his marriage from Catherine of Aragon (spelled as "Katherine" in Wolf Hall), his brief marriage to Anne Boleyn, and the Protestant reformation that allowed Henry VIII to finagle his marriages. All of these plot points are historically accurate, but that doesn't mean that Wolf Hall gets everything right.
But how right can we ever be when it comes to covering the story of Henry VIII for entertainment purposes? Mark Lawson for The Guardian made the point that:
We will never know the exact balance of sexual desire, dynastic ambition and theological disputation that led Henry VIII to marry and divorce in the way that he did. All writers on the period take the framework of agreed events and try to find their own dramatic and psychological sense in it.
With the events of Thomas Cromwell and Henry VIII taking place over 500 years ago, Wolf Hall — and any story about that history — will be an interpretation. And, of course, dramas will tend to uh, dramatize, the already quite dramatic happenings of the British king. But that doesn't stop historians from finding fault — even if there are little issues.
One of Wolf Hall's historical inaccuracies claimed by the chief curator of Historic Royal Palaces Lucy Worsley is that the actress who plays Jane Seymour (Kate Phillips) is supposedly too pretty. (Seymour was Henry VIII's third wife after he got Anne Boleyn beheaded.) Worsley brought the issue up to director Peter Kosminsky, but she told The Mail that he responded to her concern by saying, "I picked her because of her acting, not because of her forehead."
And Reverend Diarmaid MacCulloch, a professor of the history of the church at Oxford University, said, "Ideas of beauty change from century to century and you might as well make them beautiful on our terms, because it's quite possible that the portraits of Jane Seymour that we've got were meant to flatter and give the impression that she was a beautiful woman."
Besides aesthetics, historians also take issue with how certain people are portrayed in Wolf Hall. Thomas More (who was executed for treason in 1535) is shown in an unflattering light while there is evidence that he was a good man who truly cared about his family — and was maybe even a feminist. In most interpretations of the Henry VIII story, Cromwell is seen as a villain compared to More. But Wolf Hall is Cromwell's story and the novel is told from his perspective, so it makes sense that he's more of the good guy in the miniseries. Plus, real life usually doesn't have clear-cut heroes and villains.
While some British historians like David Starkey may call Wolf Hall a "deliberate perversion of fact" (uh, even though Starkey hasn't read the novels or seen the series ... hmmm), the actual events that take place are true to history — even if the motives of the characters may be up for debate. But hey, at the end of the day, Wolf Hall has gotta be more accurate than The Tudors, right?
Images: Courtesy of Ed Miller/Playground & Company Pictures for MASTERPIECE/BBC; annesanstete, mametupa, blackwidowsredledger/Tumblr