Swap Out Your Birthday Cake Frappuccino For This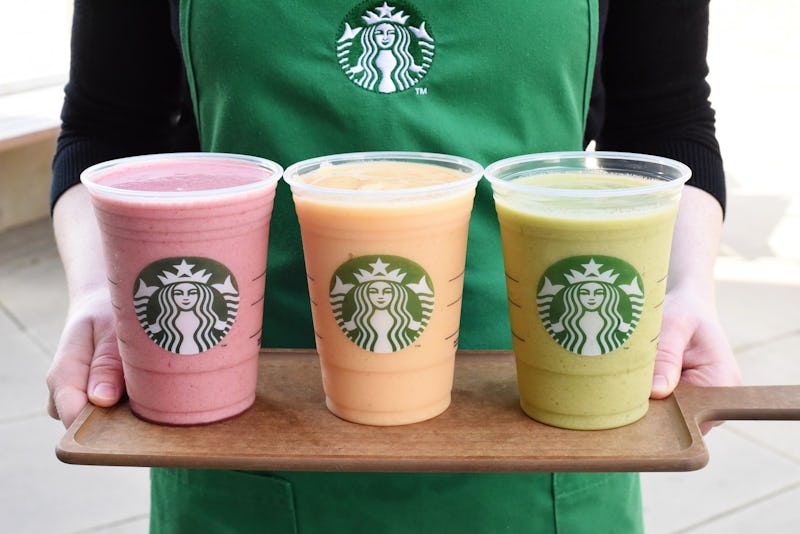 Well, it looks like the world's most ubiquitous coffee chain has swapped out the birthday cake for something markedly healthier: Starbucks' new Evolution Fresh Smoothies have arrived, and they can be upgraded with things like kale. Kale is dead, long live kale? Or… something?
The Evolution Fresh Smoothies landed yesterday, right after the departure of the limited-edition Birthday Cake Frappuccino. Made with Dannon Greek yogurt and Evolution Fresh Cold-Pressed Juice (which, by the by, Starbucks purchased from Jimmy Rosenberg of Naked Juice fame in 2011), the smoothies will come in three flavors: Sweet Greens, described by the 'Bux as "a vibrant fruit and vegetable-based Cold-Pressed Juice Smoothie with a hint of mango and banana"; Strawberry, a fruit-based smoothie with apple and banana in addition to the strawberries; and Mango Carrot, a "fruit and vegetable-based Cold-Pressed Juice Smoothie with a hint of pineapple." You'll also be able to give your smoothie a boost with extra yogurt, protein powder, or — as previously mentioned — kale.
The smoothies have been a long time coming; the potential for yogurt-based Starbucks products first emerged in 2013, when the 'Bux teamed up with Dannon parent company Danone for a line of products that were originally going to hit shelves in 2014. That seems not to have happened — but hey, better late than never, right? According to the Starbucks Newsroom, the Evolution Fresh Smoothies were first tested last year; they hit about 200 Starbucks locations in San Jose, CA and St. Louis, MO on June 24 and ran through September of 2014. Clearly they did well enough to warrant a bigger roll-out — they're available in Starbucks stores in Washington, Oregon, Alaska, northern California, and Idaho, as well as inside Starbucks Stores in grocery locations nationwide — which should make the smoothie lovers of the world pretty happy; they're also, as Grub Street points out, the first update Starbucks has made to its smoothie selection since they introduced the Vivanno line back in 2008.
But let's get back to the whole kale thing for a minute, because let's face it: That's the most interesting part of this whole story. Starbucks isn't the only chain to have put the spotlight on kale recently; McDonald's, too, has suggested that they might be adding the leafy green soon. Of course, however, the big question that pops up the second something like this ends up on a chain menu is this: Is the craze officially over?
Maybe. Although kale is undoubtedly good for you, it's also been surrounded by a whole lot of hype in recent years — hype which may not be entirely warranted. As Monica Kim at Modern Farmer wrote during the Great (and arguably mythical) Kale Shortage of 2014, "In some ways, kale can be difficult to replace. Its coveted status as a superfood is not without merit — the dark, leafy green comes packed with calcium, vitamin C, etc., etc. — but dare we say that much of kale's superiority can be chalked up to good branding?" I think Kim was onto something; in some ways, "superfoods" are as much of a trend as, say, culottes. (Also: Can anyone explain to me why culottes are back?)
But hey, at least kale actually is good for you — and in that respect, its inclusion on mainstream menus is a plus. We could all probably stand to get more veggies into our diets, and if it's hidden inside a delicious smoothie? Well, then, yum.
It's OK, Leslie. You won't be able to taste it.
Anyhoo, there are apparently plans for Dannon-based yogurt parfaits to hit Starbucks stores soon, too. Eat up!
Images: Starbucks; Gifstumblr; Giphy