How To Watch The Total Lunar Eclipse On Saturday, April 4, So You Won't Miss A Second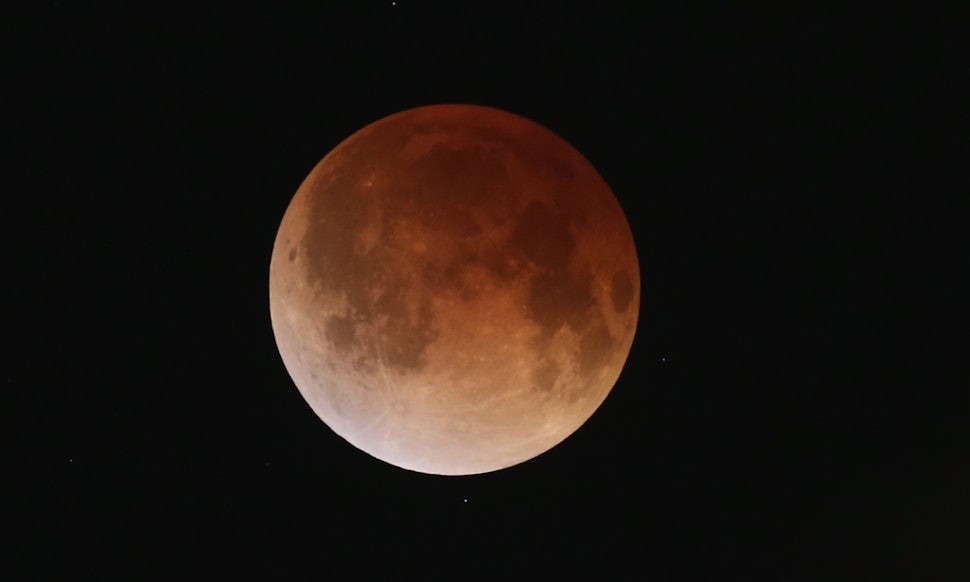 Joe Raedle/Getty Images News/Getty Images
If you're excited to see the next lunar eclipse, pay close attention, because this one will be blink-and-you'll-miss-it brief. While some total lunar eclipses can last hours, the upcoming one will only be five minutes, making it the shortest lunar eclipse of the century. Not to worry, five minutes is still plenty of time to marvel at the astronomical phenomenon and we're showing you how. Here's how to watch Saturday's total lunar eclipse so you won't miss a single second.
Unfortunately, not everyone in the U.S. will be able to view the total eclipse on Saturday, April 4. The eclipse will be visible to those on the West Coast and the Midwest, up until around the Mississippi River; anyone east of that will only have a partial view of it. The lucky residents in those zones will be able to see the full moon turn a vibrant shade of red as the Earth's shadow begins to swallow it. But viewers will have to be truly dedicated, because the eclipse occurs just before dawn.
The eclipse will begin in the middle of the night/early Saturday morning at 3:16 a.m. PT, and totality will begin at 4:58 a.m. PT lasting only until 5:03 a.m. PT. The height of the total eclipse will be at 5:00 a.m. PT. So, again, if you're trying to view Saturday's total lunar eclipse, totality will occur from 4:58 a.m. PT to 5:03 a.m. PT. A partial eclipse will last until 6:45 a.m. PT. Here is NASA's map of the eclipse visibility.
As you can see, most of the world can catch a glimpse of at least a partial eclipse, with the exception of Africa, Europe, and some of Asia. For those who live in the no-visibility zone or would prefer not to get out of bed can watch a live stream of the eclipse on Slooh's website starting at 6 a.m. ET/3 a.m. PT on Saturday. The webcast will also be broadcast on Space.com.
Total lunar eclipses happen when a full moon, the sun, and Earth align so that the Earth is directly in between the moon and the sun, and therefore, the moon is eclipsed. The actual eclipse refers to the shadow cast by the sun shining on Earth. The reason we don't have a lunar eclipse every month with every full moon is because sometimes the moon moves above or below the shadow. Because this eclipse washes the moon in a red glow, lunar eclipses are sometimes referred to as "blood moons."
Saturday's eclipse will be the third in a tetrad, or series of four lunar eclipses in a row. The first in the series occurred on April 15, 2014, while the second was on Oct. 8, 2014, and the fourth will be on Sept. 28, 2015.