7 'Dance Moms' Moments That Made You Gasp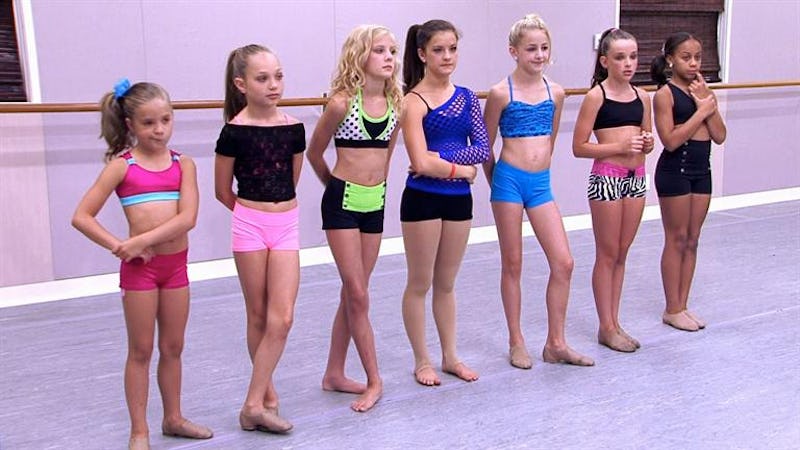 Dance Moms has always been a winner in our hearts, but now it's a winner in real life. The greatest show ever to hit Lifetime won Favorite Reality Show at the 2015 Kids' Choice Awards last weekend, reportedly beating fellow nominees MasterChef Junior, American Ninja Warrior, Cupcake Wars, Shark Tank and Wipeout. Young Dance Moms stars Maddie Ziegler, Mackenzie Ziegler, Nia Frazier, Kalani Hilliker, and JoJo Siwa were there to accept the award, alongside Abby Lee Miller. "Thank you. This is unbelievable," Miller told the audience during her acceptance speech, "We win a trophy every single weekend, but this means so, so much to all of you." In other words, they play to win and they knew this trophy was theirs, but it's cute that the audience was all surprised.
Miller also took a moment to address her haters and what many call abusive behavior. "To those of you who think I'm really mean, the kids get it. They get it. I just want to say, Lifetime, [you say] you're not a children's network, and we are not a kid's choice, just look around. Look at these kids," she said.
The kids may love Miller, but Dance Moms never stops being shocking. Here are the top moments on Dance Moms that made you gasp.
Everything Maddie does:
Maddie is everything.
Whenever one of the girls forget their choreography:
Noooooooo.
Or fall:
#NeverForget
This moment:
Those children are scarred for life.
Abby's sensual walk:
I DIE.
That time during the pilot episode when Vivi-Anne said she was only dancing for the tacos:
Vivi-Anne is bae.
When Dance Moms won Favorite Reality Show at the 2015 Kids' Choice Awards:
They made it to the big time.
Images: Lifetime (1); Getty Images (1); Giphy (2); ashleiyy/Tumblr (2)