7 Awesome "Greige" Lipsticks For A Weirder Spring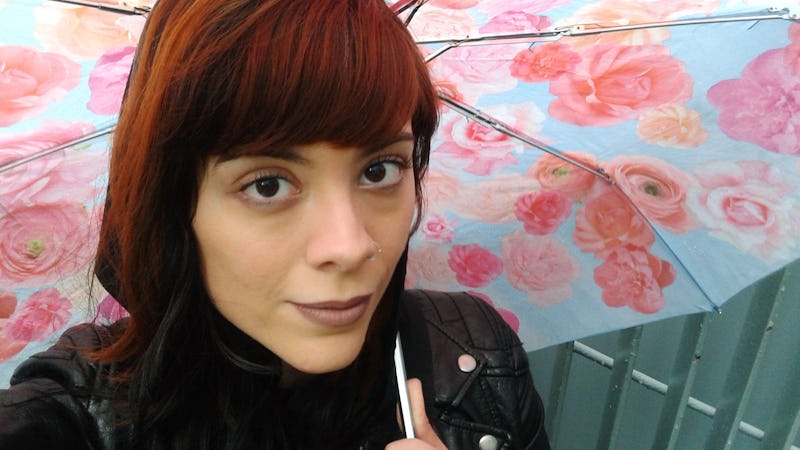 I have a bit of a lipstick obsession. I tend to collect more lipsticks than I'll ever have time to wear, and most of the time the colors I gravitate towards are every shade of red, or weird and unexpected colors, like dark and sparkly purples, hot pinks or, yes, even matte black lipstick. Maybe it's because I'm getting older, or because I work an office job, but lately I've been drawn to slightly neutral shades of lipstick. I wanted something that was more or less nude, but still stood out and had some personality of its own.
This is how I came across the "greige" lip phenomenon. Greige = grey + beige, the perfect color for someone who is looking for an edgier neutral. If you do a quick search for "greige," you'll notice this color has had a moment in home decor and nail polish. When it comes to lipstick, several more mainstream companies were doing darker grey lipsticks a few years ago (like MAC's coveted, but sadly discontinued, limited edition Grey Friday). But, today, the greige lip game is dominated by indie makeup companies, and mostly embraced by beauty bloggers and Instagram.
So what exactly does greige lipstick look like? Most are basically a greyed out neutral with either a brown/taupe or mauve (light purplish) base. How grey they will appear depends on your skin tone — these colors tend to look darker and more severe on lighter skin tones, while the cooler tones (rather than the neutral ones) stand out more on darker skin tones. They tend to be pretty universally gorgeous on anyone, however... as long as you are okay with the fact that there's something a little corpse-like to wearing a greyed out lip. To help you decide whether you'd be into rocking greige lips (and which shade to pick), I've put together a list of some of the coolest options on the block.
My current favorite of the bunch, this liquid-to-matte lip color applies super smoothly and stays really well. The color is a slightly pinkish ashy neutral. It works perfectly for my everyday lifestyle while still giving a somewhat, well, ghoulish cast. I've received compliments when wearing this by alternative and mainstream ladies alike.
Lip Couture in Ghoulish, $12, A mazon
Definitely more grey than neutral, this lip tar has been immensely popular and sells out super quickly. I had to wait months for it to become available. Like all OCC lip tars, the formula is super build-able, but can be kind of messy if you don't take your time to prep your lips and apply with a brush. This has more of a cool lavender undertone, and it looks amazing on darker skin tones.
OCC Lip Tar in Sebastian , $16, A mazon
While there has been a lot of recent controversy around this brand (if you haven't heard about it, a quick Google search on the Lime Crime brand will bring you up to speed), the fact is that the love for their Velvetine lip colors is monumental. Lots of beauty bloggers even devote time to finding the perfect "dupes" for their colors, including Cashmere (a few of which are on this list). Whether you love or hate the brand, the staying power of this matte greige liquid lipstick is undeniable.
Lime Crime Velvetine in Cashmere, $20, Amazon
I also happen to really love this liquid lip paint. It's a little darker than the ones above, and a bit more on the brown side against my pale skin (kind of a '90s lip look, but hey, who doesn't love that?). It's also kiss-proof and wears really well.
Coloured Raine Lip Paint in Marshmallow, $42, Amazon
Colour Pop, a cool indie makeup brand, has also gotten in on the greige trend with this shade.
Colour Pop Lippi Stick in Tootsi, $6, Amazon
More of a chalky pastel, this one is by far the truest grey of the bunch. I personally like to layer it over a more neutral base for work, although the lavender-taupe shade is still pretty striking on its own.
Macaron Lippie in Black Sesame , $6, A mazon
While I personally haven't tried this one yet, the images I've seen online make it appear like a creamy pale grey nude. Definitely on my immediate wish list.
Apocalipstick in Coven Cream, $9, lunaticklabs
Images: Author; Courtesy Brands; Instagram/lasplashcosmetics, occmakeup, limecrimemakeup, colouredraine, colourpopcosmetics, nyxnordics, lunatick_cosmetic_labs