'The Lizzie Borden Chronicles:' Fact Or Fiction?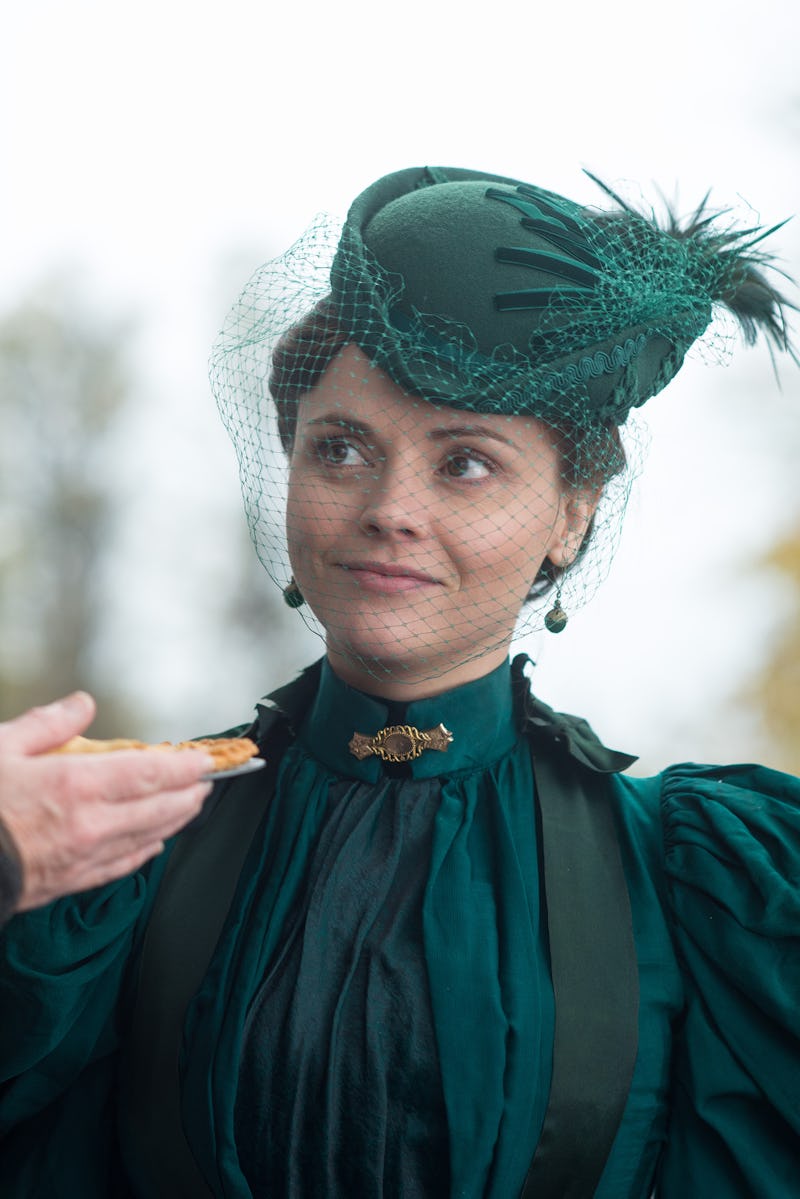 It's been over a year since Lizzie Borden Took an Ax made its Lifetime debut, and the network has decided to take another stab at it, shall we say, by ordering a follow-up series called The Lizzie Borden Chronicles. Christina Ricci is set to reprise her role as the infamous Lizzie Borden and the series of events that followed her acquittal of both her father and stepmother's murders. But is The Lizzie Borden Chronicles actually based on the true story of Borden's life post-acquittal? Let's just say, you shouldn't take most of what you see to heart.
Look, I'm not saying that Lizzie's story is completely void of facts altogether. She was, after all, a real-life person who was both accused and acquitted of killing her parents with an ax. (And let's not forget that disturbing little children's rhyme that was created in her name.) However, Lifetime describes the series as, "an intense and fictionalized account of actual events and people surrounding Lizzie's life." But that's probably a good thing — real life is never as exciting as its fictional representation.
As a way to help migrate through the real and fictional, here are a few things that stayed true to the facts. Everything else, just simply take with a grain of salt.
Lizzie Remained In Her Hometown
Though you'd think being accused of murder would be enough for anyone to want a fresh start, according to Biography.com, Lizzie chose to remain a resident of Fall River, Mass. for the remainder of her life.
Charlie Siringo Actually Existed
Just like in the show, Siringo (played by Cole Hauser) was a member of Pinkerton's National Detective Agency back in the late 1800s and even infiltrated Butch Cassidy's notorious Train Robbers Syndicate. However, unlike his TV counterpart, he seems to have had no affiliation with Lizzie Borden and her alleged crimes. Meanwhile, Hauser's version is quick to the point the finger at Lizzie after people begin mysteriously dying around her after the trial. But in reality, the only thing Lizzie was further accused of was shoplifting in 1897, though she was never tried, as Biography.com also pointed out.
Family Drama Ensued
After inheriting quite a bit of their father's estate, Lizzie and her sister Emma bought a house together and lived with each other for over a decade. However, according to History Channel, in 1905 they became estranged and didn't speak often.
Lizzie's Reputation Was Tarnished For Good
Despite her acquittal, Lizzie was forever plagued by her accused crimes. According to Biography.com, her neighbors remained convinced of her guilt, making her basically an outcast. But hey, maybe she'll get a happier ending in The Lizzie Borden Chronicles, premiering Sunday, April 5 at 10 p.m.
Images: Chris Reardon/Lifetime (5)