Kim Kardashian & Kanye West's Road to Engagement Was Paved With a Lot of Craziness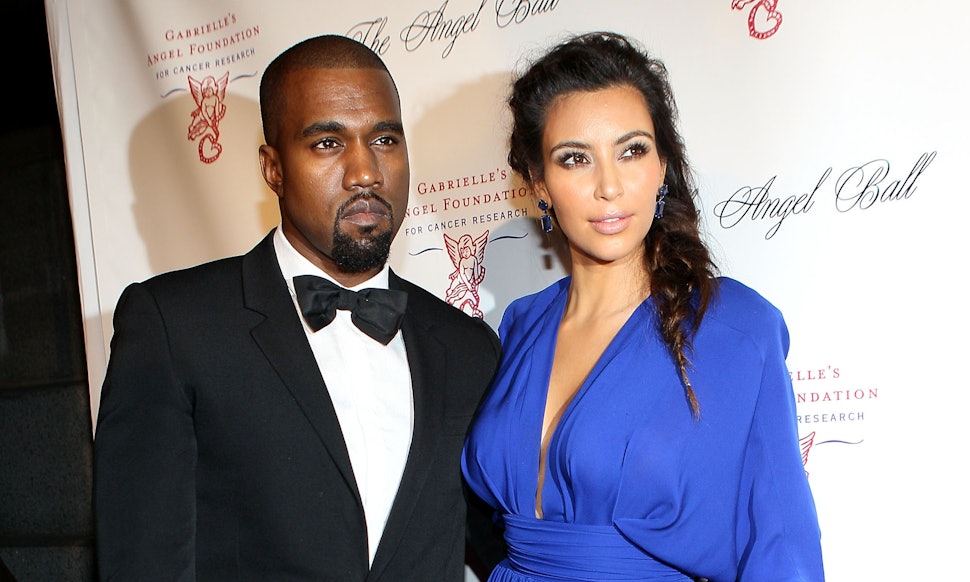 Steve Mack/Getty Images Entertainment/Getty Images
Finally it is happ'ning to me right in front of my face and I just cannot hide it. I am excited about Kimye declaring their intent to declare their eternal love to one another. That's right, y'all — I am in full support of a lifelong Kimye! I am a Kimye convert! I love the prospect of being able to say Kimye for all time! Kanye proposed to Kim last night at the AT&T stadium in front of her friends and family, with a Jumbotron that read "PLEASE MARRY MEEE!" (REALLY makes me miss Kanye's blog). It seems like just yesterday Kanye and Kim started dating and we were all like, WTF? Let's look back fondly at Kimye's strange and fascinating and really good-looking relationship...
Kim, Kanye, and Oprah
Way back in the beginning of their relationship, people were really convinced that Kimye was just a publicity stunt. When Kim sat down to chat with Oprah in June of 2012 on her show Oprah's Next Chapter, in an interview that was not one but two parts, Oprah asked outright: "Is this a publicity stunt?" We can always trust Oprah to ask the questions that everyone wants to ask. Kim seemed surprisingly sincere when she said she wouldn't sacrifice her heart for publicity.
Image: Instagram
With child!
Joy to the world! Kanye gave everyone a non-denominational holiday miracle gift when he announced Kim's pregnancy during a concert in Atlantic City in December of 2012 then implored of the crowd, "Can we make some noise for my baby mama?" Obvi, the Kardashians quickly corroborated the story on Twitter.
Flower Power
The dress that spurred a thousand memes. When Kanye and Kim attended the 2013 Met Costume Gala, Kim showed up wearing a Ricardo Tisci floral gown that had us all asking, "But where are her hands?!" Kanye beamed alongside her — I wonder if he chose the dress, seeing as he dictates everything she wears, after all. Long live the couch dress (with matching couch gloves and couch shoes. At least she is consistent).
Kim, Kanye, and Obama
Even the POTUS himself knows all about Kim and Kanye. Obviously we know that Barack's best and closest celeb friends are Jay and Bey, and maybe that made him hate on Kimye a little bit. Back in August, he made some stern remarks about how kids these days are taking cues from Kim and Kanye's lavish lifestyle, and that could be dangerous. Of course, Kris Jenner was furious, and responded with some very strange and vague comments on her talk show: "I bet the President has some friends with 10,000 square foot houses and that he wouldn't mind going over there." Excellent point, Kris.
Star Struck
Kanye is nothing if not supportive — so supportive, in fact, that he will raise hell to make others see just how talented Kim is. On his recent Jimmy Kimmel interview, Kanye argued that Kim K should have a star on the Walk of Fame. And I mean... quite literally, who has MORE fame than Kim Kardashian? He makes quite the logical point.
Kim Goes High Fashion for her Man
We all know that Kanye wants Kim to dress more... like, well, Kanye. He really wants his girl to be in the world of high fashion, and when she was eight months pregnant in May of this year, he got her to shoot a spread with Karl Lagerfeld for Carine Rotfield's new publication, CR Fashion Book. The cover has Kim with a gold grill in her mouth, and the editorial inside is chock full of bizarre photos of a pregnant Kim in strange, surreal getups. In a word: amazing.
O Captain, my Kanye
What's the point of celebrity power couples if not to dress up in celebrity couples costumes for Halloween? Last year, Kim dressed up in a gorgeous mermaid outfit with a platinum blonde wig (foreshadowing?), skintight sequined mermaid skirt and plenty of seashell-y jewelry. And Kanye pretty much went as ... himself?
Image: Instagram
Baby Talk
One of the biggest moments of Kimye's relationship, and possibly of human history, was when Kanye revealed the first baby picture of his and Kim's bundle of joy, North West, on Kris Jenner's flopsy talk show in August. Sure, it was probably a deal to boost Kris' ratings, but who cares? Because we got to see the beautiful offspring of two beautiful albeit a little crazy people. North West is an angel. Look at those eyes! She became a star from her first appearance on TV and she's in our hearts forever. Can't say the same about Kris.
Image: Twitter
Who Doesn't Love a Good Wedgie?
Kim recently posted the first selfie of her post-baby bod, and we are praising Jesus. Or maybe we're praising Yeezus? She looks damn good and Kanye obviously thought so too, because he is a human being with eyes.
Image: Instagram
A TELEVISED WEDDING?
Okay, okay, so things didn't work out all hunky dory for Kim and Kris Humphries after their mega wedding blowout that resulted in a marriage shorter than the grace period for a parking ticket. But I would honestly pay real, American dollars to see Kim and Kanye get married on TV - I'm imagining every guest being required to wear a diamond-encrusted Margiela mask. It would be the event of a lifetime. Kim and Kanye, PLEEEEASE MARRY EACH OTHER PUBLICLY FOR OUR ENTERTAINMENT!!!
Image: Instagram