5 Things This 'Full House' Spinoff Needs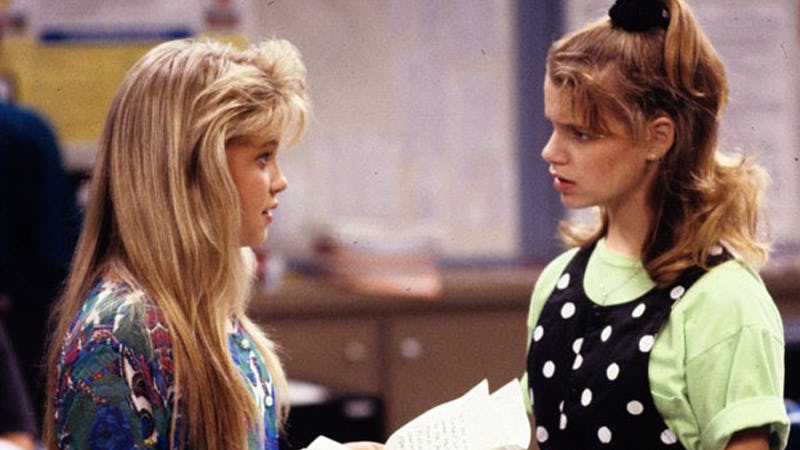 UPDATE: On April 20, John Stamos announced that Fuller House had received a 13 episode order from Netflix. It's actually happening, you guys. There's still no word on whether the entire original cast will get back together for the season premiere, but the series proper will follow DJ, Kimmy, and Stephanie after the three women move in together to care for all their children together.
This better not be a belated April Fools' Day joke. According to TVLine, a Full House spinoff is in the works, which means that your '90s TV dreams might just come true — but wait, it gets better. According to reports, the series will be titled Fuller House and will focus on DJ Tanner and Kimmy Gibbler as they navigate adulthood — and possibly their very own mixed family household. Original Full House stars Candace Cameron (DJ) and Andrea Barber (Kimmy) are reportedly onboard for this 13-episode Netflix series, as is the Full House creator, Jeff Franklin. Naturally, I'm freaking out about this in the best possible way.
Nothing is set and stone, and so far both Netflix and Warner Bros. are not commenting on the state of Fuller House, which is too bad because now that the idea is in my head I know I can't live without a Full House spinoff — especially one that features ultimate BFFs DJ and Kimmy.
Telling the story of these friends feels like a natural progression for Full House — just like how Danny invited Joey and Jesse to live with him when he needed help raising the girls, DJ and Kimmy can team up to be their own parenting super team. So what do we desperately need from Fuller House? Here's what Netflix needs to give us if this show finally streams.
A Not-Entirely-Mature Kimmy
DJ and Kimmy are almost 40 years old (insane, I know) but I don't want Kimmy to lose her essential "Kimmy-ness." I can only imagine what a mom version of Kimmy would be like in 2015, and I hope it's the same girl we knew and loved, just older — and maybe not that much wiser.
Lots Of Inside Jokes For Fans
If Mr. Woodchuck doesn't make an appearance on the show I will be thoroughly disappointed.
The Kids, All Grown Up
It would be amazing to have the Olsen twins reprise their role of Michelle Tanner, but those aren't the only kids I want to see as young adults — I want to see what Nicky and Alex look like these days, plus any of Michelle's younger pals. (I'm thinking Tahj Mowry should make an appearance if he's not too busy shooting Baby Daddy...)
The Official Answer To Who DJ Ends Up With
It's Steve, right? It has to be Steve.
At Least One Major Reunion Episode
Whether it be for a birthday, wedding, or anniversary, I want there to be at least one episode of Full House where we can really say that the gang is all here.
Images: ABC (2); Giphy (4)