A 'Full House' Sequel Is Happening For Real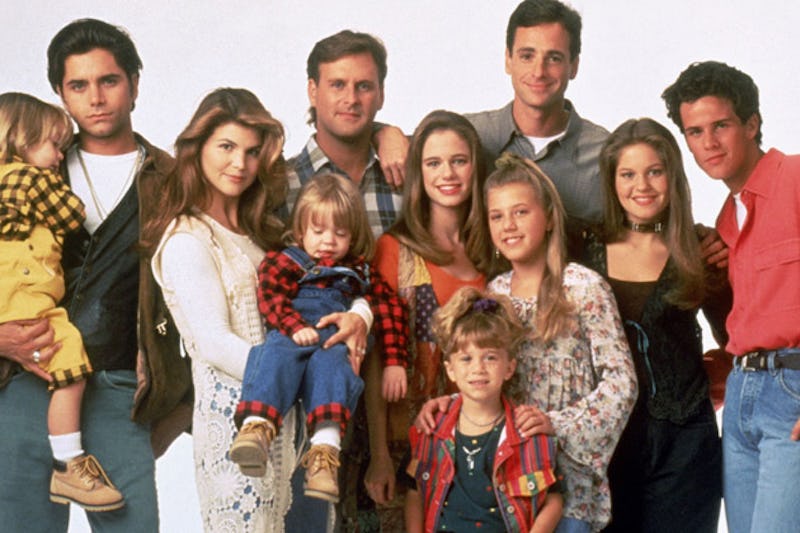 You got it, dude! That's pretty much what Netflix is saying to Full House fans as the streaming site is set to make all of our 90s dreams come true. On Jimmy Kimmel Live! Monday, actor John Stamos confirmed that Full House sequel Fuller House will air on Netflix sometime next year. Stamos is set to produce the reunion show as well as guest star as cool Uncle Jesse. Candace Cameron Bure, Jodie Sweetin, and Andrea Barber will star as original cast members DJ Tanner, Stephanie Tanner, and DJ's nosy goofball BFF Kimmy Gibbler. According to a press release, discussion are ongoing with other Full House stars Bob Saget as Danny Tanner, Dave Coulier as lovable Uncle Joey, Lori Loughlin as Rebecca Donaldson Katsopolis — and (YES!) twins Mary-Kate and Ashley Olsen as Michelle Tanner. Oh. My. God.
Stamos told Kimmel he learned five minutes earlier that Netflix ordered the 13-episode season, and he was allowed to announce the exclusive news on the late-night show. Fuller House will begin with a one-hour premiere that (fingers crossed) will reunite everyone from the original cast. The reboot will then move into the extended storyline of oldest daughter DJ.
We've been working on this for many, many years. The original creator, Jeff Franklin, and Bob Boyett and Tom Miller, we were trying to do some kind of spinoff. We wanted to give credit to the legacy. We didn't want to just sort of throw it away. ... Candace has three boys and it's sort of a reversal. And we turn the house over to her. But it's a labor of love. We've been literally trying for so many years to do it right. And I think we finally got it perfect.
Fuller House will focus on DJ Tanner-Fuller, who is now 20 years older and a recently widowed veterinarian with two sons and a baby on the way. It's a pretty dark set-up if you ask me, but then again, wasn't Danny also a widower? Ah yes, life always comes full circle.
The show will likely take on the lighthearted and moral tone that pretty much defined what it was like to be a 90s kid. Younger sister Stephanie is an aspiring musician, and little ol' Kimmy is now a mother to a rebellious teen. This would be the biggest role for Barber since living next door to the Tanners all those years ago.
There have been Full House sequel hoaxes for years, and earlier this month, reports emerged again that Netflix would bring back the beloved ABC family series that ran from 1987 to 1995. This time, the rumors are real. The streaming site ordered the season, which is set to premiere in 2016. Executive producers Robert L. Boyett, Thomas L. Miller, and Jeff Franklin said in a statement:
The continued support of Full House fans of all ages for the last 28 years has been astounding. It is an honor and a thrill to catch up with these beloved characters and explore their lives today. The love you saw on the show was real. The cast has remained a loving family off screen all these years. We are as excited as our fans to finally bring Full House back to life.
Whether the elusive Olsens will be part of the reunion fun is still TBD, and apparently Kimmel is ready to don a wig and step in for them to play the youngest Tanner daughter. But hopefully those discussions with the Olsens and all the former Full House stars will pull through. After all, how amazeballs would it be if the entire cast returned? Maybe even Mr. Woodchuck will make an appearance.
Image: ABC (1); Getty Images (1)