6 Smart Halloween Costume Ideas for Thoughtful Girls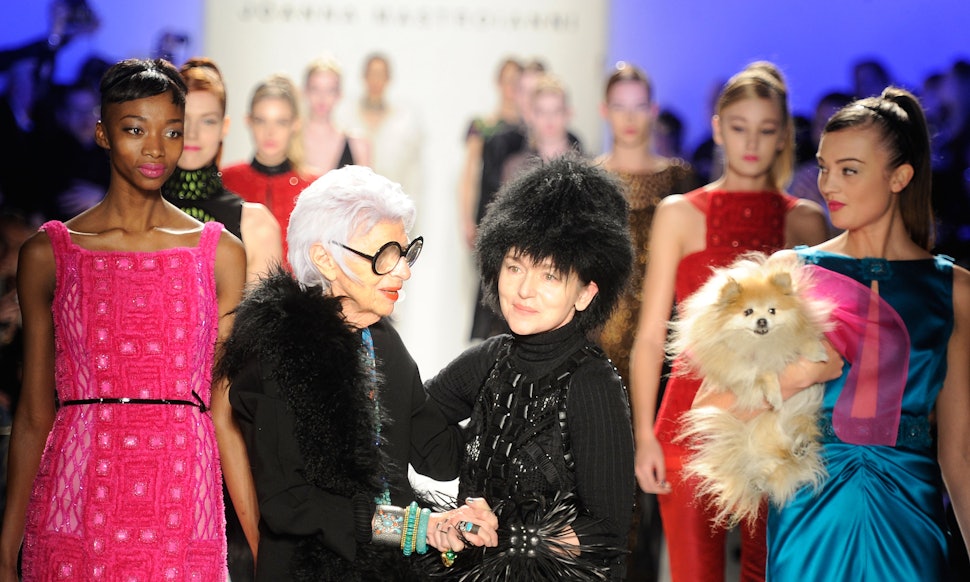 Frazer Harrison/Getty Images Entertainment/Getty Images
Girl, I'm not saying you can't be a sexy cat for the third year in a row. As a contributing member of our shallow, image-obsessed society, it's your right and your privilege. I'm just saying that if you wanted to shake things up this year and go as something a little more thoughtful (I say "academic," you say "hipster")... well, here are some ideas to get you started.
PS: If you want to costume up as a classic smart-girl icon like Virginia Woolf or Janis Joplin, more power to ya, but these costumes were inspired by ladies who are making things happen today.
Anna Dello Russo
Who? "Fashion maniac," according to Helmut Newton. Editor-at-large and creative consultant for Vogue Japan; reigning queen of street-style; once said she needed $50,000 a day for her Fashion Week outfits and maybe wasn't joking.
Perfect for girls who: ...have a deeper, more meaningful connection with fashion than with real people.
The ADR look: An insane hat. Statement heels. Straightened, side-parted hair. Tan. Outfit: something feathered and/or belted. Major accessories.
Zadie Smith
Who? The coolest female writer working today. First lady of hysterical realism.
Perfect for girls who: ...read in coffee shops. People-watch. Think brains are sexy, but not in a zombie-like way.
The Zadie Smith look: Turban. Glasses. Super-defined cheekbones. On Beauty, White Teeth, or NW tucked under one arm. ("Zombie Zadie Smith" would also be an amazing costume idea.)
Image: @eleanorefrances/Instagram
Tavi Gevinson
Who? That 17-year-old who's so much more successful than you. Writer/blogger/style icon/founder of Rookie.
Perfect for girls who: ...kind of have a manic pixie dream girl vibe, but would be offended if you called them a manic pixie dream girl.
The Tavi look: Super-short bangs. Pastel hair (dry shampoo, hair chalk, or a wig). Ugly-chic shoes. Outfit: a mix of vintage, grunge, and Rodarte.
St. Vincent
Who? The super-pretty, super artsy songbird who has yet to have a poorly-titled album.
Perfect for girls who: ...sing their feelings, but aren't cliché about it.
The St. Vincent look: Super-curly hair. Red lipstick. Extremely defined cheekbones, brows, and eyes. Slightly skeletal features. A guitar.
Jessa/Spencer/Claire/Olivia
Who? Jessa from Girls, Spencer Hastings from Pretty Little Liars, Claire Underwood from House of Cards, Olivia Pope from Scandal, and so on and so forth.
Perfect for girls who: ...just get it. Or at least who secretly think they "get it" more than anyone else in their friend group.
The look: Jessa: sexy/boho European dress, major attitude. Spencer: sexy/preppy dress, major attitude. Claire: jaw-droppingly perfect black (or white, but not both) dress, major attitude. Olivia: super-tailored suit, major attitude.
Image: @liarsforeverandalways/Instagram
Christy Walton
Who? The world's richest woman. Daughter-in-law of Sam Walton, who founded Walmart.
Perfect for girls who: ...love money or want to make an ironic commentary on the perils of money.
The Christy Walton look: Very, very curly blonde hair. (Use your smallest curling iron.) Smily-face Walmart pins. Outfit: mother-of-the-bride chic. Accessorize with a rant about the evils of Walmart, or just a huge bag of cash.
Iris Apfel
Who? Um, the coolest woman of all time. 92 years and more fabulous than anyone else ever.
Perfect for girls who: ...love life, color, self-expression, ginormous accessories, and red lipstick.
The Iris look: Huge, round black glasses. Red lipstick. White hair (major dry shampoo or baby powder). Bracelets up to your elbows. Huge necklaces and huge rings, preferably in turquoise. Oversized, bohemian-printed tunics. A fur or two.