How Could DJ & Kimmy Be Roommates In 2015?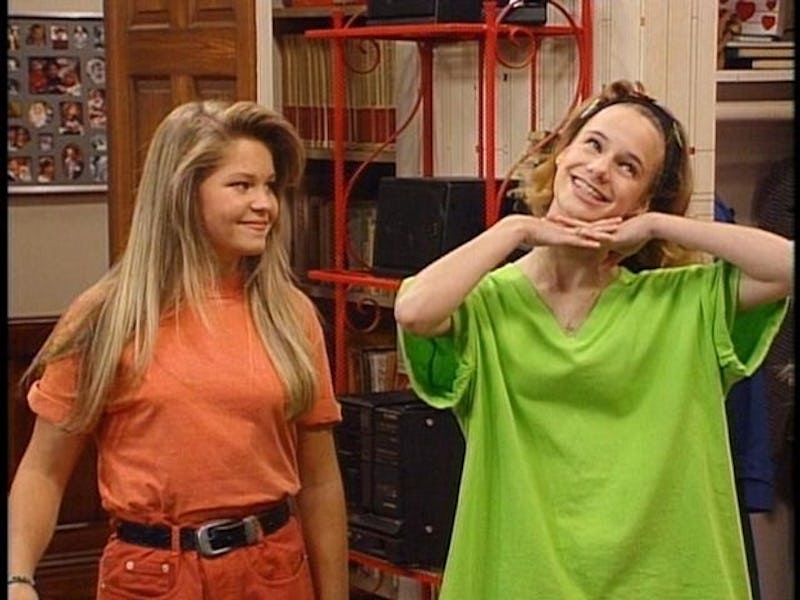 UPDATE: On April 20, John Stamos announced that Fuller House had received a 13 episode order from Netflix. It's actually happening, you guys. There's still no word on whether the entire original cast will get back together for the season premiere, but the series proper will follow DJ, Kimmy, and Stephanie after the three women move in together to care for all their children together.
This might be the craziest spinoff news I've heard in a while, and I can only hope that it's not some cruel joke on the world because that would just be way too mean. According to TVLine, Full House is getting a Netflix spinoff with Kimmy Gibbler and DJ Tanner as the leads. Though Netflix and Warner Bros. have not commented on the state of the new series, allegedly titled Fuller House, it didn't stop the Internet from freaking out over the potential for more of the '90s sitcom characters we know and love.
But while there's plenty to be excited about, there's also a major question about this potential series looming over our heads: just what will kick this series off in the first place?
We know the conflict that sparked the original Full House, and, to be honest, it's pretty depressing. After his wife is killed in a car accident with a drunk driver, dad of three Danny Tanner enlists the help of his brother-in-law Jesse and best friend Joey to help raise his three girls. While no details about the plot of the alleged Fuller House have emerged, we can infer that it might follow a similar format to that of Full House — even the title hints that this could be a combined household sitcom.
So, how could Kimmy and DJ wind up sharing a roof? Here are some ideas:
Kimmy Just Got Divorced And Needs A Place To Crash
Maybe things didn't work out with Kimmy and Duane (you know, the guy who says "whatever?") or some other romance in the 20 plus years since Full House aired. Why rent a bachelorette pad when you have your friends' household to stay in, right? I mean, Joey did it for years...
...Or, DJ's The One Whose Relationship Ends
It would break my heart if Steve and DJ got married only to get divorced again, but it would certainly shake DJ's typically unshakable foundation. The tables would really turn if DJ becomes the one leaning on Kimmy for support, which could make for an interesting premise.
That said, neither needs to have a marriage or relationship backstory, of course ...
DJ And Kimmy Have Been Roommates Forever
The show doesn't necessarily have to start with one of the girls moving in to the other's home. Maybe DJ and Kimmy have been together for quite a while.
DJ And Kimmy Run A Bed And Breakfast
Who's to say that this "fuller house" has to be filled with family members? Perhaps DJ and Kimmy's house is filled with guests at their makeshift hotel. It certainly would open the door for plenty of guest stars.
DJ And Kimmy Are House Mothers Of A Sorority
I can only imagine the chaos that would ensue. Perhaps Kimmy wedges her way into DJ's new life at a university and teaches the new sorority sisters all about the scrunchie life.
DJ And Kimmy Help Raise Nicky And Alex
How's this for a plot? Teenage Nicky and Alex have to stay behind while their dad is off on some big music world tour, Becky needs help, and enlists DJ and her pal Kimmy to help raise the rambunctious teens. It'd be a little anachronistic, but hey, it's their spinoff. They can set it whenever they want.
DJ And Kimmy Rent A Big House With All Their Friends
Maybe Fuller House is less of a traditional family story and more about what happens when a bunch of pals create a family of their own, whether it be permanent or just for a summer. I certainly would like to see how some of the girls' high school pals ended up... but mostly I just want Steve back.
Images: ABC (6); Giphy (2)