What's In 'Mad Men's "Severance" Package?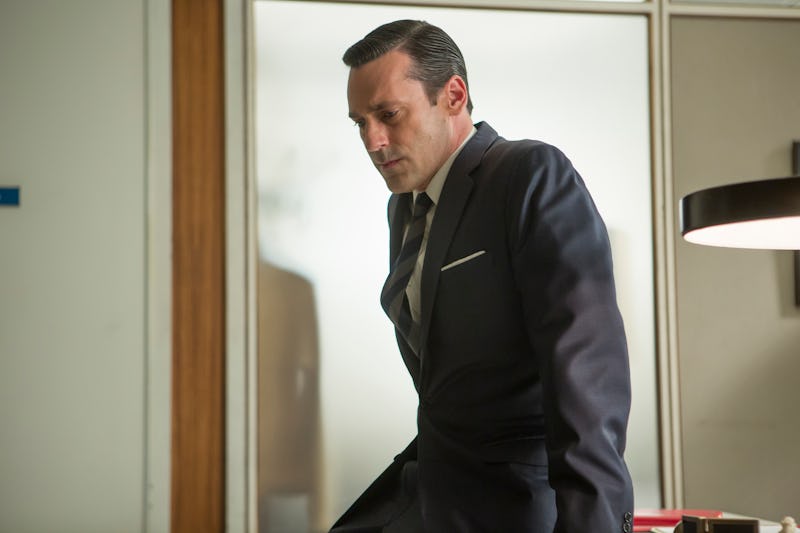 AMC may start airing the final stretch of Mad Men episodes on April 5, but I'm still having trouble believing that it's actually coming to an end. With no central mystery to solve or even a Breaking Bad-style breakneck plot to wrap up, it would be easy to imagine the show lasting through Don's retirement (if he doesn't jump out the window, as many fans have theorized). But it's really, truly ending, so it's fitting that Mad Men's Season 7 premiere is titled "Severance." But does the title give us any clues as to what the final Mad Men episodes might entail?
If I know showrunner Matthew Weiner, he's a tricky one, and the episode title probably has multiple meanings. It's probably at least partially a reference to the process of ending our relationship with the show, or at least his relationship to the show. (He's gotta identify with Don at least a little, right?) I mean, after eight years of doing nothing but Mad Men, letting go of it has got to be hard — hard like seeing the ad agency you fought to create being swallowed up by a larger company. Or, it could just mean that someone on the show is going to get fired. Here, some other things that "Severance" might possibly refer to.
Don & The Agency
Ever since Don was put on leave, his status at the company — the company he co-founded — has been tenuous at best. He's managed to stay afloat so far, but maybe his luck has finally run out, and he'll find himself without a job (and, as such, without an identity). The rest of the season would answer the question: Who is Don Draper if he has no past, no future, and nothing to do at present?
Everyone Else & The Agency
Who are we kidding? Don's an advertising genius — and the best at selling his own importance — so he's never going to lose his job for real. Everyone else? Not so much. We've seen seasons before begin and end with their fair share of firings. It wouldn't be Mad Men if they didn't have to rebuild from some kind of mass layoff. My personal dream? That this whole McCann situation somehow means that Roger Sterling could fire Burt Peterson for a third time.
Don & Megan
Don and Megan are dunzo. That decision has been made. But it takes a lot to untangle a marriage, even if it's a name-only, bi-coastal one. The split may be a done deal, but the actual divorce agreement could be the severance. There will be no more surprise parties with embarrassing musical numbers.
The Past
If there's one recurring theme in Mad Men, it's that everyone — from Don Draper to Bob Benson — keeps trying to sever themselves from the past, but it keeps on catching up to them in one form or another. The show's point seems to be that you can never escape who you are, but maybe someone is able to sever ties with their past for good. Is it time to say a final goodbye to Dick Whitman?
Someone's Limbs?
Unless you count Ginsberg, we haven't had a good dismemberment on the show since the big John Deere incident of the third season. Poor Ken Cosgrove already has the eyepatch — anyone have any fingers you wouldn't mind seeing, well, severed?
Image: Justina Mintz/AMC; Giphy (4)