We Predict the Fate of 'While You Were Sleeping'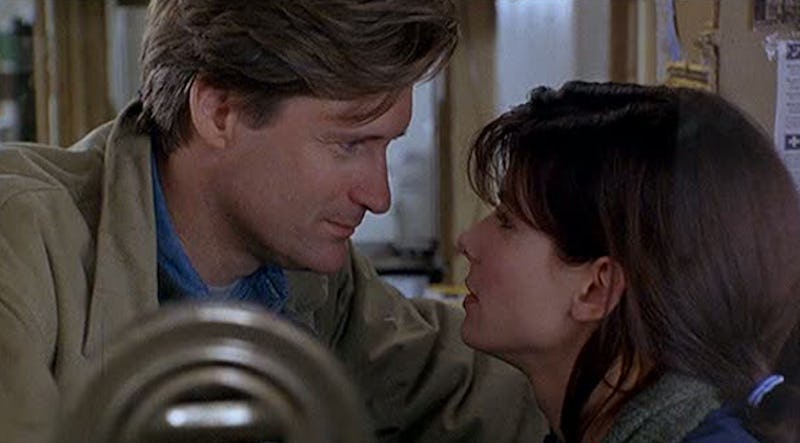 On April 21, the adorable (and yes, borderline crazy) romantic comedy/Christmastime classic While You Were Sleeping celebrates its 20th anniversary. That means for twenty years we've been swooning over the tale of a lonely Chicago token collector named Lucy (played by Sandra Bullock) who has a crush on a commuter named Peter (Peter Gallagher). One fateful day she saves his life, and then through a series of easy-to-clear-up misunderstandings, falls for his brother Jack (Bill Pullman). This all happens while Peter is in a coma and Lucy is taken in by his wacky but lovable family. (It shouldn't work, but hey, it does.)
While there is, of course, a happy ending, what would really happen to the Callaghan family and co. after the credits rolled? Would Lucy and and Jack, who wound up married and honeymooning in Florence by the end, stay together? (After all, she initially had the hots for his brother and there's the whole deceiving-the-family thing.) Did Peter patch things up with Ashley Bartlett Bacon? Could Elsie survive the invention of the digital camera?
In honor of the 20th anniversary of While You Were Sleeping, we're predicting what came of the whole gang.
Lucy and Jack
After they return from their romantic and sexy honeymoon in Florence (so much leaning), this adorable pair gets some much-needed couple's counseling. They manage to make things work in spite of their, uh, unusual meet-cute circumstances and focus on their new career paths. Lucy becomes a travel agent who specializes in getting your passport stamped for the first time, while Jack opens his own furniture business that specializes in cozy and rustic woodworking. They eventually have three kids, whom they shared many orange-tinted memories with.
Peter
After getting a new lease on life, Peter decides to break things off with Ashley Bartlett Bacon for good. After struggling with his feelings for his short-lived fiance Lucy (and the fact that she's now married to his brother), Peter moves to New York City and becomes a high-powered business-type guy in Manhattan. Fittingly enough, he falls for a brunette woman he meets while standing on a subway platform.
Ox and Midge
Ox sells the family business and takes Midge on that Kathie Lee Gifford cruise, after all. They excitedly take on their role as grandparents.
Saul
Saul continues to be a voice of reason in the Callaghan family.
Midge
Midge continues to take an annoying amount of pictures of the Callaghan family. Her heart is doing just fine.
Mary
Mary finishes high school and eventually attends Northwestern where she majors in journalism. Her "fictitious" debut novel about a family's warped, but ultimately darling love triangle involving a man in a coma, becomes a best-seller.
Joe Jr.
After licking his wounds from his one-two punch of the Lucy and Phyllis heartbreak, Joe Jr. does some soul-searching, leaves the family business, and finds his destiny: designing footwear for the ice capades.
Ashley Bartlett Bacon
Since Peter dumps her for good, Ashley winds up staying with her husband for a short time. She keeps the Bacon regardless.
Images: Buena Vista Pictures; clarissaexplainsfuckall.blogspot.com; romances.com; oocities.org; cineplex.com; cinepop.com; gifgiving.blogspot.com; ohnotheydidnt.livejournal.com; film.famousfix.com