The 'Hocus Pocus' Reunion Was a Giant Letdown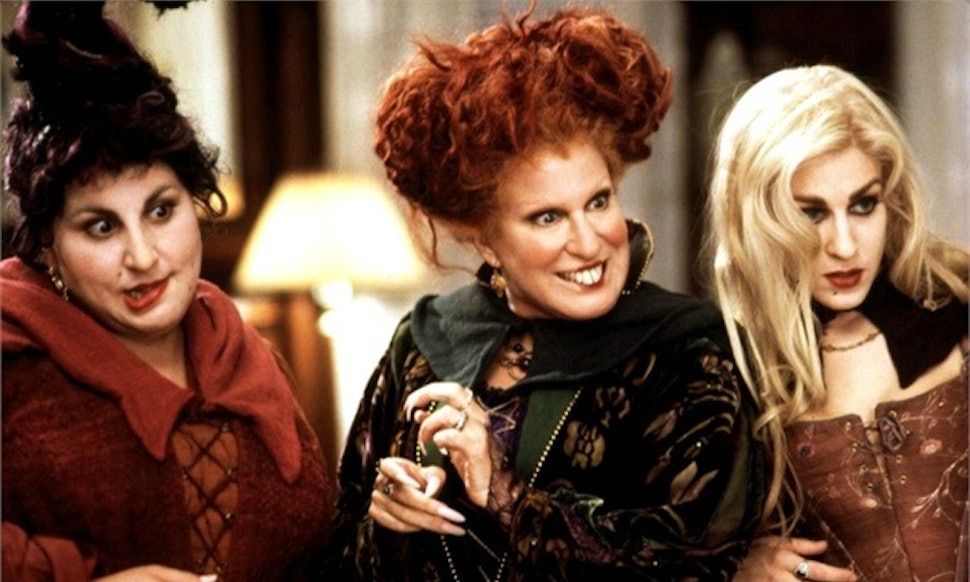 All morning, there has been talk about a Hocus Pocus reunion celebrating the 20th anniversary of the classic Halloween movie's release. Before you get your hopes up the way I did, you really should know: It kind of sucked.
A "reunion" usually means the majority of the cast gets together, takes some photos, and talks about the movie. Look at the Entertainment Weekly reunion issue: Casts convened, in some cases for the first time in years, and discussed the projects that brought them together. Success!
Not so much with the Hocus Pocus "reunion," which came in the form of a panel and screening at Disney Studios. Sure, cast was in attendance — but only one of the three Sanderson witches. Three! Sorry to everyone with high hopes, but until I see Kathy Najimy joined by Sarah Jessica Parker and Bette Midler, it doesn't count. But here's what did happen at the quasi-reunion, and why it only spelled a giant letdown.
Image: Disney
The Panel Was Too Slim
The reunion was hosted by the official Disney fan club, D23. The panel featured cast members, including sole witch Kathy Najimy, Omri Katz (Max), Thora Birch (Dani), Doug Jones (the man behind undead Billy Butcherson), and Vinessa Shaw, (Max's crush Allison). Also there were creator/producer David Kirschner, the composer, make-up and special effects artist and production designer. Again, no Parker and Midler, no reunion.
Dress Up Was Minimal
Birch tried on the witch hat that her character wore in the film. Behind her are other costumes, as D23 had various props and items on display in a Walt Disney Archives exhibit.
Unrecognizable Actors Unite
That's Jones and Shaw, who, unlike Birch, are kind of hard to recognize to the average Hocus Pocus fan. Although, in Jones' defense, he did appear in Hocus Pocus as a green zombie. Somehow, he looks just as creepy in real life.
Only Two Stars Unite
D23 posted this photo on its Instagram, showing two of the movie's main stars together.
Max Didn't Perform
Katz poses for pictures with a Hocus Pocus fan, who was probably excited to meet him, but completely heartbroken that she would not get to see a performance of "I Put A Spell on You."
No One to Fill the Costumes
I applaud Najimy for being the only witch to attend the reunion, but this picture would be a million times better if she were standing next to another cast member, instead of her old costume on a mannequin.
What Should've Been
Birch poses with three fans dressed up as the Sanderson witches, as an example of what the reunion really should've looked like. Can someone please make a full-fledged reunion happen? Take the people who showed up to this one, add Parker, Midler, director Kenny Ortega, a complete reenactment of "I Put A Spell on You," and maybe even Binx the cat. That's something to get excited about. Maybe for the 25th anniversary?