Who Looks The Unhappiest In 'True Detective'?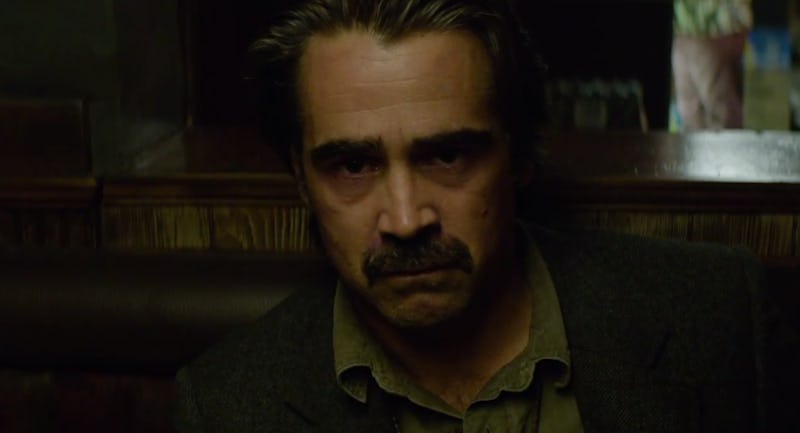 The show that brought us plenty of melancholy, mystery, and mustaches is preparing us for its new season: A new trailer for True Detective Season 2 is upon us, and it looks just as gritty as the first in the anthology series. Though not much information has been released about the new season, we do know that the show will be set in California and that the plot details involve a mystery surrounding the secret occult history of the United States transportation system. We also know who will be uncovering said mystery, and it's a plethora of your favorite film and TV actors: Rachel McAdams, Vince Vaughn, Taylor Kitsch, Kelly Reilly, and Colin Farrell are all part of the cast... and they each look particularly miserable in the new season teaser.
That's right — miserable. Not that I was expecting anything else from the dark show that has twisted murders ingrained in its very DNA, and generally unhappy human beings as both our heroes and our villains. It would be more jarring to see even one smile in the season trailer, honestly! But thankfully, true to form, the HBO provides us with nothing even resembling a happy face.
But, I have to wonder: Which actors in the new trailer look like they're having the absolute worst time? Here's your official ranking, based off the True Detective Season 2 trailer:
5. Colin Farrell's Mustached Face
He looks pretty confused, mostly... but in the last photo he might be on the verge of tears.
4. Rachel McAdam & Her Cool, Choppy Bob
It's hard being a true detective when everyone is so jealous of your ombre.
3. Vince Vaughn Looking Like How You Felt At The End Of The Break-Up
I feel nothing.
2. Kelly Reilly Getting Not Nearly Enough Screen Time In The Trailer
She ain't happy about it.
1. Taylor Kitsch Looking The Most Taylor Kitsch-y
The man was born to punch walls and brood.
True Detective Season 2 premieres June 21. Check the trailer below:
Images: HBO (10)